The creative gals of the entertaining-made-easy blog, Set Sip Serve, Annie Belanger and Benton Weinstock, create a fabulous Mother's Day treat for our readers including beautiful tablescape ideas and delicious recipes fit for a queen.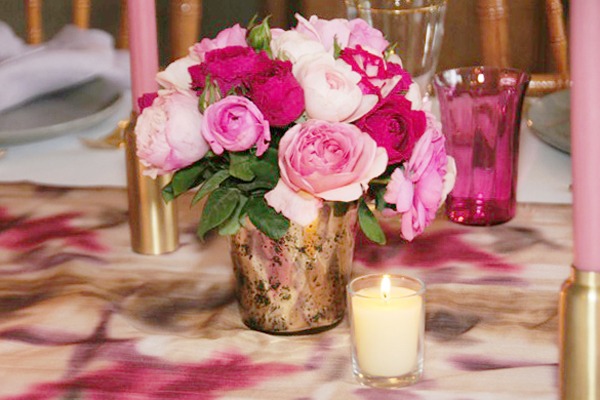 Set
In creating a table for the one person we love most, we wanted to make it creative, special and exceptionally pretty. We love the color pink for Mother's Day. It is feminine and sweet but, to us, it also represents warmth and love. It is easy to find roses and hydrangeas in spring so we combined the two into simple, low-cut arrangements. The runner is one of our all-time favorites. We were scouring a fabric store and found just enough to run our table.
Gold is our accent color. We used gold flatware and placed tall pink candles in the candle holders. How elegant for a Mother's Day dinner! The most important part of our Mother's Day table is the heartfelt sayings that we found on Pinterest. We had them graphically designed on cards to place around the table. This is so easy to do: buy smaller card stock and have everyone write a meaningful saying on each card. After dinner, you can make a little booklet for mom.
Moms spend hours in the kitchen preparing countless meals and setting many tables. Now, it's our turn to create something pretty and pink for her.
---
Sip
Kir Royale
½ ounce crème de cassis (such as L'Heritier-Guyot Cassis Dijon $30)
2 ¼ ounces champagne (such as Gramona III Lustros $50)
Pour the crème de cassis in a champagne glass and top with champagne. Cheers!
---
Serve
Tuna Poke Seaweed Salad
Scones
Red Velvet Strawberry Cake
---
Edible Flowers for Garnish
Bee Balm (Oswego Tea, Wild Bergamot, Horsemint)
Comes in red, pink, or purple. Tastes very minty.
Indian Cress
Comes in yellow, orange, crimson, white, or peach and tastes very peppery.