INTERIOR DESIGN BY Melissa Rufty of MMR Interiors
PHOTOGRAPHY BY Megan Lovoi
WRITTEN BY Cathy Austin
All great historic houses have fascinating stories behind them. The "Seven Sister Cottages" are no exception. Located in the Garden District, the houses were built in 1868 by Henry Howard, an architect known for some of the grandest homes in New Orleans. According to local legend, the houses were built by a wealthy landowner for each of his daughters so that he could keep a watchful eye on them. Howard alternated between Greek Revival and Italianate styles to vary the facades of the cottages. The simple side hall shotgun-style homes are a fixture on any Garden District home tour and are considered to be some of the first spec housing in the country.
Sally and Richard Edrington fell in love with their cottage and enlisted the help of New Orleans designer Melissa Rufty to bring their colorful vision to life. The homeowners wanted to create a vibrant and happy home to enjoy their family, which includes five grandchildren and one energetic dog.
With stunning 14-foot ceilings, the 2,800-square-foot cottage reads larger than life, just like the character they envisioned when designing the space. Melissa describes her inspiration: "I feel like the entire cottage sort of took on its own persona…a Southern gal with a pedigree that is spirited and daring but who can still be proper and genteel when it counts. We laugh that our 'sister' stays out all night and wears red underwear!"
The designer expertly infused bold color into the interiors without detracting from the architecture of the cottage. Throughout the house, Melissa used bold artwork along with classic pieces such as Oriental rugs, portraits and dark wood patinas to ground the color. "I'm not sure if this is a Southern thing, but I do find that color and pattern become less trendy when surrounded by timeless pieces. I think the key to using color on this project, or any for that matter, is to really commit…I say, 'if you're going to be a bear, be a grizzly!' A text book case of how enough isn't enough!"
The main floor of the cottage originally housed a double parlor. It is now the foyer, living and dining room separated by a double fireplace. The starting point for the interiors was the Clarence House "Dragon Empress" fabric used on the sofa pillows in the living room. The "old school" textile became a guiding light for the rest of the project.
One of Melissa's signature design tricks is to use banquettes in overlooked spaces such as the entry. She refers to them as the "new Southern welcome mat" inviting guests to "come in, kick off your shoes, have a drink and stay awhile." The banquette also accommodates overflow seating for the living room and acts as a secondary dining area.
In each of Melissa's projects, she chooses one room to create a dramatic moment in an otherwise "white-walled" house. Working off of fabric from the living room sofa pillows, she used Benjamin Moore "Coat of Arms" for the den. To achieve the wet gloss look, the paint is sprayed on and then coated with several coats of oil-based polyurethane. Melissa elaborates, "It reflects the light so beautifully during the day and allows the room to take on a sultry mood at night!"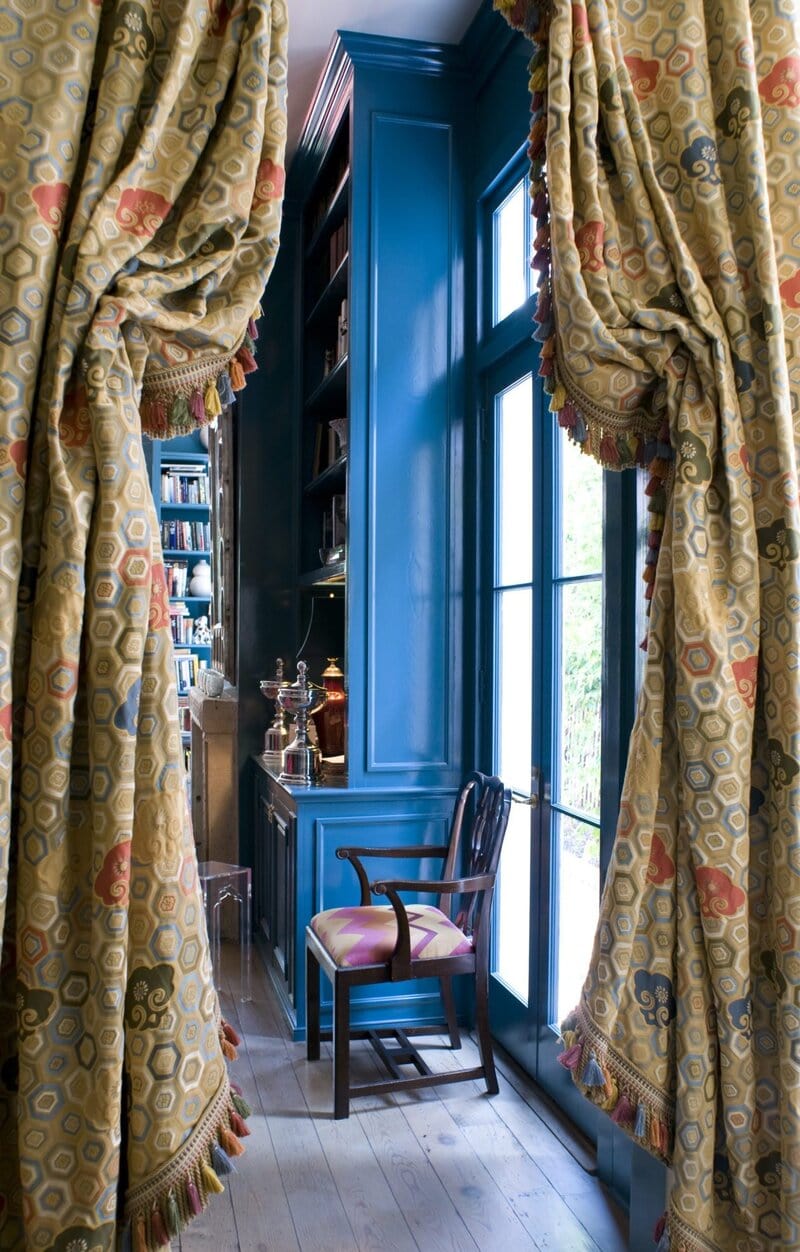 The Edringtons have a beautiful collection of antiques, art and decorative accessories that Melissa skillfully incorporated into the new interiors. Melissa says, "It was a bit of a dream come true. Often we shop and shop for the items that add a sense of history and dimension, but Sally came with a stockpile of treasures."
Blending the old with the new is where Melissa's talent truly shines. The den perfectly reflects how she masters this mix. An antique rug, family portrait and vintage textiles are combined with contemporary fabrics and modern art to create a timeless, yet completely current interior.
The designer is also adept at taking overlooked spaces and turning them into not only functional but also beautifully appointed spaces. A charming window and hallway that could not be incorporated into the kitchen became an ideal spot for a dining nook. A Manuel Canovas patterned wallpaper provides a beautiful backdrop for a banquette that is now the client's favorite spot in the house. An altar table serves as a breakfast table, and the patent leather banquette is indestructible…even surviving a tree falling into the window from a storm. The grandchildren perch here to keep Sally company while she makes her celebrated pralines, known as the best in New Orleans!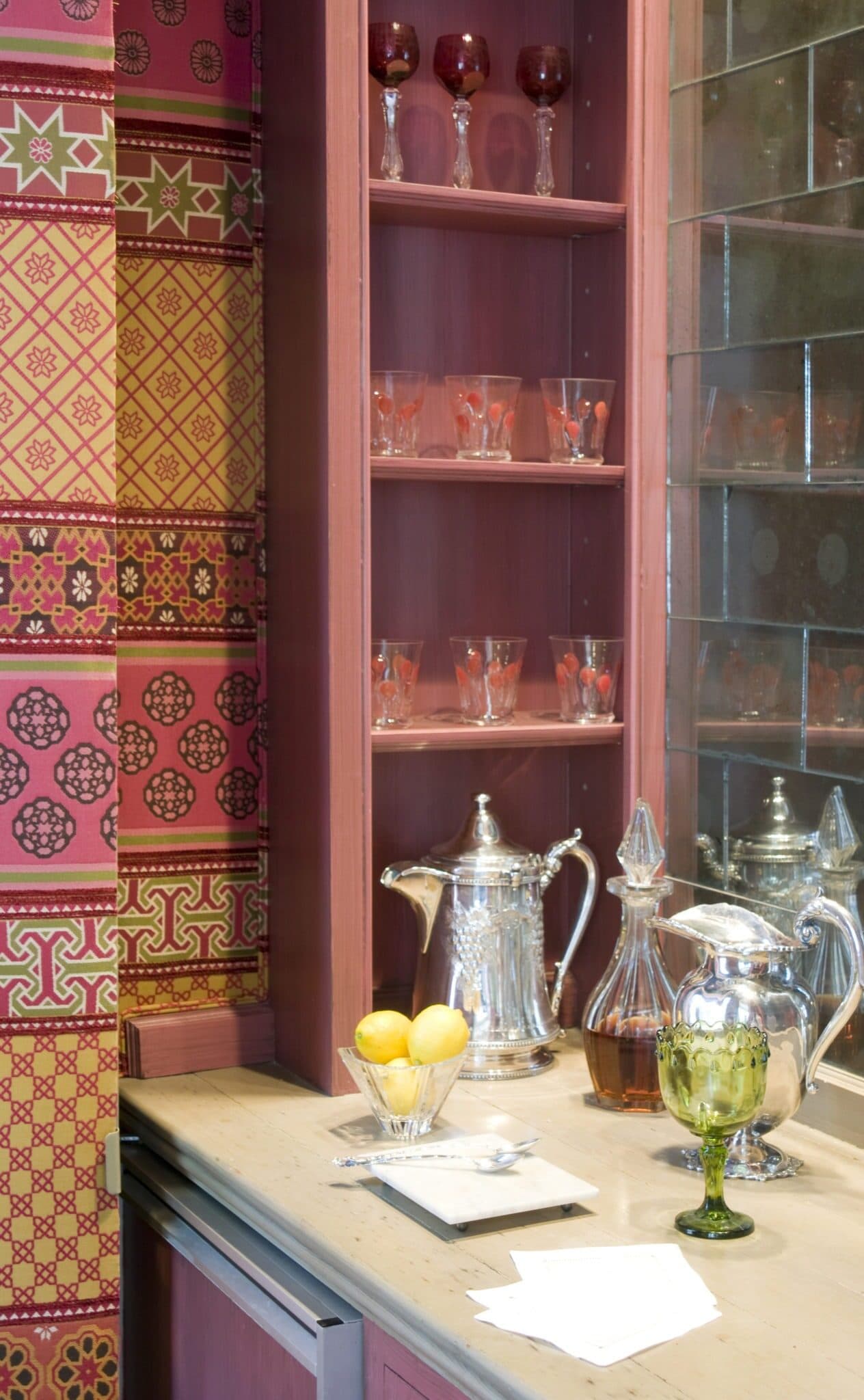 An upstairs bedroom reveals another bold palette created from the orange and pink Manuel Canovas wallpaper. A set of Chinoiserie prints and monogrammed Leontine Linens blend beautifully with a portrait by Andrew Bucci, a settee upholstered in a modern David Hicks graphic print and zebra hide pillows. The unexpected combination once again shows Melissa's unique take on traditional Southern decorating.
The powder room tucked under the stairwell is concealed by a shagreen and nailhead covered door leading to this jewel box of a room. The sink and cabinet were custom made by Michael Carbine of New Orleans who oversaw the renovation. An antique mirror hangs in a corner, and Osborne & Little wallpaper lines the walls. Melissa adds, "In New Orleans, you get used to making things work in difficult spaces. All of our old houses come with challenging spots, but it adds charm in the end."
"Southerners have never been subtle and quiet (at least the ones I know). So it's only fitting that this 'sister' who loves a room full of camellias and Queen Anne furniture can be modern and outspoken!"
---
ABOUT THE DESIGNER
Named one of Architectural Digest's "One To Watch 2013" and one of the "New Faces of Southern Style" in 2010 by Garden & Gun Magazine, Melissa Rufty has garnered a loyal national following for her modern take on classic Southern design. Her work is never formulaic. Instead, she is always careful to listen to her clients' ideas yet deliver an unexpected interpretation all her own.
"If you begin with your client as inspiration, your design will always be openminded and varied," Melissa says. Her work is relaxed and chic but never trendy. She takes great care in layering rooms with interesting color combinations, comfortable furniture and hand-picked accessories. Most important, she maintains, "My job is not done unless the client's personality greets you at the door."
MMR Interiors is located on New Orleans' famed Magazine Street. It is from there that much of Melissa's inspiration originates…the fabulous antique stores, modern art galleries, local artisans, vintage lighting and hand-embroidered linens, to name a few. With all of those indulgences, she jokes, "Who could miss?" New Orleans is a city known as much for its grandeur as for its joie de vivre. "It's not about perfection. Fine antiques are wonderful, but lesser things can tell a unique story and convey a sense of place." This same wonderful dichotomy of elegance and approachability continue to define Melissa's sophisticated yet relaxed style. Melissa is currently working on projects throughout the United States.