For this issue of Peachy, we talked with Cindy Trestman, wife of Marc Trestman, head coach of the Chicago Bears. She was fun, lively and passionate as she shared with us, among others, her favorite places to shop with her daughters; her dedication to raising awareness and funding to benefit Alzheimer's research; and her thoughts on life as a coach's wife.
"I was born in Cleveland, Ohio, and I have a brother and sister who still live there, as well as many close friends. Cleveland will always be home to me. I actually met Marc in Cleveland! He was working with the Cleveland Browns at the time and I was working at a clothing store called Hemisphere. His father noticed me first. He said: 'Hey, check her out!'
"The Chicago Bears is a wonderful organization. I am so grateful and appreciative of being the head coach's wife. At the same time, I'm independent. I have to be because I spend a lot of time without my husband. I always said I could never be married to a man with a 9-to-5 job!" The best part of being a coach's wife? "Going to the games." The worst? "Losing a game and waking up the next morning."
As for a bit of time-out from hectic days… "I am passionate about painting, especially for family and friends. And I love just hanging with them!"
---
Cindy's favorite haunts, from restaurants to exercise…
If I am in the city, one of my favorite places to go for lunch is Fred's at Barneys New York. It's chic and cozy in the winter and when it warms up, there's no better place to see the Gold Coast.
15 East Oak Street
Gold Coast/Streeterville
312.596.1111
Marc and I don't have a favorite dinner spot. There are so many wonderful restaurants in Chicago. I guess it depends on what we have a taste for.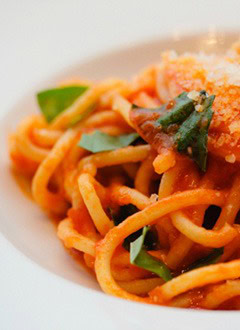 If it's steak, Chicago Prime.
1444 E Algonquin Road, Schaumburg
847.969.9900
In the mood for Italian? RPM Italian. (photo left)
52 W. Illinois
312.222.1888
If we're looking for variety, Siena Tavern.
51 W. Kinzie Street (near North Side)
312.595.1322
For a night out? Hub51.
51 W. Hubbard
312.828.0051
On style and beauty…
I do love to shop and I love taking my daughters! And I love to shop everywhere! I don't have a favorite designer. I do love Helmut Lang's tops because they have a flair about them. I guess you could say I'm a blue jeans girl. I love Rag and Bone, Mothers, and AG Skinny and Straight. My go-to pair is my AG Boyfriend jeans. I do like wearing pretty tops with a great shoe or boot.
The Topshop has fabulous tops, but it doesn't stop there. It has everything!
830 North Michigan Avenue
312.280.6834
Intermix offers an assortment of brands that focuses on the newest trends as well as offering exciting fashions by both emerging and established designers.
841 W. Armitage
773.404.8766
For a special occasion, you can't beat Neapolitan.
715 Elm Street, Winnetka
847.441.7784
Her beauty secret?
I'm not a huge makeup person, but I never walk out of the house without lipstick! EVER! Or without Chanel concealer and Chanel bronzer.
As for workouts?
I like to mix it up. I love yoga, spinning and any type of cardio workout—as long as the music is motivating!
North Shore Yoga
310 Happ Road, Suite 216, Northfield
847.784.8844
Yogaview
2211 N. Elston Avenue, Suite 200
773.342.9642
Spinning classes at Spynergy.
813 Oak Street, Winnetka
847.441.8024
And interval training at Shred415.
300 South Happ Road, Northfield
847.929.9545
Favorite getaways?
To escape the winter, Marc and I love to go to Cabo San Lucas. We stay at the One & Only Palmilla.
Montréal is one of my favorite places to visit. We spent a lot of time there over the past five years. I love its art galleries and the women have such a great sense of style. So European!
Cindy's passion…
I lost my mother to Alzheimer's. Ever since, I have spent time volunteering to help raise awareness and funding for this dreadful disease. My passion is to assist in finding a cure. Marc wrote a motivational biography called Perseverance: Life Lessons on Leadership and Teamwork and a portion of the proceeds goes to Alzheimer's-related charities. The reviews have been excellent.