Founded in 1988, The Track&Field Store is Brazil's largest fitness and lifestyle apparel brand, with more than 120 stores in Brazil. Avid runners Fred Wagner and Alberto Azevedo and triathlete Ricardo Rosset started The Track&Field Store, in an effort to appeal to a growing market of fashion-conscious Brazilian fitness enthusiasts. The three launched the line 27 years ago after some time "warming up" in the business selling sportswear. "We were passionate about sports," company co-founder Wagner told Sourcing Journal. "We felt that fitness apparel needed the strength of technology, the guts and features of activewear combined with fashion, style and the Brazilian twist."
When asked how the company communicates that "Brazilian twist," Wagner said, "We think the consumer will see it as part of the DNA of the brand. So when you see and feel the product and its design, you sense it's different from something that's manufactured in Southeast Asia. We manufacture 85-90 percent of our products in Brazil, all of them in-house. We are a vertical company, and invest a lot of our margins in developing differentiated products. And not just in design, but in fabrics and in the technology inside of it."
The company's products include running tops, shorts, tights, pants, sports bras, swimwear and other styles ranging in price from $50 to $250. Each style incorporates at least one of its many fabric technologies, but the leading three are in the majority of its products.
Thermodry is made from an exclusive polyamide (nylon) fabric from which is created extremely lightweight clothing for greater movement and ease in any physical activity.  The construction of the fabric allows water and air to move through the material quickly, helping the apparel dry rapidly. The technology also creates better thermal balance in the body for a more comfortable experience. The products features unique yarns developed to enhance well-being and performance, "smart water" or moisture management and softness that only nylon microfilaments can provide for sports and leisure, and control over the right level of bacteriostatic protection, or odor management, for daily use.
Redtech technology helps improve strength and performance, promoting a new level of interaction between body and fabric and creating better thermal balance in the body. Combined with the company's proprietary engineered garment designs, the bioactive minerals embedded in the yarn of the fabric are equipped to endure any physical activity. The technology absorbs infrared radiation emitted by the human body and re-emits the absorbed radiation as a far-infrared wave. This wave penetrates the skin and causes body stimulation.
UVTech, like it sounds, offers excellent protection from sunlight, using an exclusive nylon fabric with a SPF of 50. It is used in several products for use in outdoor activities, such as running or surfing, to shield wearers from the sun's harmful ultraviolet rays. The SPF in our UVTech technology is everlasting, incorporated into the fabric itself, so is protected through many washes.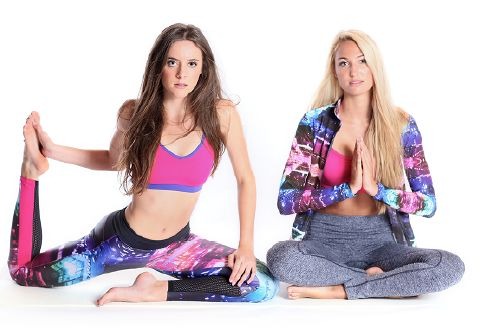 "Our R&D department works with the different fiber and yarn companies to create new fabrics. There's a big difference between what you can do as a mass brand and what you can invest as a vertical specialty brand in the areas of new developments," Wagner said. "We can deliver higher quality, better and different hand and feel. It's a completely different process. We invest tremendously in our product development to make sure our consumers are not only wearing apparel that looks terrific, but performs well and feels fantastic."
On The Track & Field Store's chances for success in the U.S., Wagner said, "The U.S. market is huge, and we think the American consumer has a lot in common with the Brazilian consumer's healthy and active lifestyle."
The Track&Field Store arrived in Charlotte's SouthPark Mall and has continued to entice fitness enthusiasts and athletic individuals who enjoy fashionable fitness apparel! The brand offers innovative and fashion-forward fitness apparel, featuring unique, high­-performance fabrics and chic designs with a Brazilian twist. This is The Track&Field Store's third U.S. location, which joins two existing stores in New York City and Los Angeles, and is part of the brand's strategy to expand across the U.S. in the coming years.
The Track&Field Store Charlotte is owned by Ron Skufca, Silvia Skufca, Cid Cardoso, Sr. and Cid Cardoso, Jr. The owners are passionate about fitness and developed an affinity for the brand after Silvia discovered it in Brazil many years ago, which inspired their collective decision to open the store. A fitness fashion haven for men, women and kids, The Track&Field Store is a leader in premium activewear. Situated in one of the region's premier shopping areas, the 700 square foot boutique-style store offers shoppers a taste of Brazil's natural beauty and love for fitness. The sleek space features clean and modern design elements with chrome accents, offering visitors a sophisticated shopping experience.
The boutique showcases the brand's expertly tailored clothing in bold colors, textures and prints – all made with innovative technologies that make the apparel feel next-to-skin comfortable. One thing that is unique about The Track&Field Store brand is their seasonal collections and weekly lines. There is a new collection launched every 6 months and within each collection there are weekly lines. Every week there is something new at the store for customers to see! Also constantly available, are the pieces people love, but often with new colors and prints. The next collection is being launched this month and will run through February, 2016.
"We've received tremendously positive feedback in the U.S. so far, and are very pleased to work with Ron, Silvia, Cid Sr. and Cid Jr. to bring our Brazilian fitness style to the Charlotte area," commented Fred Wagner, co-founder of The Track&Field Store. "Our goal is to introduce the brand to more fitness enthusiasts and athletic individuals who appreciate fashionable and high-quality fitness clothing. All four owners have an athletic background and affinity for the brand, which makes them the perfect team to open the store, and positions them well for success. Our unique approach to retail and sports apparel is unlike anything Charlotte has seen before, and we are very excited to offer the region a fresh, new twist on fitness fashion."
Silvia, who was born and raised in Brazil, previously competed as a swimmer, runner and triathlete. She has completed multiple marathons and two Ironman distance triathlons, and became passionate about the brand during her time in Brazil as a triathlete. Her husband Ron, an active runner and cyclist, has competed as a professional duathlete across the globe, and continues to participate in long distance events and charity rides. Cid Cardoso, Jr. is the owner and founder of Inside-Out Sports, named one of the Top 10 U.S. Triathlon Retailers by Triathlon Business International, and he has raced in triathlons for more than 25 years. Cid Cardoso, Sr., also a runner and triathlete, is co-owner of Inside-Out Sports. Ron, Silvia, Cid, Jr. and Cid, Sr. are long-time North Carolinians, and their athletic passions and backgrounds, combined with their close ties to the brand, made the store opening a natural next step for the entrepreneurial group.
In October, The Track&Field Store Charlotte is planning some big grand opening events at SouthPark Mall including a VIP party and fashion show, introductory fitness classes, promotions and give-aways. So be on the look-out for these fabulous events and promotions! Their local marketing plans going forward include offering competitive discounts to certified fitness instructors, launching a local ambassador program to promote their brand and fitness lifestyle, partnering with local gyms and fitness studios to sponsor yoga and other health and fitness related events, sponsoring local running races, and so much more!