Whitney Ward
Whitney Ward has lived in Hingham, Massachusetts, for 20 years where she has enjoyed different careers and raising three children with her husband Chris. She currently works in sales for her sister who is a lighting designer. lindseyadelman.com
Whitney grew up in Westchester, NY, and attended Colby College in Maine. Cape Cod—specifically Harwich Port and Chatham—holds a special place in her heart as she grew up vacationing, visiting family, getting married, and eventually owning a summer home on the Cape.
Eat: Restaurants + Bars on Cape Cod
Del Mar Bar & Bistro
Consistently our favorite restaurant on the Cape! Both the daily menu and blackboard specials offer unique, fresh, local, and healthy seafood, salads, steaks, flatbreads, and more. There is usually a line out the door at 5 p.m. for walk-in customers (first seating). Locals may only go off-season to avoid the crowd, but we love dropping in unplanned and snagging a couple seats at the bar. Reservations recommended.
907 Main Street, Chatham
508.945.9988
Bluefins Sushi
Can't be beat for the best sushi around! The menu is so creative, it's hard to decide what to order. Good news: there is not a bad selection. If you are there during the summer, make a reservation or walk in at 5 p.m. for best seating options. This is another great place to sit at the bar and take recommendations from the knowledgeable bartenders.
513 Main Street, Chatham
508.348.1573
The Knack
A kid and adult pleaser for lunch or dinner. The walk-up window makes ordering stress-free. There is outdoor seating and a relaxed vibe. They serve burgers, dogs, tacos, lobster rolls, milkshakes, etc. All the food is locally sourced and prepared in-house. A great stop on the way to the beach or surf shop.
5 Route 6A, Orleans
774.316.4595
Hangar B Eatery
Best breakfast in town! The little restaurant is located at the Chatham Municipal Airport so the kids can watch prop planes fly in and out while waiting for food and eating. They serve breakfast and lunch including homemade granola, huevos rancheros, pancakes, fish tacos, and more. They even roast their own coffee beans. Arrive early for ease of seating!
240 George Ryder Road, Chatham
508.593.3655
Shop: Local Gifts + Specialty Shops
White Marlie
Known around town for its popular logo. They sell great hats, t-shirts, sweatshirts, bathing suits, and more. Located in a cute little house right on Main Street.
459A Main Street, Chatham
508.945.0877
Nauset Surf Shop
A great stop for all surf gear, bathing suits, sunglasses, hats, and more. The store has an old school surf vibe and huge selection. We like to stop on our way to Nauset Beach or The Knack for lunch.
2 Route 6A, Orleans
508.255.4742
Play: Things to Do on Cape Cod
The Port and Perks offer a fun evening of food and drinks with friends in an outdoor environment. These two hot spots are right next door to each other on Main Street in Harwich Port. Perks is open early for coffee, lunch, and dinner with outdoor picnic tables and a bar. The Port is an upscale restaurant in the main room, with an oyster bar and outdoor patio for a late-night party outside. Choose the option that works for your group—you will not be disappointed.
The Port
541 Route 28, Harwich Port
508.430.5410
Perks
545 Route 28, Harwich Port
774.209.3460
Nauset Beach
Public beach on the east coast of outer Cape Cod in Orleans. It extends south from a point opposite Nauset Bay to the mouth of Chatham Harbor. Popular with swimmers, surfers, boogie boarders, and fishermen. At times, it offers some of the highest waves on Cape Cod.
250 Beach Road, Orleans
Wellfleet Drive-In
The only drive-in theater on Cape Cod, located in Wellfleet along U.S. Route 6. A fun night out with the kids. Get there early for the best parking! They offer first-run double features in season, with a miniature golf course and restaurants.
51 State Highway, Wellfleet
508.349.0541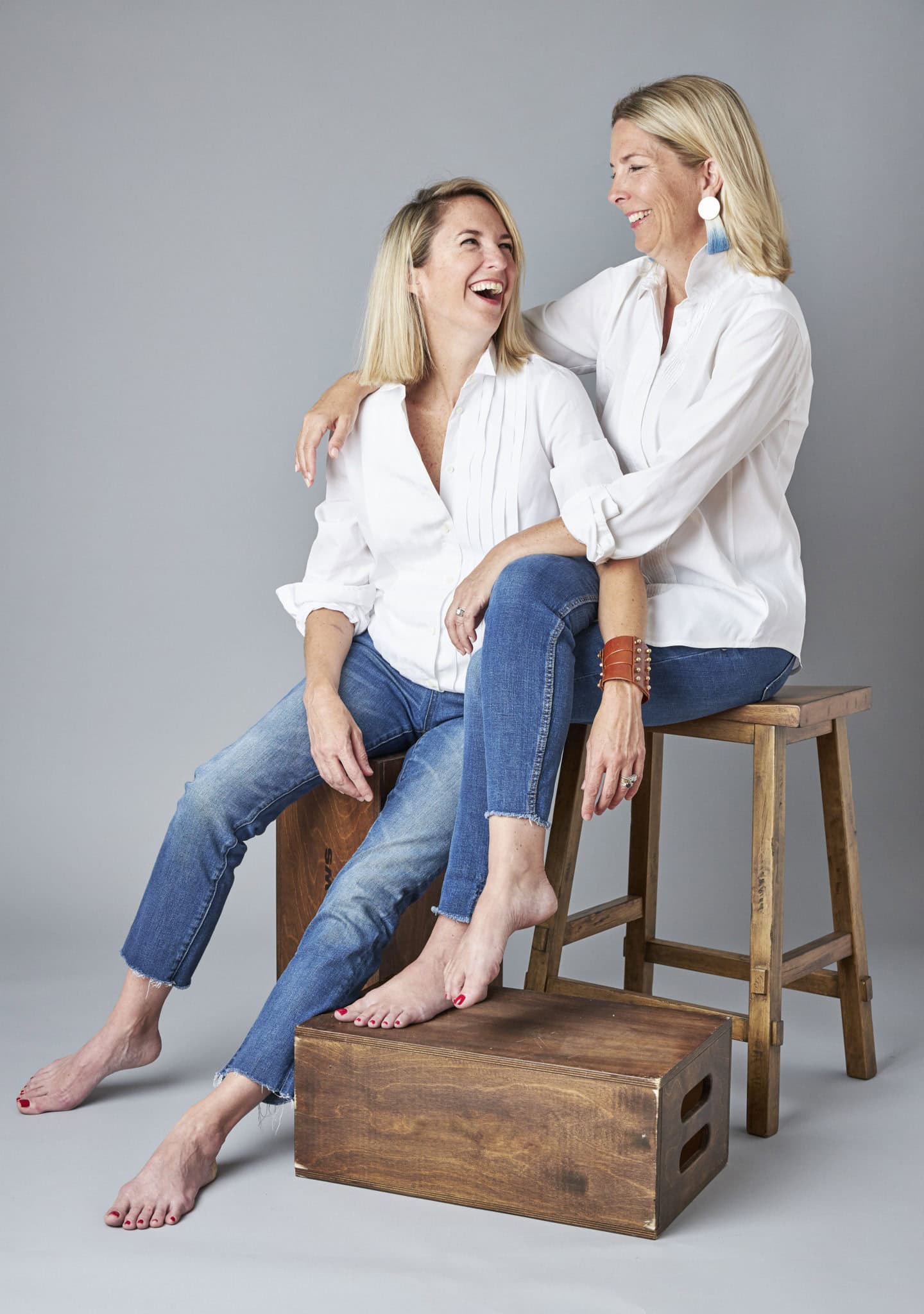 Tracy Dart & Christi Pringle
Sisters by birth—best friends by choice—Tracy Dart and Christi Pringle grew up in the Carolina Lowcountry and are co-owners of FOUND Collection. Together they curate seasonal capsule collections of women's clothing and accessories and present their finds in a trunk show format. FOUND focuses on women designers and those with a socially conscious mission. For each event, FOUND partners with a local nonprofit to raise awareness and support them with a donation. Tracy and her family live in Princeton, NJ, and Chatham, MA. Christi and her family live in Charlotte, NC. On a slow day, they speak about three times. Motto: Dream Big. Work Hard. Be Kind. Give Back. Have Fun. @shopfound and shopfoundcollection.com
Eat: Restaurants + Bars on Cape Cod
Bluefins Sushi
Our first stop on any trip! You won't find a basic California roll on the menu at Bluefins. Located on Main Street, this bustling spot specializes in unique rolls (be sure to try the Shaggy Dog or Volcano Rolls). Owned by Andy Baler, the owner of Chatham Fish Pier Market, so you are guaranteed the freshest sushi. It also has a menu of pan-Asian dishes and a great cocktail list.
513 Main Street, Chatham
508.348.1573
Del Mar Bar & Bistro
A popular Chatham nightspot for delicious food. The creative menu features native seafood, bistro cuisine, wood-fired, thin crust pizzas, and many local ingredients. Be sure to check their blackboard for nightly specials! (If you can find a seat, you can also dine at the bar.)
907 Main Street, Chatham
508.945.9988
Drinks on the Veranda at Chatham Bars Inn
A must! Take in the most glorious view of Chatham's harbor and enjoy cocktails and light bites while sitting on the Veranda of Shore Road's grande dame. You will never tire of the view.
297 Shore Road, Chatham
508.945.0096
Twenty-Eight Atlantic & Thoreau's
With expansive views of Pleasant Bay, Twenty-eight Atlantic is the signature restaurant of the Wequassett Resort and an elegant setting for chef James Hackney's seafood-focused and seasonally crafted menu. If you want something cozier, try Thoreau's, a club-like bar adjacent to Twenty-Eight Atlantic.
2173 Route 28, Harwich
508.430.3000
The Squire (officially, The Chatham Squire)
Defined as Chatham's family restaurant, this place features two sides, the pub side and the main dining room. We head straight to the pub side! Decorated with patrons' license plates and containing a few video games to keep the kiddos entertained, this is the perfect spot for a casual meal and our first port in a storm.
487 Main Street, Chatham
508.945.0945
Pisces Restaurant
Cozy Pisces, named for a favorite restaurant in Barbados, features coastal cooking, with flavors and styles gathered from around the world. The chef-owned Pisces' motto is "all good things come from the coast." With only 40 seats, be sure to call ahead for reservations.
2653 Main Street, South Chatham
508.432.4600
Hangar B
Watch the airplanes take off and land! Located inside the Chatham Municipal Airport, Hangar B is a unique breakfast and lunch restaurant. The restaurant's fare remains grounded with simple, quality ingredients. In the spirit of "Buy Fresh Buy Local Cape Cod," they have made a commitment to use local products when possible.
240 George Ryder Road, Chatham
508.593.3655
Stay: Cape Cod Resorts + Inns
Wequassett Resort & Golf Club
Truly spectacular setting on Pleasant Bay! Nestled on the "elbow" of Cape Cod, this meticulously landscaped luxury resort hideaway features something for everyone. With 120 lavish guest rooms and suites, five acclaimed restaurants, two magnificent pools, two extraordinary beaches, boating and water sports, four Har-Tru tennis courts, and 18 holes of golf—you may not have time to relax. Wequassett Resort & Golf Club is Cape Cod's only member of Preferred Hotels & Resorts Worldwide, Inc.
2173 Route 28, Harwich
508.233.2863
Chatham Bars Inn
The Grande Dame of Chatham. Built in 1914 and a member of "Leading Hotels of the World," this expansive estate offers everything that a seaside resort guest would want. The property includes four restaurants, beach, pool, tennis, and spa. The kids club offers full day adventures for younger guests. Book your spa treatments and discover a soothing and restorative escape. Guests also enjoy the ability to walk into town or take in the scenery while running along Shore Road.
297 Shore Road, Chatham
508.945.0096
Captain's House Inn
A quintessential bed and breakfast. "Young Captain Hiram Harding—captain of a packet clipper ship—built this stately Greek-Revival style sea captain's home in 1839 for Lydia, his bride of one year. Set on two acres with outbuildings and a large outdoor swimming pool, the inn offers a lovely retreat space for romantic getaways, intimate weddings, and small conferences. Complete with pampering amenities and an exceptional staff, the Captain's House Inn offers the perfect location for your Cape Cod getaway."
369 Old Harbor Road, Chatham
508.945.0127
Friends with Benefits
The best invitation! If you are lucky enough to have friends with a home in Chatham (or anywhere on the Cape) be your most charming and drop a few hints. With a home on Cape Cod, an inevitable fact of summer life is the arrival of houseguests. Secure a copy of The Inevitable Guest: A Survival Guide to Being Company and Having Company on Cape Cod for delightful do's and don'ts.
Shop: Local Gifts + Specialty Shops
Mahi Gold
"Born on the beach" Mahi Gold was created by a local brother and sister team inspired by everything Americana. Their nautical prints are not only worn by locals and visitors but can now be found in more than 250 boutiques across the USA.
465 Main Street, Chatham
508.348.5487
Sea Bags
Who doesn't love a day on the water? Sea Bags are born as sails and transformed into nautically inspired totes and accessories.
605 Main Street, Chatham
207.939.7204
Chatham Candy Manor
Everyone's first stop for homemade fudge and chocolates. The Chatham Candy Manor has been a staple of the Chatham community for over 60 years. (There is a sample bowl at the counter so you can always get your fix!)
484 Main Street, Chatham
508.945.0825
Focus Gallery
This stunning gallery features an award-winning portfolio of fine art photography, made up of hundreds of prints.
595 Main Street, Chatham
508.348.1493
Fisherman's Daughter
A boutique of handmade, eco-friendly clothing. Owner Taylor Brown grew up on Cape Cod as the daughter of a commercial fisherman which nurtured her love of the ocean and concern for its protection. The boutique features her collection as well as over 50 other local artists and designers.
521 Main Street, Chatham
508.292.5463
The Chatham Home
Find your perfect host gift plus beautiful linens to dress your bed or redo a room with their selection of made-to-order upholstery and lighting.
443 Main Street, Chatham
508.945.5562
Great bookstores not to miss: Yellow Umbrella and Where the Sidewalk Ends
Yellow Umbrella Books
501 Main Street, Chatham
508.945.0144
Where the Sidewalk Ends Bookstore
432 Main Street, Chatham
508.945.0499
Play: Things to Do on Cape Cod
Chatham Orpheum Theater
An iconic Main Street treasure, our movie house reopened in 2012 and features first-run major motion pictures plus art house movies, independent productions, provocative documentaries, and the works of local filmmakers. (A must: attend a summer showing of "Jaws" filmed on nearby Martha's Vineyard.)
637 Main Street, Chatham
508.945.0874
Whale Watching
Cape Cod is a world-class destination for whale watching. There are daily whale watch excursions are offered in season, led by experienced naturalists. See the whales and other marine life along Stellwagen Bank, one of the world's finest whale feeding grounds located off Cape Cod Bay.
Beaches
If we can't be in the Lowcountry, the Cape's beaches are among the finest in the world. Because Chatham is located on the "elbow" of the Cape, the vast white sand beaches offer a diversity of choices, including saltwater and freshwater beaches.
Cycling Along the Cape Cod Rail Trail
The paved rail-trail rolls 22 miles through Massachusetts' southeastern peninsula and into the Cape Cod National Seashore, connecting half a dozen New England towns full of 17th century charm. All along the trail there are bicycle rental shops, places to stop for food and ice cream, swimming holes, and the beaches of the national seashore.
The Cape Cod National Seashore
"A man may stand there and put all America behind him." (Henry David Thoreau) The great Outer Beach described by Thoreau in the 1800s is protected within the national seashore. President John F. Kennedy signed a bill in 1961 creating the Cape Cod national seashore. These 40 miles of pristine sandy beach, marshes, ponds, wild cranberry bogs, and uplands support diverse species. This stretch of seashore is also home to five lighthouses.
The Wellfleet Drive-In
Enjoy a movie under the stars at a classic drive-in theatre from 1957! It's the last of its kind on Cape Cod, and one of about 300 left in the country.
51 State Highway, Wellfleet
508.349.0541
Mini Golf
A Cape Cod institution, there are too many options to list! Be sure to follow your round with an ice cream treat.
The Cape Cod Jazz Fest
Hosted by Wequassett Resort, performances by award-winning musicians take place on the Garden Terrace overlooking Pleasant Bay every Tuesday and Wednesday evening from late June through August.
2173 Route 28, Harwich
508.233.2863
Chatham Lighthouse Beach Yoga
Bring your beach towel, sunglasses, and a smile to Lighthouse Beach every morning at 7:30 a.m. And, yes, they do practice in the Chatham fog! $10 a person.
70 Main Street, Chatham
508.945.7643
The Chatham "A's"
Enjoy a Chatham Anglers (or Chatham "A's") baseball game on Veterans Field for a taste of summer fun. The Cape Cod Baseball League is a collegiate summer baseball league located on Cape Cod. One of the nation's premier collegiate summer leagues, the league boasts over 1,000 former players who have gone on to play in the major leagues.
1 Veterans Field Road, Chatham
508.348.1607
Sunrise (or Sunset) at the Lighthouse
If you're in Chatham, you'll want to head out to Chatham Lighthouse Beach. You can stay in your car or head out to the sand for a spectacular view right along the water. Get there early and watch the fishing boats head out to sea. Facing east, you can't beat it!
Fishing Charters
Chatham is surrounded on three sides by great fishing grounds. Close to town, you have tuna grounds to the east, and ideal striped bass territory to the north. Head south, and you'll find productive cod fishing and huge pelagic sharks. You can also find mahi mahi and even white marlin when the warm currents of the Gulf Stream drift closer to land.
Other fun things to do:
Take day trips to Nantucket or the Vineyard.
Road trip to Provincetown or The Beachcomber in Wellfleet.