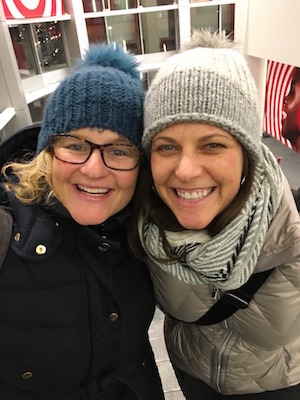 Emily and Jennifer Weber
Emily and Jennifer grew up in Connecticut but have lived in the Boston area for the last 20 years. Emily lives in Brookline with her Goldendoodle, Rosie, and works in advertising. She is always keeping Jennifer up to date on the latest hip spots in Boston. Jennifer lives in Newton with her husband, Laurence, and their three kids, Daniel (15), Lily (13) and Molly (13) and Rosie's cousin, Lola, also a Goldendoodle.
Eat: Restaurants + Bars in Boston
This is a perfect assignment because one of our favorite topics is discussing where to eat and what are the best new restaurants in town. With the development of the Seaport and Fenway areas, it's amazing how many new restaurants have opened in Boston in the last few years. It's hard to narrow down our favorites…but if you're coming to Boston you should definitely try New England's favorite—seafood! We love Row 34. Row 34 is located in the up and coming Seaport district and has more of an industrial feel (it's actually an old steel factory), with a huge raw bar including a fantastic oyster selection, and beer and wine offerings no cocktails here). They have one of the best lobster rolls in town. It's pretty loud and could definitely be a good spot for the entire family. Reservations are important, unless you can grab a seat at the bar. Enjoy!
Row 34
383 Congress Street
617.553.5900
Stay: Boston Hotels
There are some great neighborhoods to check out in Boston. Historic Beacon Hill is a perfect location because you can easily walk to most of the city from here and hop on the Red Line subway to Harvard Square. We recommend The Liberty Hotel. This used to be an old jail, so the inside is pretty cool, and the hotel is located right on the Charles River with some spectacular views. You can stop by CLINK, a restaurant located in the hotel, and enjoy a glass of champagne in the lobby bar before you head out for the night. If you're there in the spring/summer, you can enjoy a cocktail on the outside patio at Alibi, the jail house bar. Hotel AKA (formerly Nine Zero) has a great location right off of Boston Common.
The Liberty Hotel
215 Charles Street
617.224.4000
Hotel AKA
90 Tremont Street
617.772.5800
Shop: Local Gifts + Specialty Shops
This is an easy one for us—we're especially good at shopping. In Brookline, just on the outskirts of Boston, we love Mint Julep, a local boutique with unique clothing and accessories. It's hard to walk by without going in. And while you're in the neighborhood, grab a coffee and browse through the Brookline Booksmith. This is a classic independent bookstore where you could spend hours. They have some stellar "gifty" things to pick up as well. Other great shopping can be found on Beacon Hill and Newbury Street. Crush Boutique has a location in each neighborhood with a well-curated collection of great designers. If you are looking for shopping in the suburbs, there is a great jewelry store in Newton called Folklorica which has an interesting, funky jewelry collection including the latest from Alexis Bittar.
Mint Julep
1302 Beacon Street
617.232.3600
Brookline Booksmith
279 Harvard Street
617.566.6660
Crush Boutique
131 Charles Street
617.720.0010
264 Newbury Street
617.424.0010
Folklorica
61 Union Street
617.630.1815
Play: Things to Do in Boston
There's so much to do in Boston, but we'd suggest starting your stay with Boston Duck Tours—you can get a feel for the city and see almost everything! We've taken our own out of town family on this tour, and it's really fun for all ages. Then, walk the Freedom Trail and head over to Charlestown (you walk up to Bunker Hill and then down to the Navy Yard to see the Constitution Museum). If you're looking for a fun playground, walk over to the Charles River Esplanade Playspace, which has neat structures for climbing, zip lining, spinning and swinging. And if you're not tired out yet, you can take out a kayak or canoe on the Charles for a few hours. If you visit during baseball season, you should definitely check out Fenway Park and a Red Sox game. Win or lose, you can't have a bad time at a Red Sox game!
Boston Duck Tours
617.267.3825
The Freedom Trail
617.357.8300
USS Constitution Museum
Building 22
Charlestown Navy Yard
617.426.1812
Charles River Esplanade Playspace
Near the Hatch Shell
Paddle Boston
160 Riverview Avenue
617.965.5110
Fenway Park
4 Yawkey Way
---
Rachel Kogan and Josh Habib
Rachel and Josh have lived in the Jamaica Plain neighborhood of Boston for 20 years. They are parents to Natalie (16), Adina (12) and their mutt, Teddy. You're more likely to find them at their girls' soccer practices or games than at the hip spots they've recommended!
Eat: Restaurants + Bars in Boston
Vee Vee in Jamaica Plain is an eclectic American bistro featuring local and seasonal food, where you can drink fresh local brew on tap. Life Alive is a funky, organic salad/sandwich/bowl café that makes you feel healthier than before you ate. Myers + Chang offers innovative Asian cuisine in the hip South End area of Boston. And Sportello is known for modern, Italian-style pastas at a casual, diner-style locale near the waterfront. Clear Flour is a scrumptious bakery tucked into a residential neighborhood in Brookline.
Vee Vee
763 Centre Street
617.522.01454
Life Alive
765 Massachusetts Avenue
617.354.5433
Myers + Chang
1145 Washington Street
617.542.5200
Sportello
348 Congress Street
617.737.1234
Clear Flour Bakery
178 Thorndike Street
617.739.0060
Stay: Boston Hotels
The unique Liberty Hotel in Government Center is the site of the old Charles Street Jail. And a relatively new, funky hotel, The Verb, gives you easy access to the Red Sox and the booming Fenway area.
The Liberty Hotel
215 Charles Street
617.224.4000
The Verb Hotel
1271 Boylston Street
617.566.4500
Shop: Local Gifts + Specialty Shops
Salmagundi in the North End has a phenomenal collection of old school hats (e.g. fedoras) and wool scarves. Check out Hilton's Tent City in Cambridge for good deals and gear for weekend trips to Vermont or New Hampshire.
Salmagundi
61 Salem Street
617.936.4015
Hilton's Tent City
565 Massachusetts Ave.
617.227.9242
Play: Things to Do in Boston
Wally's Café Jazz Club on Mass Ave. features phenomenal young musicians from nearby Berklee College of Music. Jamaica Pond and The Arnold Arboretum on the border of Roslindale and Jamaica Plain contain a cornucopia of trees and shrubs from all over the world. And the Arboretum is managed by Harvard so they have the money for upkeep. After a walk through the Arb, check out JP Centre Yoga for some heated (or non-heated) Vinyasa. The Public Garden downtown, featuring the Swan boats and statues from "Make Way for Ducklings," is a must for families with young kids. The American Repertory Theater in Cambridge is the place to catch innovative shows before they hit Broadway. Visit the Institute of Contemporary Art on the waterfront to see modern works and the Boston Harbor.
Wally's Café Jazz Club
427 Massachusetts Ave.
617.424.1408
Jamaica Pond
507 Jamaicaway
The Arnold Arboretum
125 Arborway
617.524.1718
JP Centre Yoga
670 Centre Street
617.942.8936
Public Garden
4 Charles Street
American Repertory Theater
64 Brattle Street
617.547.8300
The Institute of Contemporary Art
25 Harbor Shore Drive
617.478.3100
---
Kara and Marni Powers
Kara and Marni Powers are the founders of Twin Tastes where they cook, dine and blog their way through Boston and beyond. The twin sisters see the act of cooking and entertaining as a form of creative expression, an art that encourages the mixing of flavors, spices, techniques and stories. Their interest in cooking dates back to their Greek grandmother's open-arms approach, letting them taste her delicious creations like her famous spanakopita. Kara and Marni have written articles for Edible Boston and Foodies of New England and were featured in The Boston Globe for their Instagram photos (@twintastes). The twin sisters' recipes have been featured in The New York Times, Edible Boston and Honest Cooking, among other online culinary sites as well.
Eat: Restaurants + Bars in Boston
Lobstah Roll/Raw Bar/Clam Chowdah
Neptune Oyster
Tucked down a side street in the North End, it's worth a wait in line to taste the tiny oyster bar's famous buttery lobster roll or Wellfleet clam chowder. Grab a table or sit at the raw bar with a glass of rosé and a choice of the freshest catch of the day.
63 Salem Street
617.742.3474
Row 34
Another popular spot in the Seaport District for the seafood lover. The interior is bright, stylish and open to an outdoor patio. The fresh fish entrees, fish and chips, extensive raw bar selection and rotating beer menu are some of the must-trys.
383 Congress Street
617.553.5900
Pizza
Area Four
Our go-to for brick oven pizza with perfectly charred bubbly crust and the freshest toppings. We often opt for the Sausage and Pickled Fresnos Pizza with their insanely good Brussels Sprout and Kale salad with hazelnuts, pecorino and lemony vinaigrette.
264 East Berkeley Street
857.317.4805
Regina Pizzeria
A family-owned classic in the North End and outside Boston. We love to keep it simple with the Margherita Pizza featuring a centuries-old crust recipe, tangy sauce and gooey aged mozzarella.
11 1/2 Thacher Street
617.227.0765
Eclectic Flare
Toro
If you are in the mood to share, Toro boasts an impressive mix of modern and traditional tapas. We enjoy the Smoked Duck Drumettes with Quince Glaze, Grilled Mexican Street Corn, and of course, a pitcher of Sangria.
1704 Washington Street
617.536.4300
Myers + Chang
A fun, creative variety of Chinese, Thai and Vietnamese-inspired dishes. Their Dim Sum brunch is a must!
1145 Washington Street
617.542.5200
Bakery/Sweet Treat/Breakfast
Flour Bakery
While their lunch and breakfast options are stellar, we tend to pop in for the award-winning baked goods. The sticky buns are incredible—gooey, doughy and huge! We are also big fans of the macaroons and the Chunky Lola Cookies with oats, chocolate, coconut and toasted pecans.
1595 Washington Street
617.267.4300
Tatte Bakery
Tatte's cakes, tartines and pastries owe their exceptional look and flavor to carefully-sourced ingredients. Their pastries—in addition to the extensive breakfast menu, lunch soups and salads, and our personal favorite, the Crunchy Halloumi Salad—are works of art crafted from bold combinations of flavors and textures.
70 Charles Street
617.723.5555
Stay: Boston Hotels
The Liberty Hotel
Modern luxury in Beacon Hill with views of the Charles River. A converted jail with an ornate, stylish interior and jaw-dropping lobby.
215 Charles Street
617.224.4000
The Envoy Hotel
A newer, modern hotel in the booming Innovation District. Grab a cocktail atop the hotel's Lookout Rooftop Bar overlooking Boston Harbor and the skyline.
70 Sleeper Street
617.338.3030
The Eliot Hotel
A classic, boutique, European-style hotel in Back Bay.
370 Commonwealth Ave.
617.536.9114
Omni Parker House Hotel
A Boston landmark with old school, historic charm.
60 School Street
617.227.8600
Shop: Local Gifts + Specialty Shops
Our favorite areas to shop are Newbury Street and Charles Street (Beacon Hill).
Shake The Tree
A myriad of stylish gifts, accessories and home accessories. This tucked-away gem in the North End is our go-to for a friend's birthday, a hostess gift or a treat for yourself. We adore the cookbook collection and the outstanding jewelry selection features rotating artists. Every Shake member greets you with a smile and is so genuinely happy to assist you in your purchase.
67 Salem Street
617.742.0484
Flock
Another gem in the South End. Upon entering Flock's doors, the owner's bubbly Golden Retriever pups often welcome you inside, enhancing the warm, laid-back atmosphere. We love this store for whimsical gifts for friends or some boho-chic fashion for ourselves. Such a friendly group in here too!
274 Shawmut Avenue
617.391.0222
Boston Public Market
A burst of fun meandering through this year-round indoor market. If you're looking to put together a picnic, dinner or hostess gift, some of our favorite vendors include Boston Smoked Fish Company, Peterman's Boards and Bowls, Field and Vase by Stowe Greenhouse, Nella Pasta, Taza Chocolate and Banh Mi. If you time it right, the market also has various tastings and food events for the community.
100 Hanover Street
617.973.4909
Bricco Paneterria
Back in the North End, you might pass by this hidden shop. Upon walking down a side alley, you are instantly greeted by the wafting aromas of fresh bread baking daily. We are big fans of the Olive Ciabatta and Sunflower Batards.
241 Hanover Street
617.248.9859
Formaggio Kitchen
The best gourmet food shop specializing in artisan cheeses and charcuterie. We have lost track of time upon multiple occasions inside this treasure trove!
268 Shawmut Avenue
617.350.6996
Play: Things to Do in Boston
Public Garden
Stroll through the Public Garden. Especially in the warmer weather, there's an abundance of blooming flowers among the ivy greens. Take a Swan Boat ride, feed the squirrels if you dare…it's a nice respite after lunch and a connector to the shopping on Newbury or Charles Streets.
SoWa
Every Saturday, the award-winning SoWa Open Market is Boston's largest celebration of local artists, unique vendors, chefs, breweries and galleries. While strolling through, shop for artisan crafts and sample various goods from local farmers and chefs. The food trucks and live music selections are often booming—such a fun way to enjoy the afternoon!
530 Harrison Avenue
Our top three art museums in the city…
Isabella Stewart Gardner Museum
25 Evans Way
617.566.1401
Museum of Fine Arts
465 Huntington Avenue
617.267.9300
Institute of Contemporary Art
25 Harbor Shore Drive
617.478.3100
Fenway Park
The historic park featuring the mighty Red Sox is always a trip. Catch a game in the spring even if you're not a baseball fan—it's a blast of excitement with a cold beer and Fenway Frank. The park offers worthwhile tours as well.
4 Yawkey Way
Bully Boy Distillery
The city's expert in a range of handcrafted spirits, this distillery tasting room and cocktail bar is reminiscent of a speakeasy lounge. Take a tour or take a seat at the bar for an opportunity to try some carefully crafted cocktails. We enjoy the Night Shade with White Whiskey, agave, lime juice, Hellfire bitters, muddled tomato and basil or the Charlescote Campfire with Estate Gin, lime juice, berry simple syrup, homemade orange liqueur and black walnut bitters.
44 Cedric Street
617.442.6000