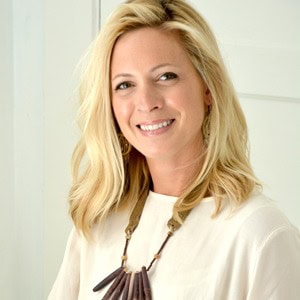 Way Way Allen
Deeply personal, her art draws from the natural world and vivid hues of her Charleston surroundings. Working from small natural details, Way Way Allen creates large abstracts that magnify and celebrate the common pattern while also amplifying the beauty of negative space. Her works, both deliberate and wildly gestural in stroke, can be found on a variety of medium from canvas and paper to wood panels as well as a recent foray into textiles. She grew up in Columbia, SC and earned a BA in Fine Arts from The University of the South.
Eat: Restaurants + Bars in Charleston
Xiao Bao Biscuit
This is a charming former gas station turned restaurant. The Hot and Spicy Som Tam (green papaya salad) is an all time favorite. And not far behind is the Okonomiyaki (cabbage pancake).
224 Rutledge Avenue at the corner of Spring Street
Edmund's Oast
The house-made fresh Ricotta on toasted Semolina bread is TO DIE FOR! Gorgeous bar and outside eating area!
1081 Morrison Drive
843.727.1145
Obstinate Daughter
You'll go as much for the food as you will for the easy and cool vibe and interiors. The Obstinate Flatbread—a butterbean purée on a warm pita—is a must.
2063 Middle Street,
Sullivan's Island
843.416.5020
The Co-Op
It's the perfect pit stop on your way to Sullivan's Island. Grab a sandwich for the beach and be sure to treat your littles to snow cones.
2019 Middle Street,
Sullivan's Island
843.882.8088
Butcher and Bee
My absolute favorite lunch spot. The kale salad has the most amazing asian flavor and the house-made hummus and toasted ciabatta are scrumptious. I'm a vegetarian so I don't know first-hand, but I hear that the burger is the best in town!
654 King Street
843.619.0202
Shop: Local Gifts + Specialty Shops
Artist and Craftsman
The absolute go-to for all your artistic needs!
981 King Street
843.937.5199
Jane Pope Jewelry
She is the most talented jewelry designer out there (and she just so happens to be my first cousin)! Her collection is simply gorgeous.
864.596.1050
Hampden Clothing
The best clothing store in town.
314 King Street
843.724.6373
Play: Things to Do in Charleston
Sullivan's Island Beach
We spend all of our free time soaking up the sun at Station 28 1/2.
Crabbing
A favorite family outing is taking out the boat and we never fail to hit all of the "honey holes" behind Sullivan's with our crabbing lines and chicken necks in tow! Fun for the whole family!
Bike rides on the island
Walks downtown
It's an invigorating way to start your day. On Saturday, we take early morning walks South of Broad.
Charleston Farmers Market
Marion Square
329 Meeting Street
843.724.7305
---
Lesa Watts
You can find Lesa Watts walking with her friends and her canine companion, Camden, in Charleston's Waterfront Park, in White Point Gardens, or on the Battery. She is always on the lookout for the perfect mate…for her Springer Spaniel (but so far all the Springer pups they have met are Camden's cousins)! Together, they enjoy hunting and gathering for her antique booth, exploring Charleston eateries and galleries with her husband and son, and visiting her daughter in Chicago. She is a representative for both Quadrille and Rungolee, women's clothing lines available through trunk shows.
Eat: Restaurants + Bars in Charleston
Fleet Landing
186 Concord Street
843.722.8100
Five Loaves
43 Cannon Street
843.937.4303
Taco Boy
217 Huger Street
843.789.3333
Stars
495 King Street
843.577.0100
Brown Dog Deli
40 Broad Street
843.853.8081
Blind Tiger
36-38 Broad Street
843.577.0088
Caviar & Bananas
51 George Street
843.577.7757
Ted's Butcher Block
The Q sandwich, which was delish, with coleslaw, which was wonderful—slightly tangy, a vinegar base, not a trace of mayo. And the BLT, with the bacon of the month was divine.
334 East Bay Street
843.577.0094
Stay: Charleston Hotels + Inns
Zero George
0 George Street
843.817.7900
Wentworth Mansion
149 Wentworth Street
843.853.1886
Shop: Local Gifts + Specialty Shops
Croghan's Jewel Box
Croghan's is the oldest family-owned jewelry store in Charleston and its inventory includes some of the most exciting and unique treasures in the Lowcountry. You'll find something special for every gift-giving occasion. Make sure they add your personal favorites to their "wish book!"
308 King Street
843.723.3594
Grady-Ervin & Co.
Wondering where to find the most friendly and impeccably dressed men in Charleston? Look no further than the gentlemen at Grady-Ervin & Company. No one is better suited to help the "men folk" in your family dress for every event—from the beach to boardroom. Your canine companions are welcome here but if you left yours at home, you can get your doggie fix with Daisy the yellow lab!
313 King Street
843.722.1776
Blue Bicycle Books
The most unique shop for new and previously loved books. You will find something for every reader in your family. The local authors, garden, art, architecture and history sections are my personal favorites.
420 King Street
843.722.2666
The Hidden Countship
A true gem of a shop tucked away in a jasmine-pink building on Burns Lane. This company will delight you with its lovingly curated selection of items from Italy.
21 Burns Lane
843.577.5570
Ellington
This eclectic boutique is located on Upper King. Its owner Cindy likes to say "we have a little bit of everything here!" And they do: antiques and mid-century pieces to amazing, unique frocks. Labels such as Planet, Babette, Emmelle, Blanque and Biya by Johnny Was.
1722 Ashley River Road Suite 5
843.729.3682
Mitchell Hill
This beautiful gallery showcases regional artists in their stunning spacious digs, as well as a host of fab furniture and stunning accessories.
414 King Street
843.577.4000
Landrum Tables
Care to see some of the most amazingly crafted furniture in the South? Visit Landrum Tables where reclaimed wood and industrial finds are transformed into all manners of tables by the very talented Capers Cauthen.
5534 Dutton Avenue
843.764.9091
Elizabeth Stuart Design
While missed by its neighbors on King Street, the newly relocated ESD in Mt. Pleasant will tempt you with its ever- changing stock of chic antiques and accessories.
215 Coleman Boulevard
843.388.3892
Antiques of South Windermere
This antique mall is well worth the trip over the Ashley River. It is home to the booths of more than 30 dealers and boasts the motto "As local as we can be!"
22 Windermere Boulevard
843.571.2755
Utopia
Fun and funky women's clothing…part art gallery, part clothing boutique. The owner and artist Beki showcases her colorful artwork along with a large selection of jewelry designed by local artists.
27 Broad Street
843.853.9510
Art Galleries
Don't miss Horton Hayes Fine Art, Karen Hagen Fine Art, and John Carroll Doyle.
Horton Hayes Fine Art
30 State Street
843.958.0014
Karen Hagan Fine Art
27 ½ State Street
843.754.0494
John Carroll Doyle
125 Church Street
843.577.7344
Play: Things to Do in Charleston
Hampton Park
30 Mary Murray Drive
843.724.7321
Waterfront Park
1 Vendue Lane
843.724.7321
White Point Garden
2 Murray Boulevard
843.724.7327
For your canine companion, try the dog park at Hazel Parker Playground.
Magnolia Plantation
3550 Ashley River Road
843.571.1266
Tours with Angie
Take a personalized tour of the Holy City with my friend (and registered tour guide!) who was born and raised in Charleston.
Gibbes Museum of Art
135 Meeting Street
843.722.2706
Edmondston-Alston House
21 East Battery
843.556.6020
South Carolina Aquarium
100 Aquarium Wharf
843.720.1990
---
Palmer Stowe
Palmer Stowe is a Charlotte native but has made Charleston, SC, her home for the past 10 years. In that time, she's graduated from the College of Charleston and started the city's premier walking tour company, Oyster Point Tours. When not touring, she likes to explore the city's growing culinary and mixology scene, and try everything new Charleston has to offer.
Eat: Restaurants + Bars in Charleston
Chez Nous
A beautiful, intimate space, and an ever-changing menu with emphasis on rustic French and Spanish cuisine. It feels like a hidden gem tucked away from the bustle of King Street. The menu is small enough to order one of everything—and you should!
6 Payne Court
843.579.3060
Victor's Seafood and Steak
Hidden away on Hutson Alley, this gorgeous bar pays homage to Ernest Hemingway with its beautiful cocktails and old school classy-meets-nautical feel. True rum enthusiasts will be delighted to sip on the city's only cocktail made with fabled Flor de Caña while gazing up at the sweeping marlin fishing landscapes that decorate the space. Get in before it's discovered!
39 John Street
843.203.3001
Goat.Sheep.Cow.
The most charming fromagerie in one of the city's most beautiful neighborhoods, this itty-bitty space is home to the finest cheeses and charcuterie to be found in Charleston. They love to let folks sample, so put together your own picnic basket for a sunny lunch in White Point Gardens, or pick up one of its fabulous sandwiches, which change daily but are always dynamite.
106 Church Street
843.480.2526
Edmund's Oast
A treat for foodies of every stripe. The huge and daring draught beer selection is the initial appeal here, but the food is what takes Edmund's from a world-class watering hole to a world-class restaurant. Flavors and textures in the dishes are so expertly layered and beautifully executed, that you'll (temporarily) forget all about your yummy drink. Come for the homemade Peanut Butter and Jelly beer and stay for the breathtaking turnip custard.
1081 Morrison Drive
843.727.1145
Stay: Charleston Hotels + Inns
Zero George
Zero is a newcomer to the Charleston hotel scene and seems to attract bright young things and savvy travelers from the world over. The property is a refreshing blend of historic charm and modern comfort, featuring a soothing color palette throughout, and one of the city's prettiest porches to take coffee on in the morning or a nightcap before bed.
0 George Street
843.817.7900
Planters Inn
Planters Inn has long been THE place to stay for those seeking classic Charleston refinement. The rooms are lush, the staff are on-point, and I'm told often by guests that the Planters breakfast is one of the best they've seen offered, period. That coconut cake that everyone raves about? Totally that good, and totally on the breakfast menu, so you can have your cake and walk it off before bedtime!
112 North Market Street
843.722.2345
Wentworth Mansion
Who doesn't want to stay in a mansion while in Charleston? Wentworth is off the beaten path and tends to be the go-to spot for celebs visiting the city, so you'll be in good company in this awe-inspiring space. Make sure you visit the cupola for an incredible view of our steepled skyline and then turn off the various alarms on your phone so you wake up naturally and feeling like a princess (or prince!) in your room's plush bed.
149 Wentworth Street
843.853.1886
Shop: Local Gifts + Specialty Shops
Sassy Shortcake Boutique
Be delighted by the colorful and reasonably priced assortment of springy apparel, jewelry, and other fun tidbits. This is a great place to pick up a fun southern-flavored gift for yourself or a sister, daughter, or girlfriend!
405 North Maple Street, Summerville
843.469.7145
Preservation Society of Charleston Book and Gift Shop
The book collection here spans all aspects of Charleston life and history. You'll find handsome historic maps of the peninsula, copies of the famed Charleston Receipts cookbook, and the latest works by beloved Southern authors such as Pat Conroy and Dorthea Benton Frank.
147 King Street
843.722.4630
Bits of Lace
A fabulous stop for high-quality lingerie of all kinds, but the real gem here is the Celestine sleepwear. The price for a nightgown is a bit of a shocker, but give the cobweb-light batiste cotton a feel and your current sleepwear will seem woefully inadequate in comparison. Don't say I didn't warn you.
453 West Coleman Blvd., Mt Pleasant
843.531.6625
Play: Things to Do in Charleston
Charleston Kayak Company
For those looking to get more interactive with their plantation experience, the Charleston Kayak Company offers tours of a cypress swamp and the Ashley River corridor. Both get you up close with the amazing variety of flora and fauna the Lowcountry has to offer and are a refreshingly active change from milling around the plantation grounds.
4279 Ashley River Road
843.628.2879
Oyster Point Historic Tours
Whether your interest is history, architecture, fun city myths, or insider Charleston knowledge, we offer tours that will satisfy your curiosity and leave you with a far greater understanding of Charleston in general. Take a walking tour early in your visit, as the knowledge you gain will inform and enrich your stay in town.
843.212.7747
---
Natalie Mason
Natalie is married to Charleston attorney, Matt Mason, and is mom to two sweet kids—Sterling and Frances Moon. She is the blog author of Designer Bags and Dirty Diapers. She is addicted to online shopping, reality TV, good wine and Mexican food. And she considers herself lucky to call Charleston her hometown!
Eat: Restaurants + Bars in Charleston
Bon Banh Mi
If you love Vietnamese food you must check out this spot. It also has a booth at the Marion Square Farmers Market every weekend. The five-spice pork taco is off-the-hook good.
162 Spring Street
843.414.7320
Bin 152
My favorite spot for a girls night out. The wine list is incredible and don't even get me started on the charcuterie plate—it is the best meat and cheese platter you will ever taste. I dream about it, seriously.
152 King Street
843.577.7359
Butcher & Bee
This is probably my favorite lunch spot in town. The menu changes frequently but it is always so innovative and made with fresh local foods. The kale slaw is a must.
654 King Street
843.619.0202
Taco Boy
Looking for delicious margaritas and a mile-long list of tacos? This is the spot. It has a great outdoor seating area that is kid-friendly. Don't forget to try the pineapple rita.
217 Huger Street
843.789.3333
Xiao Bao Biscuit
This is a great lunch or dinner spot. Try the cabbage pancake with the fried egg, bacon, and candied pork. It will blow your mind.
224 Rutledge Avenue
Sugar
If you are in the mood for a sweet treat you must stop in Sugar. They make the most decadent homemade cupcakes and cookies. The ginger molasses cookie and honey almond cupcakes are my favorites!
59 1/2 Cannon Street
843. 579.2891
Shop: Local Gifts + Specialty Shops
Hampden
This is, hands-down, my favorite local boutique. The owner Stacy Smallwood carries such amazing lines. Rag and Bone and Tibi are a few of my go-to favorite lines she carries. It is hard to walk in there and not buy something. Make sure to check out JAMES, the adjacent shoes and accessory store.
314 King Street
843.724.6373
Things to Do in Charleston
The Battery
Strolling along the Battery is a must while in Charleston to view the gorgeous Rainbow Row.
South Carolina Aquarium
If you have kids, the South Carolina Aquarium is a great place to go. You can view some super cool sea life.
100 Aquarium Wharf
843.720.1990
Charleston Farmers Market
The market is open every Saturday from March to December. It is filled with local vendors, food trucks, jump castles and, of course, fresh, locally grown produce. It is our favorite activity on a Saturday morning.
329 Meeting Street
843.724.7305