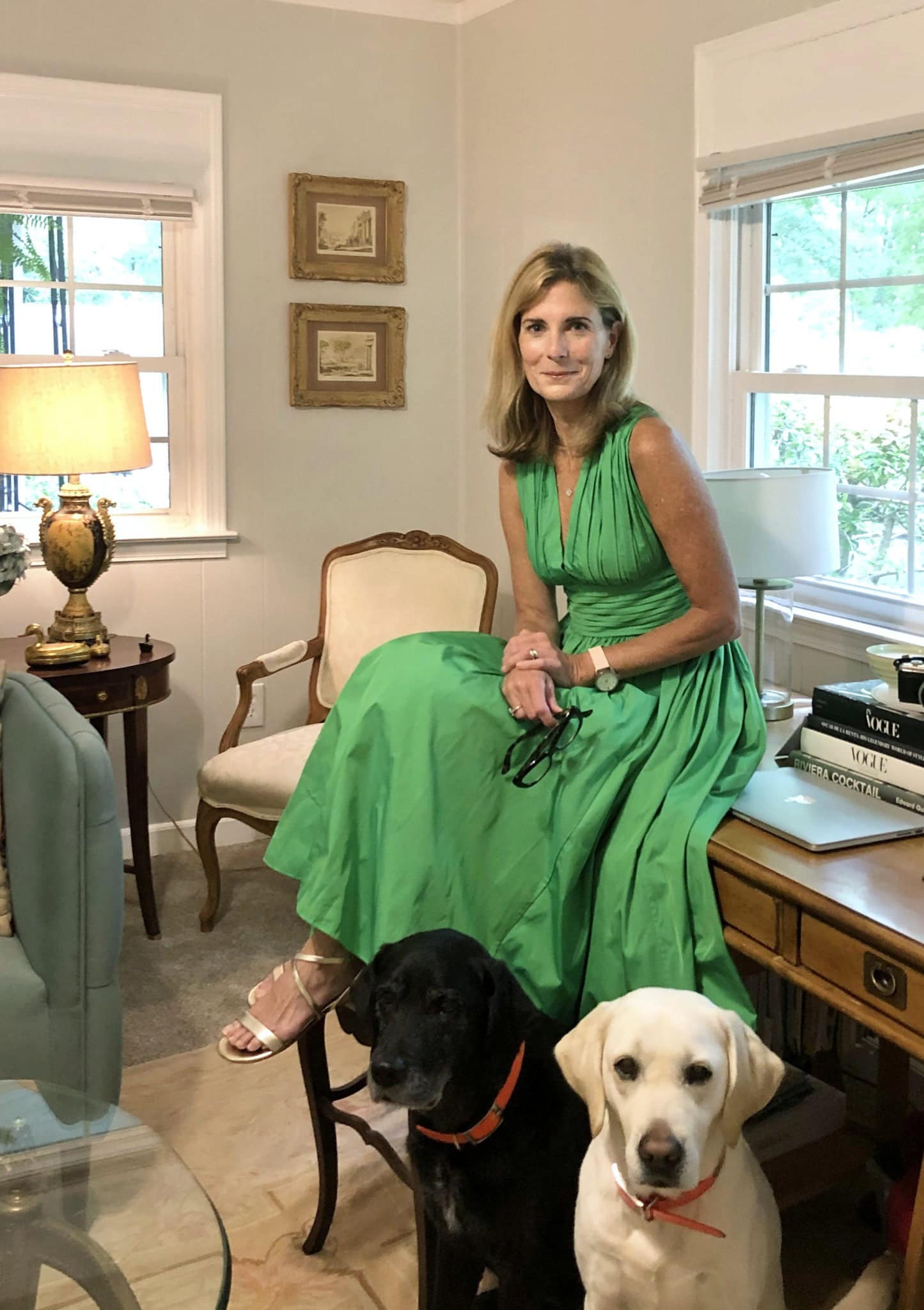 LAURA LINEN
After years in Atlanta, Paris, New York, and Chicago in the media and fashion worlds, Laura Linen was most recently on the masthead of TOWN Magazine as Style Editor. A stylist and producer by trade—currently on sabbatical for home management—Laura is still a contributor to the magazine and provides a closet rehab service for select clients. As a result of the stay-at-home order, her latest job has been her own personal restyle and closet rehab, but it led to this breakdown of what she misses most in GVL!
A Perfect Day in Greenville for a Stylist on Hiatus
As I write, there are slow signs that this beloved state is getting back to work and humming again—safely. Turns out there has been no better time to analyze what I really care about and want to get back to seeing and experiencing on a regular basis. So, I asked myself, what do I miss most? Obviously, this time has taught us the value of family and friends tenfold, but since there are so many great places to shop, eat, stay, and play here, hopefully you can all visit soon to enjoy all the things I love about Greenville. There is not enough room to tell you about everything, but here's a starting point.
Before I start, here's a little something you should know—I am an avid coffee fan (strong coffee). I'd rather drink than eat, but when I do eat, I love seafood and carbs (pasta, bread, beer, you name it). I am a stylist and not so much a shopper. I love to buy when I truly am in love with something, or it either fits a need in my life or is one-of-a-kind-can't-live-with-out-it. And, I have to do all of this on a budget (since I'm a stay-at-home-mama at the moment).
This is my dream day in Greenville…
Start with coffee—ALWAYS
The Village Grind
Instagram: @thevillagegrind
1258 Pendleton Street
864.775.4434
The heart of the thriving Village of West Greenville, serving up locally roasted Due South Coffee varieties and baked goods (because you need food too for your big day in GVL). Enjoy the picture-perfect ambiance with a covered outdoor space to watch the world go by or write your life story. Customers come and stay. It's the best home-away-from-home coffee spot.
Roam the boutiques and galleries of the Village
Art & Light
Instagram: @artandlightgallery
16 Aiken Street
864.625.0695
Artist/owner Teresa Roche draws in talent and brilliance with ever-changing featured artists and events. Her work alone is worth a trip there, and also for her warm and welcoming demeanor that is the definition of Southern charm and grace.
Joseph Bradley Studio
Instagram: @josephbradleystudio
1211 Pendleton Street
The first artist I did a story on for TOWN, and I have been a huge fan ever since. He showed me his process for his gilded pieces, and all I can say is must-have. I dislike owning up to the fact that I have obsessions, but his Gilded Bird Collection might as well be…well, that! His studio is in a vintage flatiron building that points you toward the Village, and I am pretty sure he was there first, anyway.
Carolina Soma Boutique
Instagram: @carolina.soma
1239 Pendleton Street
864.412.8206
Greenville's own international couturier, Carolina offers custom designs and various RTW styles. Often hosting trunk and runway shows, her designs are subtly European and fashion forward, creative yet ultimately wearable.
Kate Furman Jewelry Studio
Instagram: @katefurmanjewelry
547 Perry Avenue
864.230.3347
Handmade heirloom jewelry and art inspired by nature.
Sunny Mullarkey Studio
Instagram: @sunnymullarkeystudio
547 Perry Avenue
843.694.1699
Visit the famous Greenville mural artist's studio to check out her smaller wood cut prints and paintings for a memorable treasure from your time in the Village. You can see her wall works all over the Village—especially beautiful and visible is the outer wall of The Anchorage right in the heart of the Village. (I also recommend making a note to come back to The Anchorage for dinner. It is a phenomenal restaurant.)
Poe West
Instagram: @poewest
556 Perry Avenue
Check out the brand-new Poe West development with new shops and studios going in every day. The area is really bursting at the seams with creative endeavors.
Eat: Lunch in Greenville
Stay in the Village or move to Hampton Station…
Coastal Crust
Instagram: @coastalcrustgreenville
1254 Pendleton Street
864.412.8501
Wood-fired and classic Neapolitan pizza, cooked to perfection in this quaint yet distinctive spot. Since I love uncomplicated pizzas, the two that grab me are the Grandma and the Mushroom. And you have to try the Brussels sprouts. Locally brewed beers and an ample selection of wines just complete the perfect meal. Arrivederci!
Roam around Hampton Station for makers, a beer, and outdoor plaza spot to rest up for more adventure. All shops are located in the 1320 Hampton Avenue complex.
White Duck Taco Shop
Instagram: @whiteduckgvl
980.859.0009
Another lunch option—yes, I am still on the fish taco train. But the others are creative and delicious. Wash down with a local brew from Birds Fly South (next door)—try the amazing pale ale called Morning Trip.
Due South
Instagram: @duesouthcoffee
864.283.6680
Yes, more coffee—you need a little jolt right now from this roasting shop and café!
Birds Fly South Brewery
Instagram: @bfsbeer
864.412.8825
If you have moved on from coffee, they are pouring!
Then hit Main Street and beyond for the rest of the afternoon (shops, sights, and more) and dinner ideas.
Shop: Local Gifts + Specialty Shops
Stone Avenue / North Main
We Took to the Woods
Instagram: @wetooktothewoods
106 Stone Avenue
864.451.7155
Known for their candles and seasonal complete re-do's of the charming house that is their retail location, this is a do-not-miss…cozy, curated offerings in tableware, gifts, woolen blankets, arthouse books, and two of my favorite clothing brands: Oobe for men, and CP Shades for women. Quality over quantity pays dividends here. If you hit it right, you may get to stick around and mingle with the owners and sip a specialty cocktail—if you don't feel stylish and in the know before coming in, you will now!
Make Made Jewelry
Instagram: @makemadejewelry
241 North Main Street, Suite C
864.412.8087
An artists' collective that calls itself a creative jewelry experience. Come shop or take a class to find or create your own one-of-a-kind piece.
Coleman Collection
Instagram: @colemancollection
1 North Main Street, Suite F
864.546.1304
You will get lulled in here by the beautiful, cascading chandelier that shines the light on a gem of haute style, curated for the refined and contemporary woman.
West End / Main Street
There are so many boutiques along this stretch, so wear comfy shoes and walk from one end to the other, popping in and out of all the shops along the way. The variety is what gives GVL that extra little spice that you are missing in your life/wardrobe/belly.
Monkee's
Instagram: @monkeesofthewestend
103 Augusta Street
864.239.0788
This is my go-to for high-end brands and wonderful, thoughtful inventory. Truly something for everyone. Owner Jeni and her staff go out of the way to make sure you have what you need at all times. Service and style always make a good pair.
Augusta Twenty
Instagram: @augustatwenty
20 Augusta Street
864.233.2600
A very smart shop with everything from the elegant Rebecca Taylor to locally sourced handmade jewelry and one-of-a-kind accessories. American made ALC is here, as well as crowd pleasers such as Vince, Tibi, and Ulla Johnson, plus Anine Bing on down to Zimmerman. The selections are top-of-the-line when you need something a little more special.
Custard
Instagram: @custardgville
718 South Main Street
864.271.0927
Curated handmade jewelry from all over the US. Eclectic women's fashion for unusual finds. When you find something at Custard, it is guaranteed to be unique and cause friends to ask, "Where did you find that necklace (or bracelet, or hat, or bag)?" You get the idea.
Augusta Street
Twill
Instagram: @twillsc
2222 Augusta Street (Augusta Commons Shopping Center)
864.520.2486
The place to go if you book an evening out with your girls and decide you need a new outfit. They call themselves a "denim and lifestyle boutique," and I would wholeheartedly agree. My favorite denim of any kind has come from here, and some fun tops to go with them. An excellent range of price points, styles, and levels of "edge." Classic to on-trend pieces that you will keep for a long time. That's why I keep coming back.
Muse Shoe Studio
Instagram: @museshoestudio
2222 Augusta Street (in the Commons as well)
864.271.9750
With its perfect location, near Twill and Savvy and more, Muse has everything (beyond just shoes) you need to complete your look, before you even leave the neighborhood. Musette, the owner, is most knowledgeable about the shoe and accessory industry. Their customer service makes you feel that you are their only client, and they almost know what you need before you say it. All my favorite shoes have come from here!
SavVy, Inc
Instagram: @savvyinc
1803 Augusta Street
864.370.9898
I think the capital V must stand for visionaries—the owners really do a good job of looking ahead to the trends that are ultimately wearable for many, but also unique enough in look and style that the pieces you pick are memorable. There is a floral Farm Rio dress calling my name. Another brand I love that you can find here is Blank London, which brings a little edge to some classic silhouettes with vibrant color or flowing textiles.
Eat: Dinner in Greenville
Trattoria Giorgio
Instagram: @trattoriagiorgio
121 South Main Street
864.271.9166
A Main Street mainstay with traditional Northern Italian or Bolognese specialties. I am a fan of anything with gnocchi or their lobster ravioli. Definitely old school (in the best of ways). Not a huge menu, but everything they do is amazing, and there is something for everyone. Make sure you actually make a phone call to reserve (dinner only). It may take several tries, and you may get to speak to Giorgio himself. In pretty weather, ask for the patio. There is no place I would rather dine in GVL.
The Lazy Goat
Instagram: @the_lazy_goat
170 Riverplace
864.679.5299
Mediterranean fare with views of downtown's thriving riverfront walking scene. In the warm months, while dining on the patio, you might catch a live concert from the outdoor stage behind the Peace Center, an evening out two-for-one. I always order whatever salmon they are making paired with a glass of classic Provençal rosé.
Burrow
Instagram: @theburrowgville
2017 Augusta Street
864.412.8677
Cozy neighborhood feel but still super stylish and cool. Comfort foods from many countries from Southern US to South of France. The bar is a comfortable and welcoming spot to sip a robust red wine to warm up, or a sparkly specialty cocktail in the middle of summer. Their Burrow Burger is about the only temptation that sways me from my usual seafood preference. You truly feel snug as a bug in a…burrow.
Swamp Rabbit Cafe & Grocery
Instagram: @swamprabbitcafe
205 Cedar Lane Road
864.255.3385
Go here for STECCA homemade bread and to see what farm items they have in stock—produce, meat, eggs, cheese, and more. It's a market where you can feel really good that anything you buy there is the best of the best.
Play: Things to Do in Greenville
Anywhere outside along the Swamp Rabbit Trail on wheels or legs. Rent a bike (several locations offer, but Reedy Rides is right off Main Street and so easy).
Reedy Rides
Instagram: @reedyridesgreenville
12 West McBee Avenue
864.419.2944
Stay: Greenville Hotels
Westin Poinsett Hotel
120 South Main Street
864.421.9700
Classic place to stay in downtown on Main Street.
Swamp Rabbit Inn
1 Logan Street
864.345.7990
For a trendier spot, try this one. It's close to downtown but in West End.
Farther out but very "IN"
If you have more time to explore the outer areas…don't miss Travelers Rest, SC, and the Columbus/Tryon, NC area (check out the Overmountain Vineyards for a picnic and sunset, and a free horse event on Saturday evenings at Tryon International.)
Overmountain Vineyards
2012 Sandy Plains Road, Tryon, NC
828.863.0523
Tryon International Equestrian Center
4066 Pea Ridge Road, Mill Spring, NC
828.863.1000