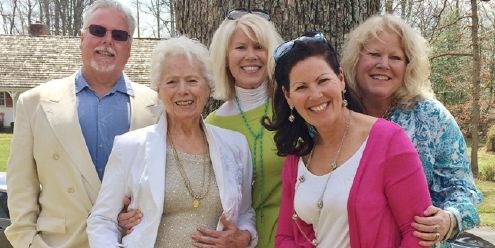 Tara Conrad
Perhaps it can be attributed to my deep Catholic roots, but I have always thought in terms of a trinity. Hence, it is no surprise that there are three places in this world I consider home: Charlotte, where my husband and I have raised our family; New York City, where as a young woman I did my best to raise myself; and Washington, DC, my beloved hometown that, in partnership with my remarkable parents, helped raise me. The city serves up equal measure of grit and glamour, but like all wonders of the world, it also holds magic, mystery, heartbreak and love…great love! In this diverse and inspiring "District," my siblings and I learned everything from civil rights to culture and cuisine with a healthy dose of "how to parallel park a gigantic Cadillac convertible in Georgetown on a hopping Saturday night."
Being proud to call myself a Washingtonian, I was delighted when Peachy asked me to highlight some of my favorite hometown spots. Though we head back to our stomping grounds as often as possible (my husband is a fellow Washingtonian and my high school sweetheart), I knew it would be wise to consult with my most trusted and treasured DC aficionados—my mom and siblings—who still reside in the area. Though I happily call Washington "my" hometown, it actually belongs to "all" of us. They call it the "nation's capital" for a reason! Here are just a few of the Winston and Conrad families' many favorites that make Washington, DC a wonderland for all.
Eat: Restaurants + Bars in Washington, DC
Old Ebbitt Grill
This historic landmark, serving upscale American saloon food (a favored dining establishment of several
presidents), has been a popular meeting spot for political insiders, journalists, celebrities and theatergoers for years. In the heart of downtown, it is steps from the White House and easy walking distance to many fabulous museums and theaters. Recommended for lunch, cocktails or dinner.
675 15th Street NW
202.347.4800
Sequoia
This restaurant, referred to by some as "The Jewel of the Washington Harbor," offers not only delicious fare but outstanding panoramic views of the Kennedy Center, the Watergate complex and the scenic Potomac River. Roam through Georgetown before arriving pre-happy hour as patio seating is first come, first served…get there early and stay late.
3000 K Street NW
202.944.4200
Chef Geoff's
Delicious! A bit pricey but fabulous atmosphere, especially the brunch with live music. For a more affordable experience, go Monday or Tuesday night for a $5 bistro burger at the bar tables. Added bonus…it is very close to Ford's Theatre so you can catch a show before or after dinner.
3201 New Mexico Avenue NW
202.237.7800
Clyde's of Georgetown
A really good chain that is ideally located in the heart of Georgetown. Always solid, affordable food and the perfect watering hole after a busy day of shopping, sightseeing or strolling on the Billy Goat Trail alongside the Potomac. (They also have a Chevy Chase location that is a family staple, especially popular with our children.)
3236 M Street NW
202.333.9180
Café Milano
Another great Georgetown spot. This one has everything: delicious food, fabulous atmosphere and, depending on the night, DC "power gazing" at its best.
3251 Prospect Street NW
202.333.6183
Old Angler's Inn
Another local favorite that has been around forever. Whether you're looking for a romantic evening rich in ambience or a fabulous place to gather for lunch or cocktail hour with friends, OAI makes every occasion feel special.
10801 MacArthur Blvd.
301.365.2425
Stay: Washington, DC Hotels
The Willard Hotel
Just across from The National Theatre. My sister says go for the Presidential Suite—it's her favorite room in the house.
1401 Pennsylvania Avenue NW
202.628.9100
The W Hotel
A great modern chain with a cool vibe and fabulous location.
515 15th Street NW
202.661.2400
The Shoreham Hotel
Situated at the opening of Rock Creek Park, this hotel offers great accommodations, stunning views, classic cocktails and dining and awesome venues for special occasion events. Our family's very favorite place to hold a wedding reception (we had three there), with its gracious terraces overlooking the park and grand-sized ballrooms.
2500 Calvert Street NW
202.234.0700
The Ritz-Carlton in Georgetown
My favorite classic hotel chain in one of my favorite spots in the world.
3100 South Street NW
202.912.4100
The Embassy Suites at the Chevy Chase Pavilion
A very comfortable hotel surrounded by fabulous restaurants and all the Chevy Chase shopping highlights. It is minutes from several major subway lines, making it a perfect place to stay if you want to have convenient access to everything the city has to offer while being able to retreat to a quieter residential area come nightfall.
Chevy Chase Pavilion
4300 Military Road NW
202.362.9300
Shop: Local Gifts + Specialty Shops
The Eastern Market
An open-air stall market selling everything from fashion and home accessories to fabulous organic produce and poultry. On Saturdays, it includes cultural events and a thriving flea market.
225 7th Street SE
202.698.5253
Georgetown
Georgetown offers a plethora of every kind of shopping under the sun. Priceless antiques, hip home accessories, avant-garde fashions and recognizable brand-name boutiques all reside harmoniously in this quaint, historic neighborhood. If you only had a short time in DC, I would recommend heading to Georgetown and staying there…you can get all you need right there!
The Shops on Wisconsin Avenue in Chevy Chase
Starting at the Mazza Gallerie on Wisconsin Avenue (home to Neiman Marcus and many other fabulous shops), high-end boutique shoppers as well as bargain hunters will be in heaven. You name it, it's there: Gucci, Jimmy Choo, Ralph Lauren, Tiffany & Co., Louis Vuitton, T.J. Maxx and many more. If you're old school, you remember lunching with your mom at the Bird Cage in Lord & Taylor or shopping for your first formal gown at Saks Jandel. (That's where my grandmother helped me select a stunning red chiffon number when I was a senior in high school. My date couldn't have been more pleased. A decade later, I married that boy. It was quite a dress.)
Play: Things to Do in Washington, DC
Museums
The National Gallery
No explanation needed…You could spend weeks here marveling at the great masterpieces, and with all the different cafes on the premises you would never have to miss a meal.
6th Street & Constitution Avenue NW
202.737.4215
The Hirshhorn Museum and Sculpture Garden
Considered one of the "big five" modern art museums in the United States. Focusing primarily on visionary artists since the 1950s, this museum not only holds cherished works, but the building itself is considered its own remarkable work of art.
700 Independence Avenue SW
202.633.4674
The National Museum of Natural History and The National Air and Space Museum
Two classic, all-time favorites that make museum hopping a doable feat with children. Equal parts education and fun for all.
The National Museum of Natural History
10th Street & Constitution Avenue NW
202.633.1000
The National Air and Space Museum
600 Independence Avenue SW
202.633.2214
The United States Holocaust Memorial Museum
Arguably the most moving of all the museums on the list. Due to the graphic nature of many of the images, this is not recommended for children under 11. No passes are necessary for entering the Holocaust Memorial Museum building…lest we ever forget.
100 Raoul Wallenberg Place SW
202.488.0400
The Spy Museum
Compared to the other powerhouse museums, this relatively new and smaller-scaled one is jam-packed with fascinating facts, fun interactive exhibits and a sense of real Washington intrigue. We first went for the kids; we go back now for us.
800 F Street NW
202.393.7798
The Great Outdoors
The National Mall
Because EVERYTHING is there.
202.426.6841
The United States National Arboretum and Dumbarton Oaks Garden
Or just take a stroll during Cherry Blossom time and marvel at the wonder of it all.
The United States National Arboretum
3501 New York Avenue NE
202.245.2726
Dumbarton Oaks Garden
3120 R Street NW
202.339.6400
The Chesapeake and Ohio Canal, Rock Creek Park and Great Falls Park
Too many awesome hiking/running spots to adequately do justice. Just get on a pair of comfortable shoes and hit a trail…any trail.
Rock Creek Park
3545 Williamsburg Lane NW
202.895.6000
Great Falls Park
9200 Old Dominion Drive
703.285.2965
Music and Theatre
The National Theatre, The Kennedy Center, Ford's Theatre, The Shakespeare Theatre Company, Carter Barron Amphitheatre, Merriweather Post Pavilion—you could be entertained 24/7 in this town. Check to see if the Marine Corps Choir is performing at the foot of the monument steps…pure magic. For a serious hip scene, check out dining and entertainment in Adams Morgan, Shaw, and Chinatown (great area to catch a show at the Verizon Center then head out for a night of clubbing).
The National Theatre
1321 Pennsylvania Avenue NW
202.628.6161
The Kennedy Center
2700 F Street NW
202.467.4600
Ford's Theatre
514 10th Street NW
202.347.4833
Shakespeare Theatre Company
610 F Street NW
202.547.1122
Carter Barron Amphitheatre at Rock Creek Park
4850 Colorado Avenue NW
202.426.0486
Merriweather Post Pavilion
10475 Little Patuxent Parkway
410.715.5550
Adams Morgan
18th and Columbia Road NW and surrounding area
U Street Corridor
Between 17th Street and 9th Street NW
Chinatown
Between H and I Streets and 5th and 8th Streets, NW
Glorious Achievements
The National Cathedral
Don't miss the Flower Mart each May in the Bishop's Garden benefitting the gardens and
grounds surrounding the Cathedral.
3101 Wisconsin Avenue NW
202.537.6200
The Basilica of the National Shrine of the Immaculate Conception
A very special place.
400 Michigan Avenue NE
202.526.8300
The Tomb of the Unknown Soldier
One of my earliest and most poignant memories was watching my very stoic dad near tears as we all stood at this site for the first time.
Arlington National Cemetery
Arlington, VA
877.907.8585
---
Colman Riddell
Colman is an interior decorator living in the Georgetown area of Washington, DC, with her wine-importer husband, two ginger kids and a Boston terrier named Pim. She moved to DC with her family in the early 1980s, lived many places in the interim and is thrilled to finally come full circle. Her interest in design was ignited while living in Beijing, China, in the early 2000s with her husband and son. Colman loves everything about DC, especially the much-improved restaurant scene and the incredibly talented but overshadowed-by-politics design community.
Eat: Restaurants + Bars in Washington, DC
Rose's Luxury
Voted Best New Restaurant in the US in 2014 by Bon Appétit. No reservations accepted. Do not be alarmed by the 100+ people in line before 5pm in this Barracks Row area of Capitol Hill. We were toward the end of the line at 4:45 and were seated within 15 minutes of the doors opening at 5pm. (Many people get to the front of the line and request a table for later that evening.) Inside the restaurant, servers are all very laid-back but highly knowledgeable. There is nothing laid-back about this food. Interesting and unique, the desserts will make you cry in bliss.
717 8th Street SE
202.580.8889
Little Serow
No sign on Johnny Monis' very casual Northern Thai joint, inspired by his honeymoon in that area. This place is not new, but is still a winner on the restaurant scene. No reservations accepted—you must get in line with foodies and political VIPs alike. There are two seatings; if you don't make the first one, they will give a beeper and tell you to have a drink or two nearby. Six-course set menu that increases in level of spice as you proceed. If you can't deal with waiting in line for hours, try Monis' upscale Greek restaurant upstairs. Komi burst on the scene a few years back, catapulting Johnny to food stardom.
1511 17th Street NW
Doi Moi
A personal family fave which features Vietnamese/Thai in the bustling and popular 14th Street corridor. Very modern vibe and amazing wine list. The food will blow you away. The chef does not "dumb down" the strong tradition of intensity and fieriness in these cuisines. Do not miss the ground duck salad with foie gras. It is a sublime version of larb.
1800 14th Street NW
202.733.5131
MiniBar
There is no sign in front of DC celebrity chef José Andrés' molecular gastronomy runaway hit. Call exactly one month in advance at 10 am on the dot. Have all persons in your party call as well. There are only 12 seats for this 25-course tasting menu. This is a dining experience that will change the way you think about food—truly mind-blowing. Also consider BarMini where Andrés masters the same level of cutting-edge expertise with cocktails (and you can make a reservation there).
855 E Street NW
202.393.0812
Stay: Washington, DC Hotels
Rosewood (Formerly Capella)
The highest luxury boutique hotel in Georgetown, without a doubt. Excellent bar and restaurant right on the canal. You have access to a personal assistant who can organize after-hours shopping or a private museum tour. Also check out the guests-only rooftop bar with an indoor-outdoor infinity pool. Stunning!
1050 31st Street NW
202.617.2400
The Graham
A fun and irreverent hotel in the center of Georgetown. They have a hopping roof top bar where it's hard to find a seat on nice nights. No restaurant at the hotel, but there are plenty in Georgetown.
1075 Thomas Jefferson Street NW
202.333.6526
Hotel Monaco
Such a fun, hip and quirky hotel from the Kimpton Group in a former post office building in an excellent location—less than two blocks from the National Portrait Gallery, the Spy Museum and the Verizon Center. Excellent restaurant and huge outdoor lounge, plus very close to many other fabulous restaurants. Pets are welcome, so expect to see dog bowls around the lobby.
700 F Street NW
202.628.7177
W Hotel
The W used to be Hotel Washington with the very best rooftop bar in the city with 360-degree views of downtown DC, the Mall and the White House. My husband used to watch fireworks on the terrace every 4th of July. The W has upped the cool factor. There is a Jean-Georges Steakhouse here among other hip options. Starwood's trademarked Whatever/Whenever service available here. Good for VIP spotting.
515 15th Street NW
202.661.2400
Shop: Local Gifts + Specialty Shops
Darryl Carter's Boutique and Studio
Renovated carriage house, courtyard and connecting building in the newly hip area of Shaw. An incredibly thoughtful selection of old and new, handcrafted and well-worn treasures. The shop also offers Carter's multiple lines, including his own upholstered furniture and lighting for Urban Electric. Always inspiring.
1320 9th Street NW
202.234.5926
And Beige
This wonderful store, billed as "the New Neutral in Home Furnishings," features great finds. They also carry popular lines such as Arteriors Home and Oly Studio.
1781 Florida Avenue NW
202.234.1557
Marston Luce
This wonderful shop has been around for many years and is one of the strongholds in Georgetown's Book Hill, which has many fantastic antique shops. Marston brings in containers from travels in France and Sweden each year, and everyone knows when a new installation is in the works by the craft paper covering the windows. The new shipment is celebrated with an opening party, and the craft paper is removed. While very expensive, this store drives many design trends and is always inspirational.
1651 Wisconsin Avenue NW
202.333.6800
Sassanova
This whimsical store has the best shoes in town plus awesome jewelry and other accessories. Such a fun store to visit, and very hard to leave without something fabulous.
7134 Bethesda Lane Bethesda, MD
301.654.7403
Georgetown Flea Market
This stalwart is a great way to spend a Sunday afternoon. Aggressive shoppers arrive when the doors open, but you can find something good anytime if you look hard enough.
1819 35th Street NW
202.775.3532
Play: Things to Do in Washington, DC
Key Bridge Boathouse
Another family favorite that offers kayaks and paddleboards for rent to paddle around the Potomac River. We like to take a spin around Roosevelt Island (no cars there, just walking trails). We paddle over to the island with our dog, Pim, and throw sticks in the water for her while eating a picnic lunch. The Boathouse offers Paddleboard Yoga classes as well.
3500 Water Street NW
202.337.9642
Jazz in the Garden at the National Gallery of Art, Sculpture Garden
Every Friday evening during the summer for happy hour, the National Gallery has a jazz band playing in the sculpture garden. Very festive and very Washington. You can take a walk around the National Mall after.
7th Street and Constitution Avenue NW
202.289.3361
Municipal Fish Market at the Wharf (formerly Maine Avenue Fish Market)
This is a slice of old-time Washington, with fish vendors vying for everyone's business. A little gritty but full of great characters. While you can get any kind of fresh seafood here, also check out the fresh-shucked oysters and other fried seafood platters.
1100 Maine Avenue SW
202.248.2722
Exorcist Stairs
You can run up these stairs (from the movie) from M Street and get lunch or a beer at the Georgetown University hangout, The Tombs. Or, if you're feeling adventurous, you can run down the stairs and continue along the C & O Canal path along the Potomac River. There's a reason Forbes named DC one of the healthiest cities in 2014!
Prospect Street and 35th
Street NW
Kennedy Center
Take in a performance in this famous venue. Opera, ballet, music and theater. Have a drink on the wrap-around terrace with exceptional views of the river.
2700 F Street NW
202.416.8000
Baked & Wired
When you get tired, stop here. Locals swear by the coffee, but they also have delicious cookies and cupcakes—many say the best in town.
1052 Thomas Jefferson Street NW
202.333.2500