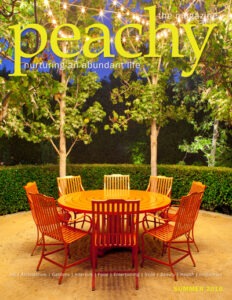 In 2013, Blair Farris set out to create and publish a lifestyle magazine honoring her late grandmother's zest for life and love for all things beautiful. A huge influence on Blair, her grandmother "Peachy" had a big, bold and eclectic style and loved to make a statement with fabulous jewelry and purses, bright colors and creative hats. Peachy's love for the arts has always inspired Blair, and she instilled in Blair and other family members a passion for living a good and meaningful life.
The product of Blair's beloved Peachy's inspiration is Peachy the Magazine. Now in its seventh year, Peachy is a quarterly digital publication featuring a different city in three out of the four issues each year, with the fourth issue devoted to the holidays. An accomplished and savvy team of contributors takes readers inside gorgeous homes, walking them through verdant gardens, enticing the taste buds with delicious food and drinks, inspiring readers with the latest style trends, and showcasing beautiful art and architecture, plus so much more.
---
Exclusive events, like this Spring 2019 runway show hosted with Neiman Marcus in Charlotte, consistently fill up and require a waiting list.
---
Our success lies with our highly curated list of more than 25,000 affluent subscribers across 48 states and 30 countries.
The Readers
Predominately female
Ages 35–50+
Education
85% Bachelors degree
15% Masters/Professional
90% homeowners
Average household income
$300,000+
Average home value
$750,000+
The Magazine
Holiday 2019: More than 56,000 pageviews
Fall 2019: More than 47,000 pageviews
Summer 2019: More than 77,000 pageviews
Spring 2019: More than 53,000 pageviews
Conversion rates are consistently three to six times higher than the industry standard. In 2019, Peachy readers averaged more than $63,000 in click-through purchases from the magazine, website, and email campaigns each month with consistent year-over-year growth.
---
Bi-weekly style edit emails keep readers up-to-date on style trends with Look of the Week and Splurge or Steal picks.