WRITTEN BY Lesley Holland Downey
PHOTOGRAPHY BY Tonya Russ Price, Poprock Photography
Loads of my friends have been asking me to do an article about brows. Women struggle with brows that are too thin or too thick, whether to pluck, wax or thread or how to enhance brows with makeup. As we age, our brows often thin out, and since your eyes are what people notice first (and unfortunately, where aging shows up too) most of us can benefit with just a bit of grooming. Framing your eyes helps pull that feature forward—just like a great frame can enhance a piece of art.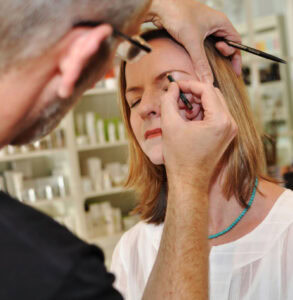 We took two willing women, each with different face shape, coloring and natural arch, and gave them a brow makeover. Jeffre Scott, my local brow guru, started with Carol who wanted the appearance of thicker brows. What was surprising to me is that Jeffre started by trimming long brows with scissors to make the shape more prominent—I thought that thicker brows would mean less tweezing and shaping. Jeffre explained that even thinner brows need shaping, using the facial features as a guide. Holding a makeup brush parallel to Carol's nose, Jeffre pointed out that Carol's brows didn't come to the point they should—so he started by filling in with pencil there first. To add shape where you've got bare skin, pencil is the way to go. Using pencil, he lengthened her brows towards the center of her face and towards her temples. Then he added brow color with an angled brush, over the pencil, to give the look more staying power and color customization before finishing with a tinted brow gel. Another tip from Jeffre: stop and look at yourself farther away from the mirror since many brow mishaps come from never taking an overall view. The key to a natural look is to layer products and brush through with a spoolie (a clean mascara wand).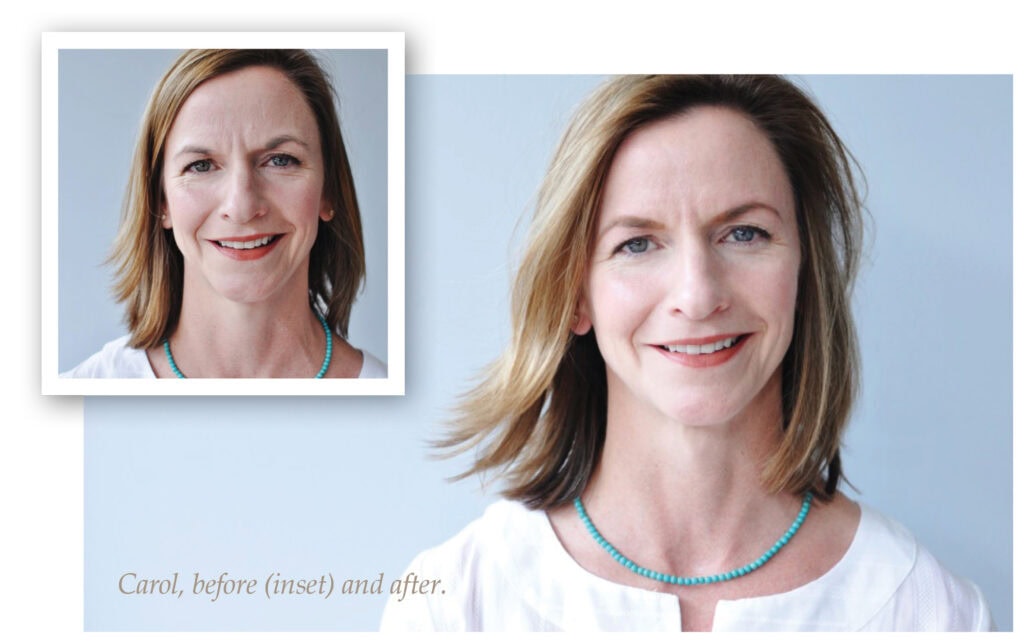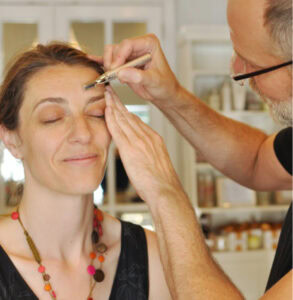 Suzanne, a newlywed, busy banker and self-professed low maintenance girl, had never had a brow shaping before. While Jeffre explained she had great natural shape to her arches, he cleaned up and trimmed her brows, creating a more defined line to frame her eyes.
While working on Suzanne, Jeffre talked about how perfect brow symmetry is nearly impossible, telling me "they are sisters—not twins." Facial features are never exactly symmetrical, and that's what gives the face character. Jeffre also said brows should be viewed as part of an overall picture, with body stature, face shape, hair color and maintenance ability all playing a role in the overall finished product. The worst brow crime is when brows don't "go" with the look—for instance, a tall woman with thick full hair should never have thin tadpole-like arches. Conversely, a petite woman with small features and a pixie cut shouldn't let full brows overwhelm her face. The finished product with Suzanne was very natural and easy to maintain—something she wanted to achieve.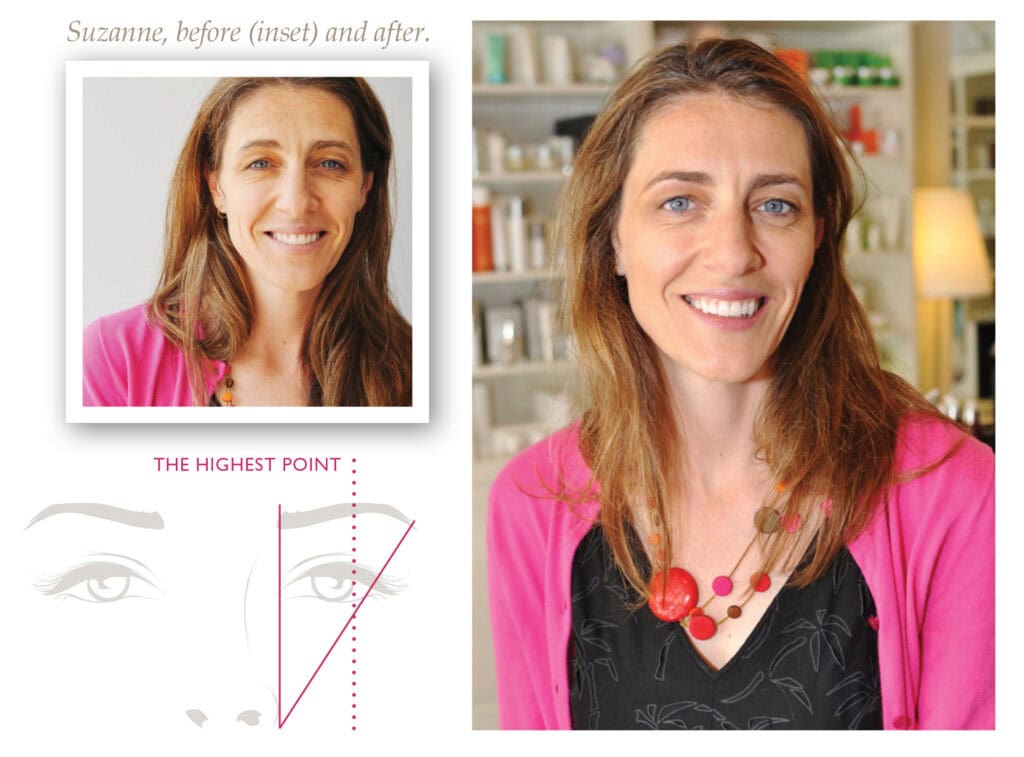 Caveats from your editor: I am partial to tweezing (by a professional, with me doing the upkeep) because it is a more gradual process. I feel less comfortable with waxing because one wrong move and you look like Mr. Spock. Waxing leaves more up to chance and the skill of your technician, so if you wax, make sure you are confident in the person doing it. If you use a retinoid (Retin-A, Tretinoin, etc.), which I highly recommend for anyone concerned with anti-aging, make sure to stop using it before a brow shaping or wax. If you don't, you can rip off your skin (and I have done this, twice!). Also, make sure you check the overall progress as you go—do not overpluck! Fuller brows are more youthful, and you don't want to drastically change the natural shape. Lastly, colored brow products should complement your hair and skin tone. Most people look best in a slightly ashier tone than their hair color. I like to add just a bit of product in my brows—it makes your face look more finished. Anywhere you can see skin is where you fill in, brushing afterwards to blend and soften.
---
Brow Product All-Stars
MAC BRUN EYESHADOW—applied with an angled brush, this taupey brown's versatility allows it to be used on many different skin tones.
STILA STAY ALL DAY WATERPROOF BROW COLOR—recommended by one of my favorite beauty bloggers, Lisa Eldridge, for feather light strokes and staying power.
BENEFIT COSMETICS BROW ZINGS—this handy kit has waxy pomade, coordinating powder and mini tools.
BENEFIT COSMETICS GIMME BROW—this mascara-like gel coats hair, adding volume and color in one step.
SANIA'S BROW BAR ANGLED MECHANICAL PENCIL—looks great on blondes and is easy to apply and brush through with the spoolie end.
KEVYN AUCOIN BEAUTY 'THE PRECISION' BROW PENCIL—has a firmer consistency than Sania's and is great for adding realistic strokes.
RIMMEL PROFESSIONAL EYEBROW PENCIL—a steal of a beauty buy and a great gateway product for those of you worried about investing too much on something before you get the hang of using it.
TWEEZERMAN TWEEZERS AND MAGNIFYING MIRROR—the only tweezers you need. Keep a pair in your purse for those unexpected times in your car when you see a stray hair and use a great mirror that enables you to tweeze without your glasses if you wear them.
---
Recommended Video Tutorials
Brow filling basics from makeup artist Cara of the beauty blog Maskcara
Daily brow routine from beauty blogger Lisa Eldridge
Bold brows how-to from Anastasia of Anastasia Beverly Hills
---
Special thanks to Jeffre Scott, Jeffre Scott Apothecary