You've probably heard of Botox, an injectable that's almost a "fountain of youth," softening frown lines, wrinkles and crow's feet without surgery or downtime. FDA-approved and clinically tested for many years, Botox is one of the safest and most popular injectables in the world. But while you may think of Botox solely to provide a smoother, more youthful facial appearance, there are actually a host of issues that Botox can also address, including:
Lifting a heavy or drooping brow

Smoothing the appearance of the neck area

Treating "hyperhidrosis," i.e., excessive, localized sweating

Reducing migraine symptoms

Urinary Incontinence

Muscle Spasms
Most patients benefit from this procedure in under an hour, but see drastic improvement within 7-10 days, with results continuing for three to four months. Administered on a regular basis, Botox appears to have a cumulative effect – with wonderful results.
With all the ease and great benefits of Botox, it's no wonder that we are the first medical practice in Charlotte to offer the Capizzi MD Botox Bar, a no appointment necessary, drop in at your convenience, option. 
Members of the Brilliant Distinctions program will get additional savings, and new members can sign up when they stop by. We've even added to the Botox Bar experience with a complimentary beverage and a bonus of a $50 Coupon towards Filler on your next visit.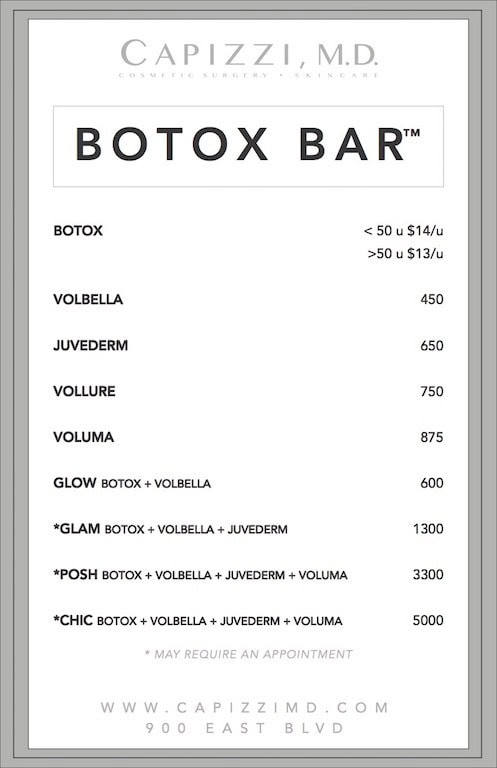 Visitors to the Botox Bar will be in expert hands: Dr. Capizzi and his team are the recipients of Allergan's (the maker of Botox, Juvederm, Vollure, Volbella, and more) Platinum Plus Award for outstanding patient care and winning results. A central member of the Capizzi MD team, Grace Anglin, recently completed her Doctorate of Nurse Practitioner degree from East Carolina University. Grace is also an Advanced Injector as trained by the American Society of Aesthetic Plastic Surgery, providing patients with expertly performed Botox and dermal filler injections.    
To learn more about the Botox Bar and other services provided by Capizzi MD, please contact frontdesk@capizzimd.com or call us at 704-626-8591. And, keep up with what's new by joining the Capizzi MD conversation on Facebook and Twitter.  See you at the Bar!