WRITTEN BY Bek Mitchell-Kidd
INTERIOR DESIGN BY Liz Caan
PHOTOGRAPHY BY Sean Litchfield
Few projects showcase a designer's deftness with color and texture more than Liz Caan's Fairmont Street design. Known for her signature play of pattern, color and texture, Liz has elevated some of Boston's most distinctive and historic homes with renewed vitality and charm.
Fairmont Street is also somewhat unique; it was an interiors project with scheduled stages. Liz says, "We had previously done the children's bedrooms on the second level. The client wanted to address the main living spaces—living room, foyer, family room and library. We still have kitchen, powder and mudroom in the lineup."
The main living space took approximately seven to eight months from the initial meeting to completion.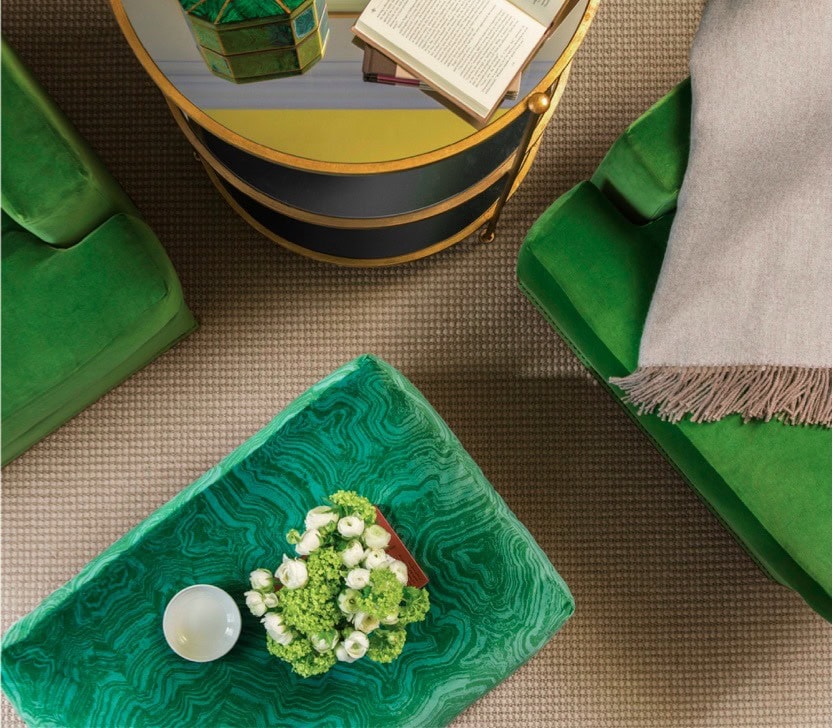 Approximately 5,000 square feet, the residence is home to a family of five. Liz describes the clients as "casual, professional, young, sporty, intelligent and happy people. My goal was to make the house comfortable, happy and a place that would feel like it was theirs. The clients really just wanted the spaces to reflect who they are, and they entertain quite a bit."
The clients were involved in the design and planning phase and then entrusted Liz and her team to get the job done. Liz started with bringing the outside in. "I love bright, verdant, vibrant green," says Liz, "and this house has a beautiful lot with incredible amounts of light, and all the greenery is viewable from the windows. I wanted to bring the outdoors in…and that is where it all started…from the landscape."
It is a traditional home architecturally, and while the design is relatively conservative, the colors are not. Liz says, "I love designing spaces for families and enjoy thinking of each individual family member and each person's perspective, whether they are 5 or 45 years old."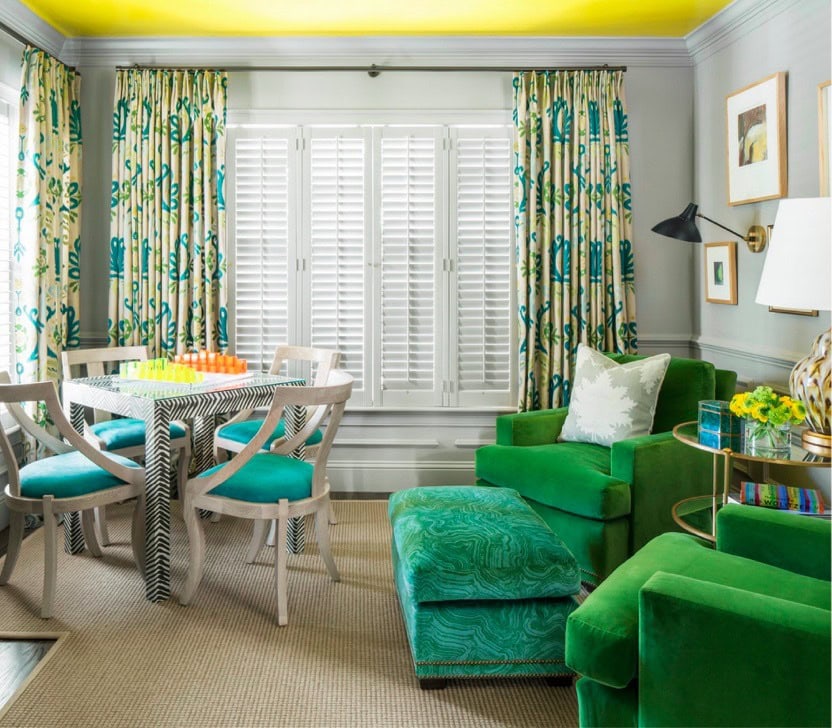 Liz continues, "I loved designing the library space the most, because it was a small little jewel box, and I could be slightly bolder. This room also has a gallery wall filled with artwork mostly done by family members, and it seemed the most personal."
In the library Liz painted the ceiling a sunny yellow which rises over the Vervain Fabrics drapery panels. The library is composed yet energetic. The complexity of the Serena & Lily chairs and Designers Guild fabric gives structure, while the custom ottoman with malachite fabric by Cowtan & Tout is glorious in color and position and beautifully binds together the room—that could have easily slipped into flashy—with intrigue and relaxation.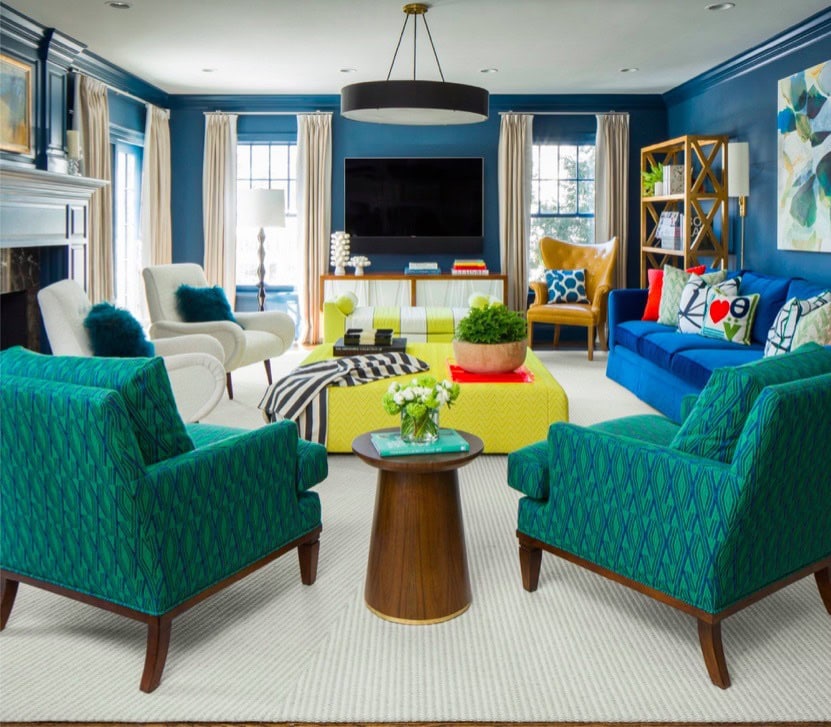 Liz took a fresh approach in the family room, which the clients love. Liz says, "It's big, bright and fun to be in. We have a lot of seating, and they all have room to hang out together as a family and with friends."
The design orbits around the celestial yellow custom ottoman with Pierre Frey fabric. The Lee Industries blue couch in Romo fabric seems to materialize on the horizon against the blue wall and below art that the client personally selected from Jules Place gallery.
The space is used efficiently without being cluttered, giving the feeling there's always a place to put your drink down, like on the Palacek side table.
White Anthropologie Home chairs act as a canvas for West Elm and Madeline Weinrib pillows on the stage of a Merida rug that Liz "actually spliced and pieced together to make an interesting pattern that worked with the furnishings and layout."
The living room, separated from the family room by a hallway, is layered with lush colors and textures including Schumacher wallpaper. The spirited Mitchell Gold white chairs appear to joyfully stand guard for the Plum Furniture bench with Cowtan & Tout fabric.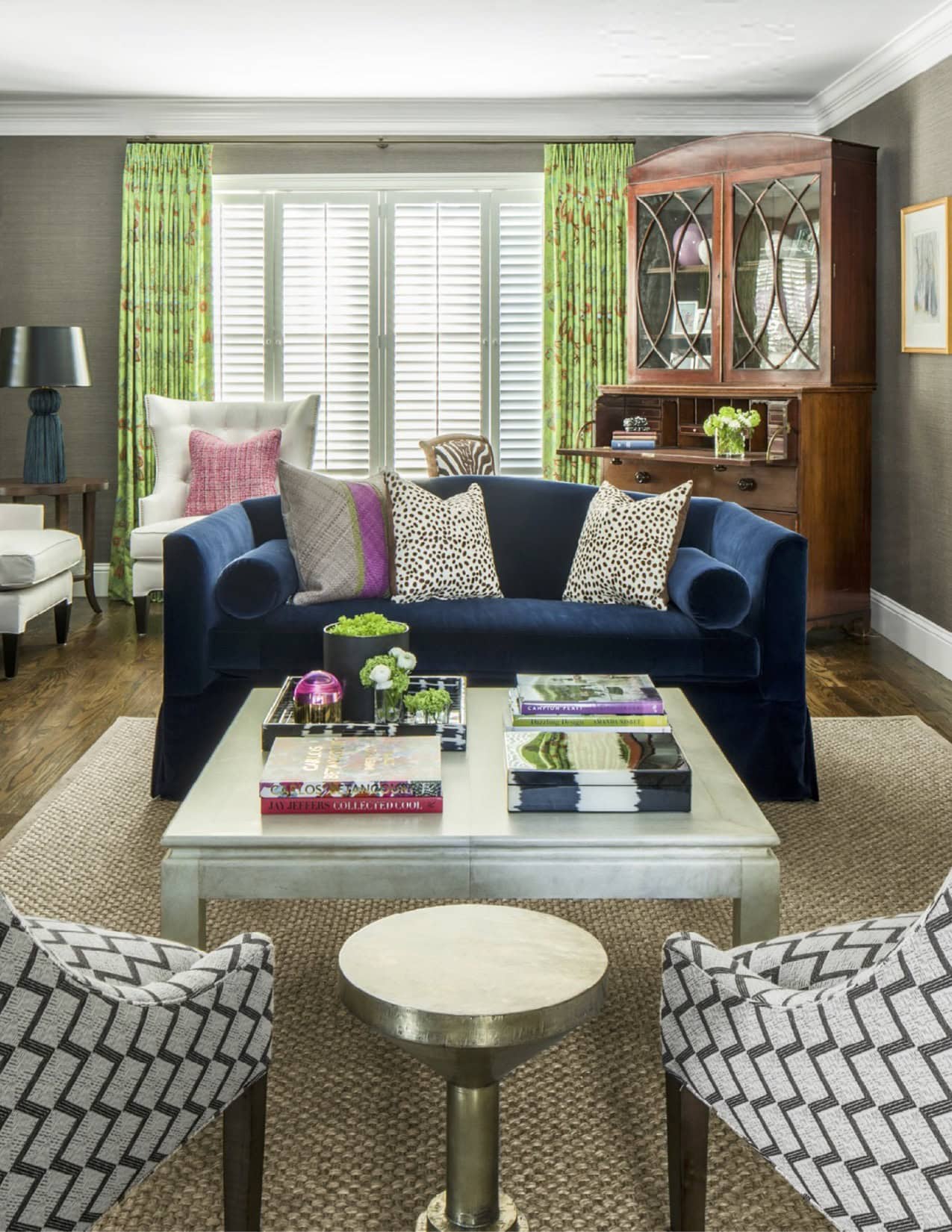 A blue Ferrell Mittman loveseat settles the room opposite two Schumacher chairs wearing Pierre Frey fabric. Additional seating finds a place with custom stools in Zoffany fabric deposited under a Made Goods console table and undulating Oly mirror.
The interior design is innovative and harmonious—we can't wait to see stage three!
ABOUT THE DESIGNER
Headquartered in Newton, Massachusetts, Liz Caan & Co. is a full-service interior design firm specializing in creative transformations that honor tradition with a modern sensibility. Whether you're looking to decorate, renovate or build a new home from scratch, Liz's cross-disciplinary team and vetted network of talented resources and industry partners has the expertise to manage projects of any complexity.
Since 2005, Liz Caan's signature play of pattern, color and texture has elevated some of Boston's most distinctive and historic homes with renewed vitality and charm. She is personally involved in every project, and works closely with her growing team to cultivate talent within the firm. Liz is a member of the Design Leadership Network, the Institute of Classical Architecture and Art, and the Leaders of Design Council. She holds a degree in Fine Art; prior to starting the firm, Liz worked in sales and marketing in New York and Chicago. She lives in Chestnut Hill with her husband, three children and three dogs.
PEACHY PICK
Also check out the Liz Caan & Co. Design to Go service.