There may not be a better name for this contemporary villa—Sol Y Luna was built to enjoy the best of both day and night with its "periscope look" on an elevated site.
"The arrival experience is quite magical: the sliding gate opening, the steep drive and the ascent up the steps before revealing the view. The lot isn't the biggest, but there's something about that arrival experience you just don't expect," says Tom Greenfield, Director of James Hamilton Architects and Formituri-Grace Bay.
---
WRITTEN BY Bek Mitchell Kidd
PHOTOGRAPHY BY Gary James, Provo Pictures
ARCHITECTURE: James Hamilton Architects
CONSTRUCTION: NorStar
LANDSCAPE: NV Landscaping
The windows allow natural light to permeate through the whole house, creating smooth transitions for the owners to glide through their home.
Tom says, "We created a double-height atrium giving the horizontal circulation space, at the back of the house, a visual connection to the ocean. We placed internal windows in the bedrooms to allow cross ventilation from the bedrooms into the atrium. The atrium is then able to eliminate heat buildup via the high-level windows."
The transitions between inside and outside are imperceptible, with the idea being that the views are the same whether you are indoors or outdoors, and access to areas like the kitchen are not impeded by doors. The show-stopping view is a traveling backdrop wherever you are in the home.
The team has created a memorable network of individual spaces. "Areas dedicated to certain uses are actually more appreciated than one big space that doesn't cater to specific needs. An example of this is the upper roof deck for sunrise yoga, or the umbrella nook which creates a shaded relaxing area for the middle of the day," says Greenfield.
Greenfield worked closely with the landscapers, assisting with the design of the area. "Our starting point for the landscape design is usually to use what we have already on the site and add to it, rather than clearing the land and starting over," Greenfield says. "This is largely for environmental reasons, but we find that a green/luscious landscape plan helps to complement the house…lots of color can be distracting if not placed correctly. That being said, a good bougainvillea, flame tree or frangipani often grabs warranted attention."
---
ABOUT JAMES HAMILTON ARCHITECTS AND FORMITURI

James Hamilton Architects is a design-led architectural practice operating in Ireland, UK and Turks and Caicos. James Hamilton became a Chartered Architect and a member of the Royal Institute of British Architects in 2006. During his education he gained a commendation for his MSc in Computation Design and Architecture. In 2004, he began work as an architect in the Turks and Caicos Islands. Tom Greenfield graduated from the Oxford School of Architecture and attained his chartership while working for London-based architectural firm HTA Design. He moved to the Turks and Caicos in 2016, bringing with him great experience in residential architecture and urban design; he considers sustainability to be at the heart of all his design work.

Formituri-Grace Bay works with homeowners to select pieces from some of the finest product designers in the world. The firm's architects and interior designers supply pieces that suit clients both today and in the future. Founded by James Hamilton and Tom Greenfield, Formituri handles design, ordering and delivery. As Greenfield explains, "Recognizing the demand for luxury furniture and lighting in this area, James Hamilton and I established Formituri to address the challenge of sourcing such items for our clients. In the past, our clients had to handle the shipping themselves from Miami. By establishing direct relationships with factories and manufacturers, we can offer competitive pricing, remove the hassle of importing to the islands and provide products that are well-suited to the climate."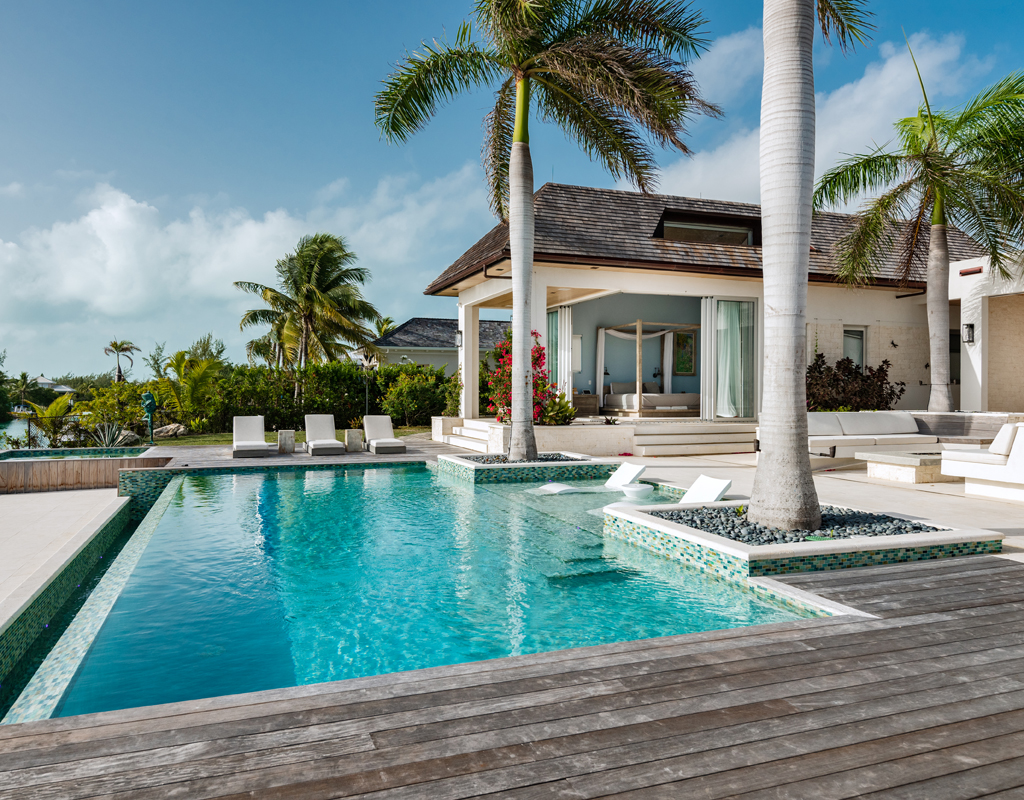 "The challenge of building in the Turks and Caicos Islands is in the selection of materials, and creating a robust, environmentally conscious, elegant design to withstand the harsh salty and sunny environment." —Tom Greenfield