Sitting pretty at approximately 6,500 square feet, Kitty and William Bray's home is what designer Greg Perry refers to as an updated approach to the classic French vernacular.
The Brays loved their existing home but needed a new space that could grow with their family and meet the couple's needs for years to come.
Located in Foxcroft in the SouthPark area of Charlotte, the neighborhood—known for its family-friendly, tree-lined streets—offered a rare corner lot for sale.
Homeowner Kitty says, "We were in a ranch that we loved. We had added on a master bedroom suite and converted the garage into a playroom, but we felt that as our children got older, we would need different space and more storage. With the help of Gray Walker Interiors and Greg Perry Design, William and I built a house where our children could have their own space upstairs. We knew we wanted our primary bedroom downstairs, so once our children left the nest, we could have all we needed on the main floor."
---
WRITTEN BY Bek Mitchell-Kidd
DESIGN BY Greg Perry Design
INTERIOR DESIGN BY Gray Walker Interiors
PHOTOGRAPHY BY Michael Blevins and Brie Williams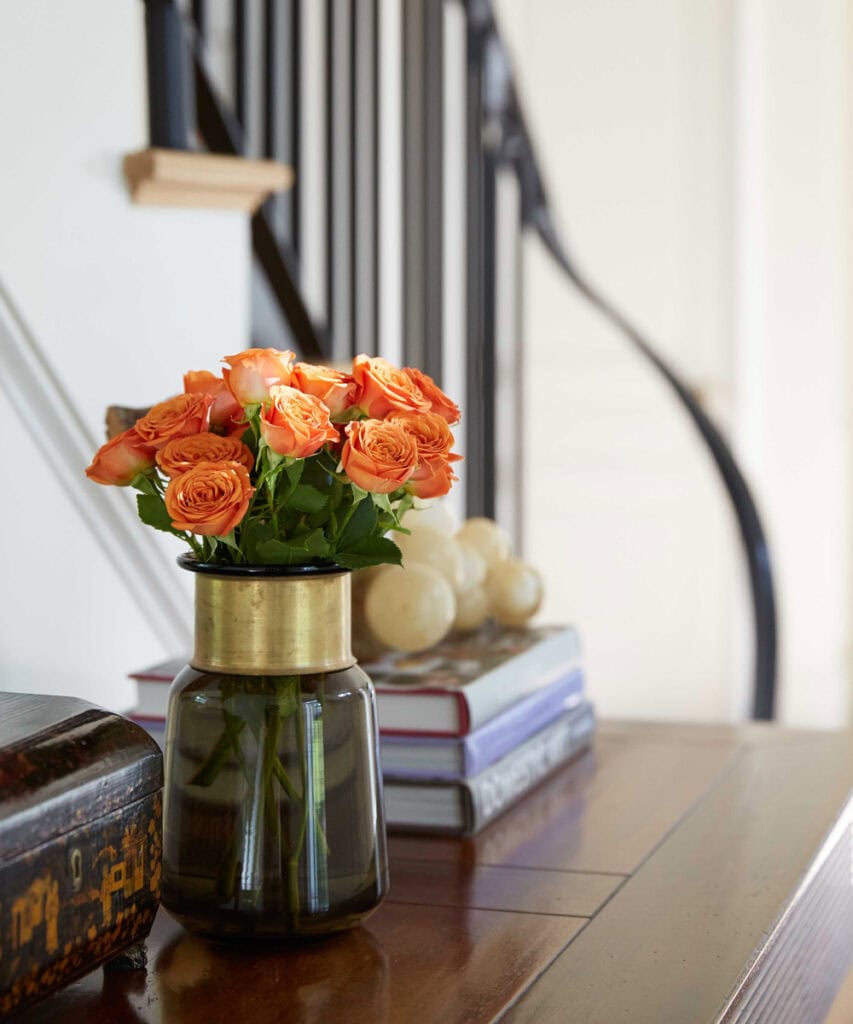 The dream team collaboration was established between Greg Perry Design and Gray Walker Interiors. First things first—the desire for a lot of windows, closely followed by the need for entertaining areas with good flow between spaces and the perfect places for the owners' heirlooms, art and precious keepsakes.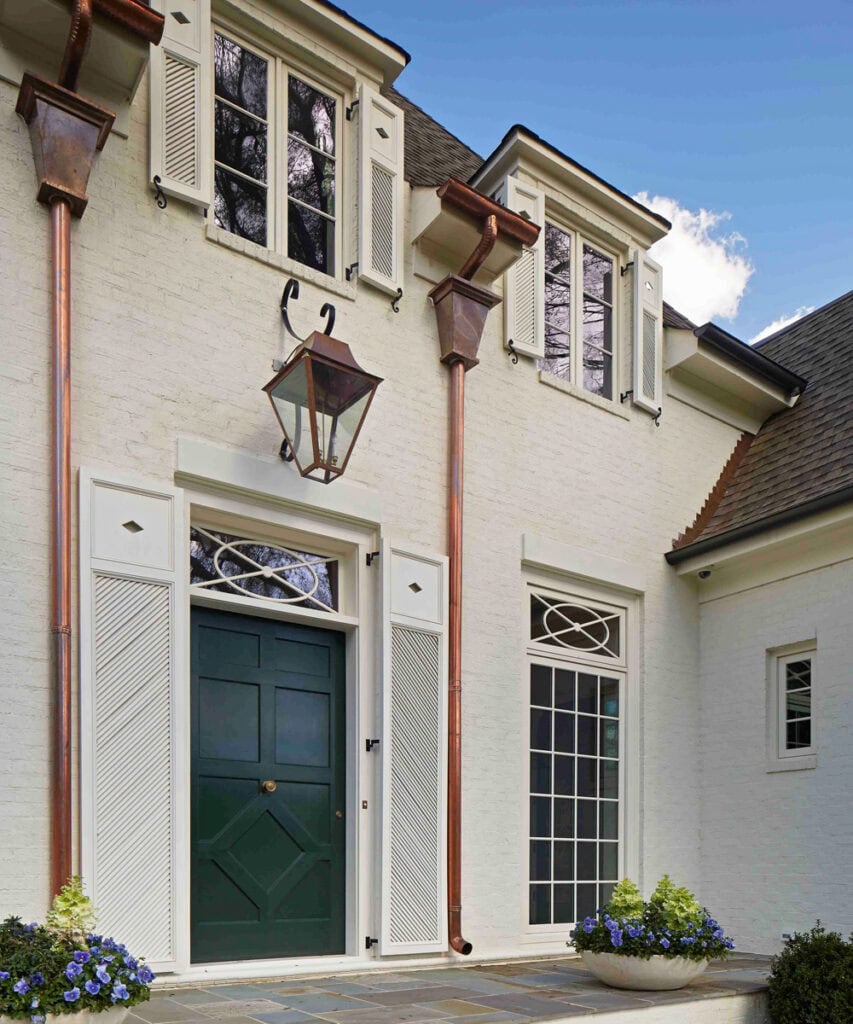 As Gray explains, "The house is comfortably neutral with bold color pops strategically woven in and out. The clients wanted lots of natural light with a neutral palette in the main living area and master bedroom for a soothing approach to everyday life. On the other hand, we incorporated dramatic color in other spaces for depth."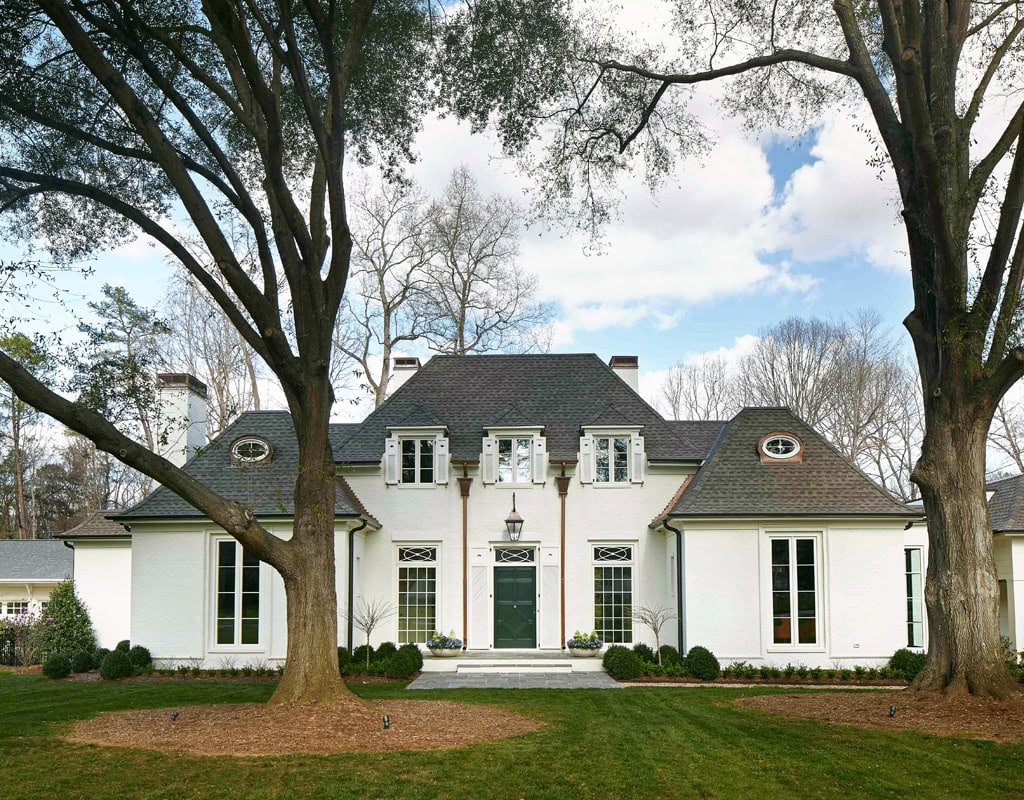 "The unique, beautiful tree-lined corner property gave us the opportunity to pay attention to the design at all angles," says Greg Perry.
Family provided both the heart and inspiration for much of the design. "My favorite room is our dining room. I love to use it when we have friends over for dinner. It reminds me of my mother! Her favorite color was navy blue, and I have special pieces in that space that I inherited from my parents that are dear to me," says Kitty. 
"Kitty knew she wanted a mural in her dining room," Gray continues. "We were on a buying trip in Atlanta and met with the director of Fromental. After looking through many designs, she fell in love with a chinoiserie garden. Kitty made classic and bold decisions—navy blue was her choice, and I gave it my stamp of approval. We thought the gold and navy combination with the coral splash was so timeless."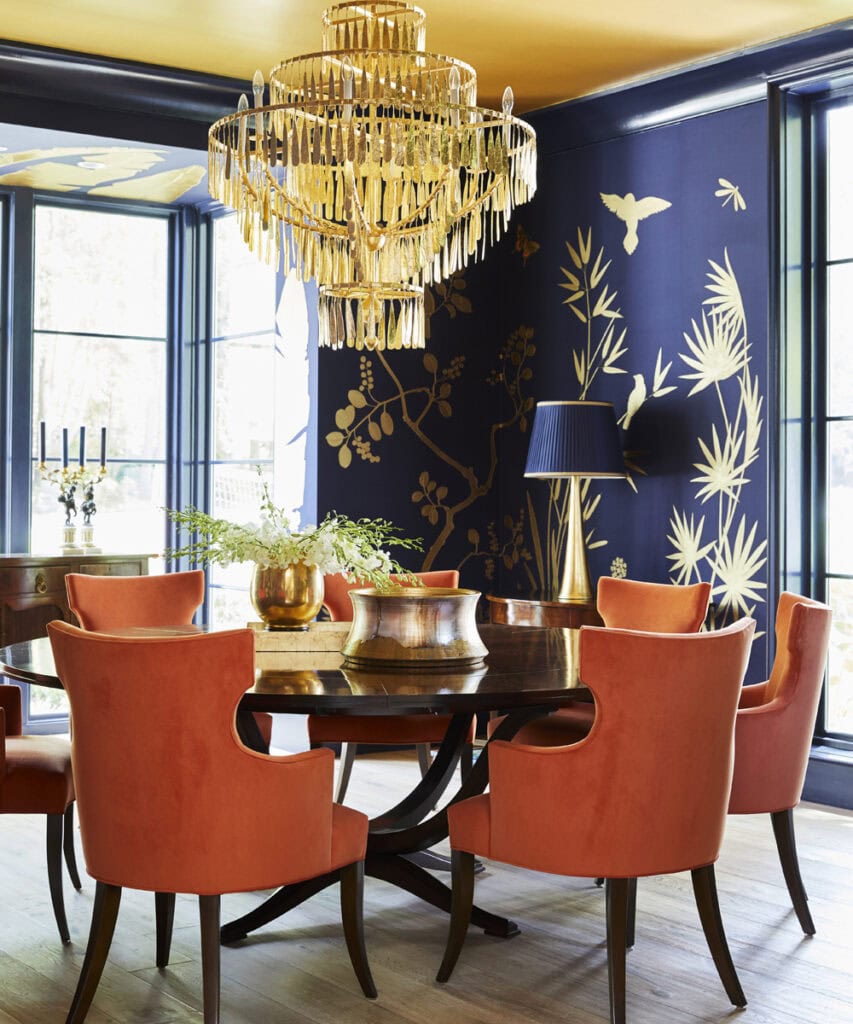 The dining room, located off the foyer, is then connected to the main kitchen by the scullery. The bar area is a bold coral inspired by the lipstick color that Kitty's mother wore.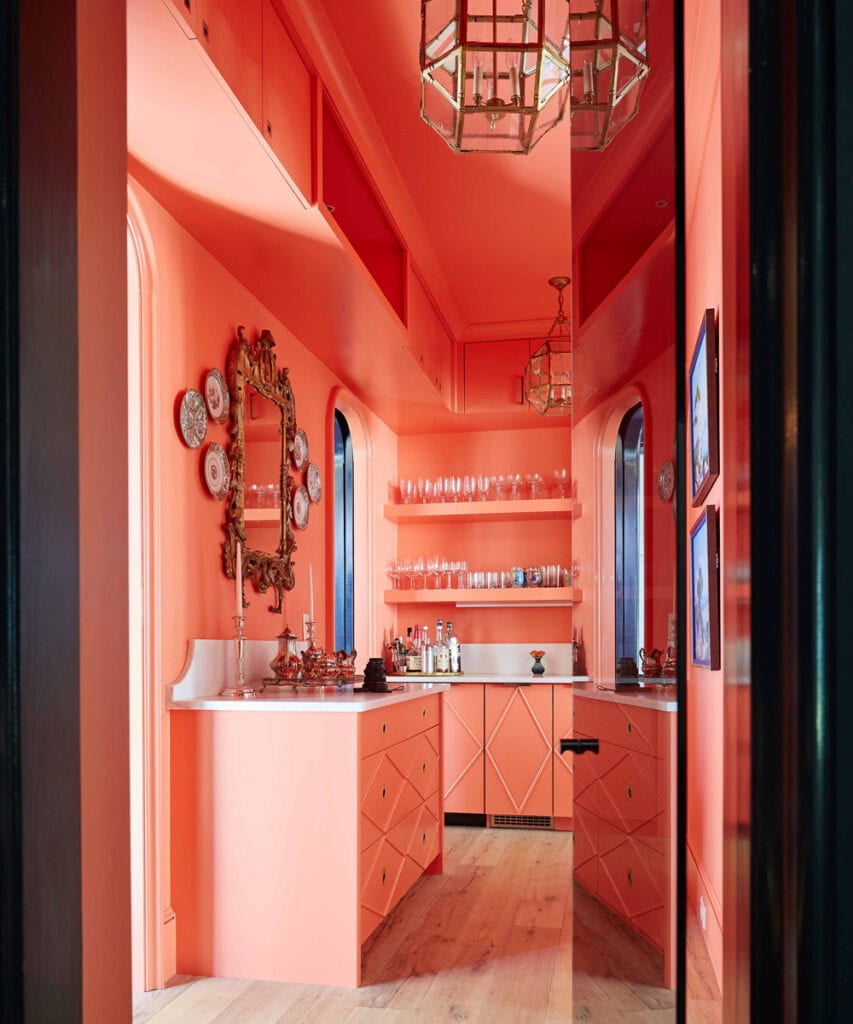 Accessible to the scullery kitchen and entertaining spaces, the wine room is "actually a work of art when lit up. It's visible as you enter the home and when you don't want to see it, the special blackened glass conceals what's behind it," says Greg.
The decoration for the kitchen dining area started with an abstract painting and the vintage chandelier by Mario Villa. "I felt the space was moving to a clean and sculptural vibe and wanted no window treatments, a neutral table and chairs with faux reptile skin upholstery," says Gray.
Greg and Gray worked with the Brays to select beautiful hardware, primarily sourced through Bird Decorative Hardware with brands manufactured all around the world.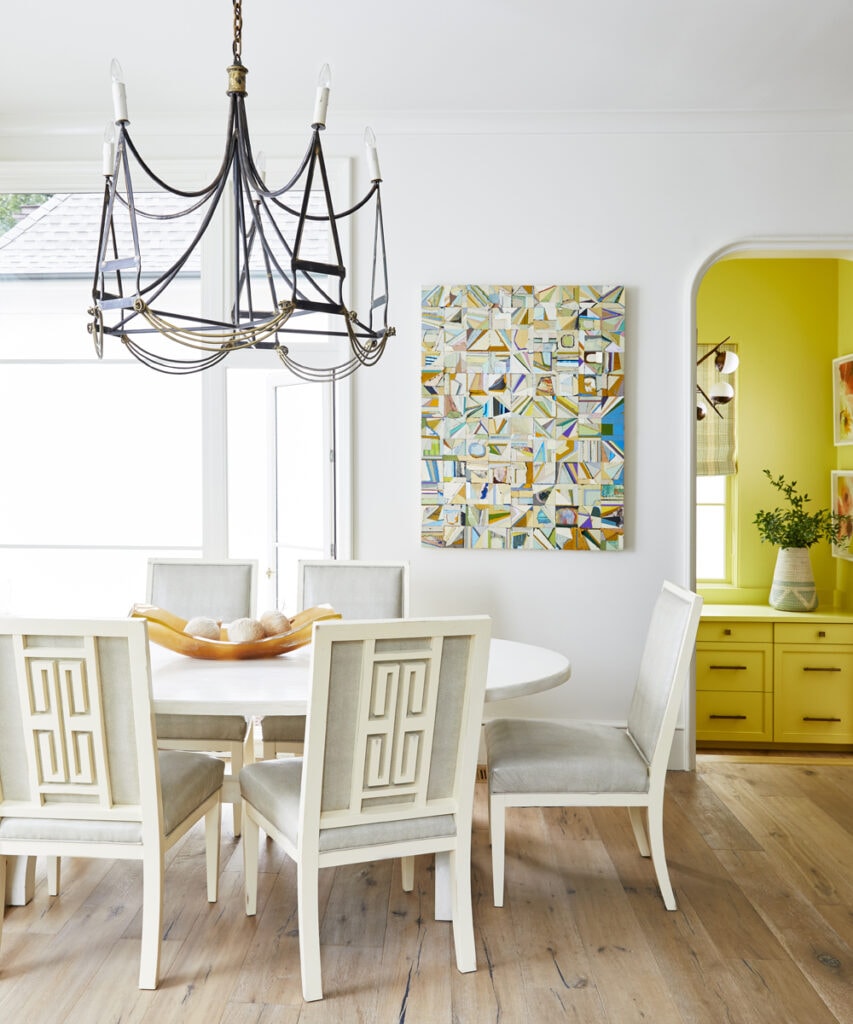 "The arch was actually designed by our client and worked out beautifully. That's what we value most, the relationships we build with clients. It's a lot of fun to collaborate as we really try and listen to their wants, needs, overall vision, etc. We value their opinion and the relationship as a whole. Kitty's design influenced other details in the home, like the radius ceiling details," says Greg.
The game is afoot! Bringing a little whimsy to the layout, Greg's team added a hidden door saying, "We love hidden doors because in certain areas of the home you don't want to see hardware, door hinges, etc. It also provides intrigue and an experience into special areas or rooms of the home."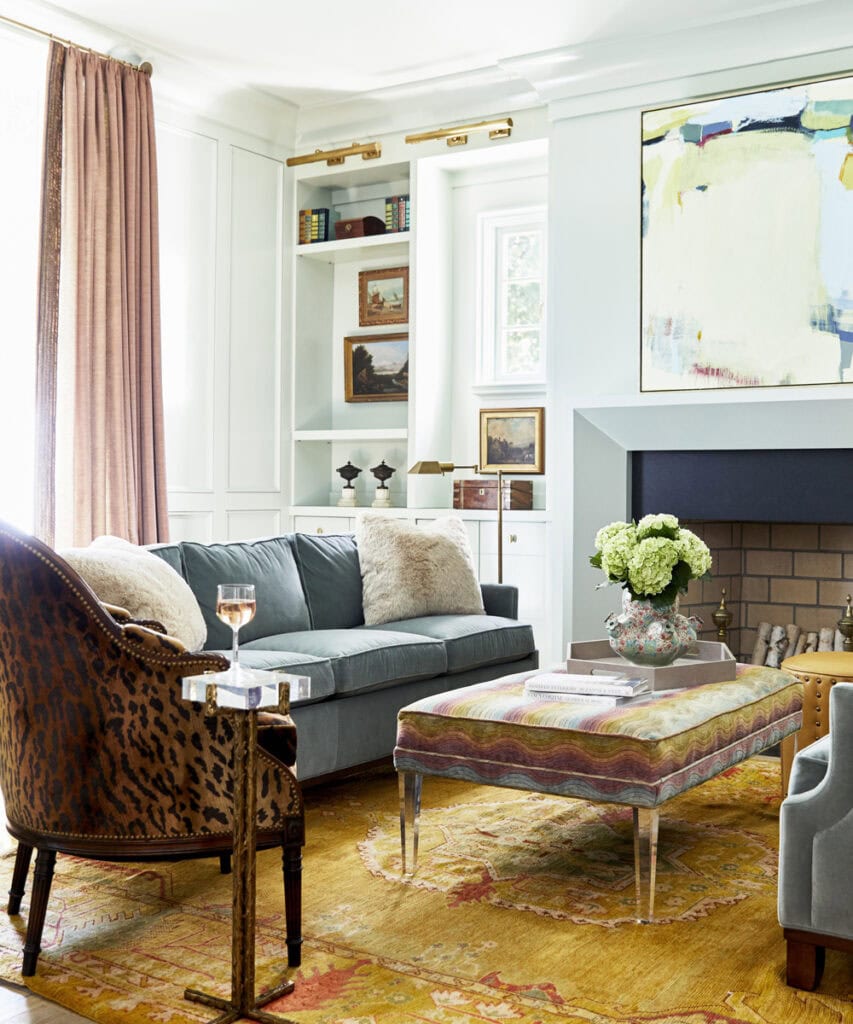 The Oushak rug used in the library used to hold court in Kitty's parents' dining room.
The primary bedroom features a neutral palette with a dash of old-fashioned glamour, with views out to the rose garden. It is quite luxurious; subtle hues and texture are layered for decadent comfort, as hushed tones whisper that a good night's sleep is the only thing left on the day's to-do list.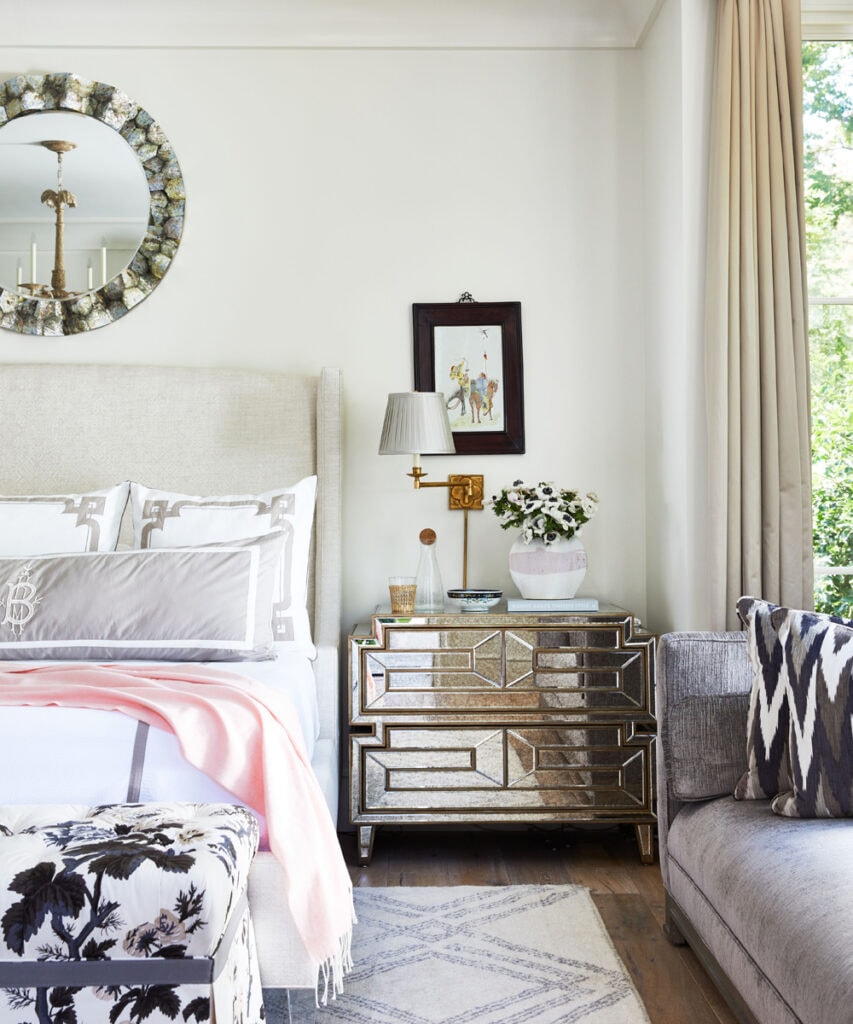 "The design has totally kept up with our needs over the years, and I really don't think I would have done anything differently," says Kitty.