WRITTEN BY Cathy Austin
PHOTOGRAPHY BY Tria Giovan
INTERIOR DESIGN BY Darby Denison and Dawn Thompson
ARCHITECTURE BY Ted Flato, Lake|Flato Architects
LANDSCAPE ARCHITECTURE BY Lance Thompson, Thompson + Hanson
Perched high above the Llano River, an architectural masterpiece by Ted Flato blends beautifully with the landscape of the Texas Hill Country. The ranch house is prominently situated on a bluff to take advantage of the magnificent 360-degree views. Built in 1992, the 2,000-square-foot house features an octagonal pavilion for the living and dining areas with a kitchen that connects to the spine of the house, which includes three bedrooms and three and one-half baths. A long, arching entry porch runs the length of the bedroom wing. Limestone collected from the surrounding 800 acres is stacked to create walls and piers of the house. Every piece of stone was hand selected and skillfully placed by Henry Dueker, the builder, and his team of craftsmen. The unique structure perfectly exemplifies the architect's vision of capturing the unique beauty of the landscape and connecting the inhabitants to their environment.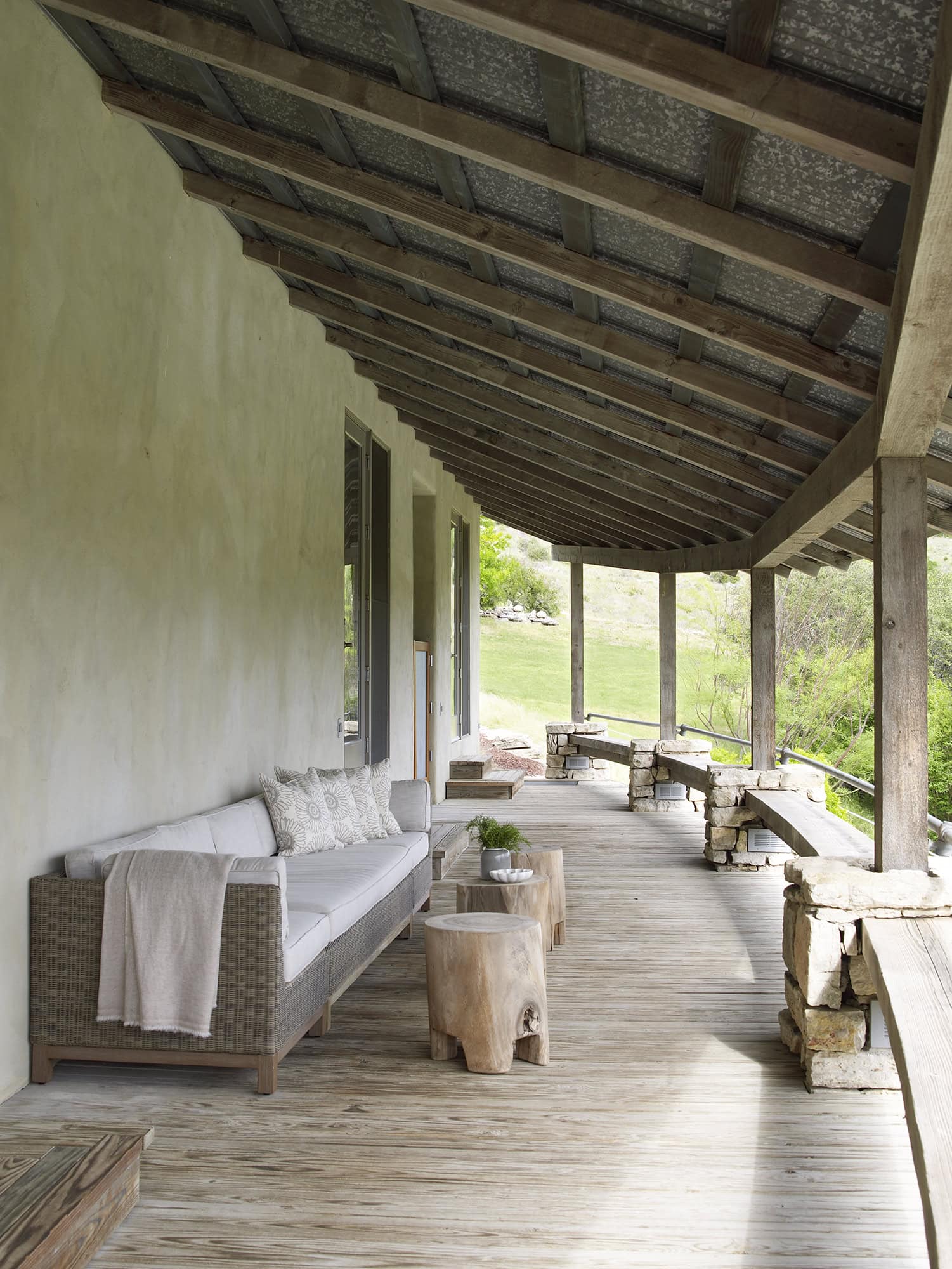 The owners purchased the property as a getaway from their primary residence in Austin. They enlisted the help of longtime friends Denison & Denison Interiors to assist with the design of the spaces. Darby Denison and Dawn Thompson, twin sisters and native Texans, served as an incredibly talented design duo that used the bucolic setting as their main source of inspiration. Darby and Dawn now have separate interior design firms.
Darby explains, "Our client asked us to create a space that could not only serve a large group of outdoorsmen but also a gathering of girlfriends and family that seek a more refined and livable home. When Dawn and I walked into the living room for the first time as 'designers' rather than just friends, our first inclination was to bring the outdoors in. The client wanted a soothing, neutral scheme, and we were using a lot of her existing furniture from other houses. The indigenous stone was definitely the driving force behind our color scheme. We decided to cool down the existing long leaf pine floors with a gray wash and painted any exposed wood trim a neutral color to blend in with the stone. We designed the furniture layout to meet all four focal points: the fireplace, the TV and two large picture windows. The upholstered chairs swivel around for TV viewing. We used zebra and cowhide rugs to marry the seating area with the rest of the room while creating a large yet intimate conversation area."
The designers made sure that the light, neutral palette is just as forgiving as it is elegant. Whenever possible, outdoor fabrics or stain-repellent fabrics were used. In the dining area, a custom table was ordered from England with a reclaimed wood top and sleek steel base. Dining chair fabric by Kravet is both durable and resilient. The light fixture, fire screen and pot rack in the kitchen were made by Peck & Company of Houston.
In the octagonal pavilion, the pine ceiling rises to an impressive 14 feet and is highlighted with a colored gray wash that was pulled from the limestone. Sofas are covered in a Great Outdoors chenille, swivel chairs don Le Graciuex fabric and armchairs are clad in camel leather. The designers worked with a local artist to create the top of the coffee table which depicts the house and Llano River in terrazzo and metal inlays. A barrel base covered in Edelman leather with chrome nail heads was added to give it a "ranch-like" feel. A kudu presides over the fireplace.
The open kitchen features white oak cabinetry and Corian countertops. An antique French farm table surrounded by Janus et Cie counter stools functions as both a dining area and another prep area for cooking. Open shelves provide storage for pottery and everyday items while not obstructing the view.
In order to take advantage of the river views, the bedrooms are placed side by side in a bedroom wing. The entry porch runs alongside this wing and also works as another seating area. The neutral palette continues into the bedrooms. A rustic bed by Ralph Lauren is adorned with linens from Feather Your Nest in Austin. Accent pillows on the bed and the roman blinds feature a Galbraith and Paul leafy linen print, and a hide-covered bench from Arteriors sits at the foot of the bed. Another fireplace tucked into the corner provides warmth on chilly nights.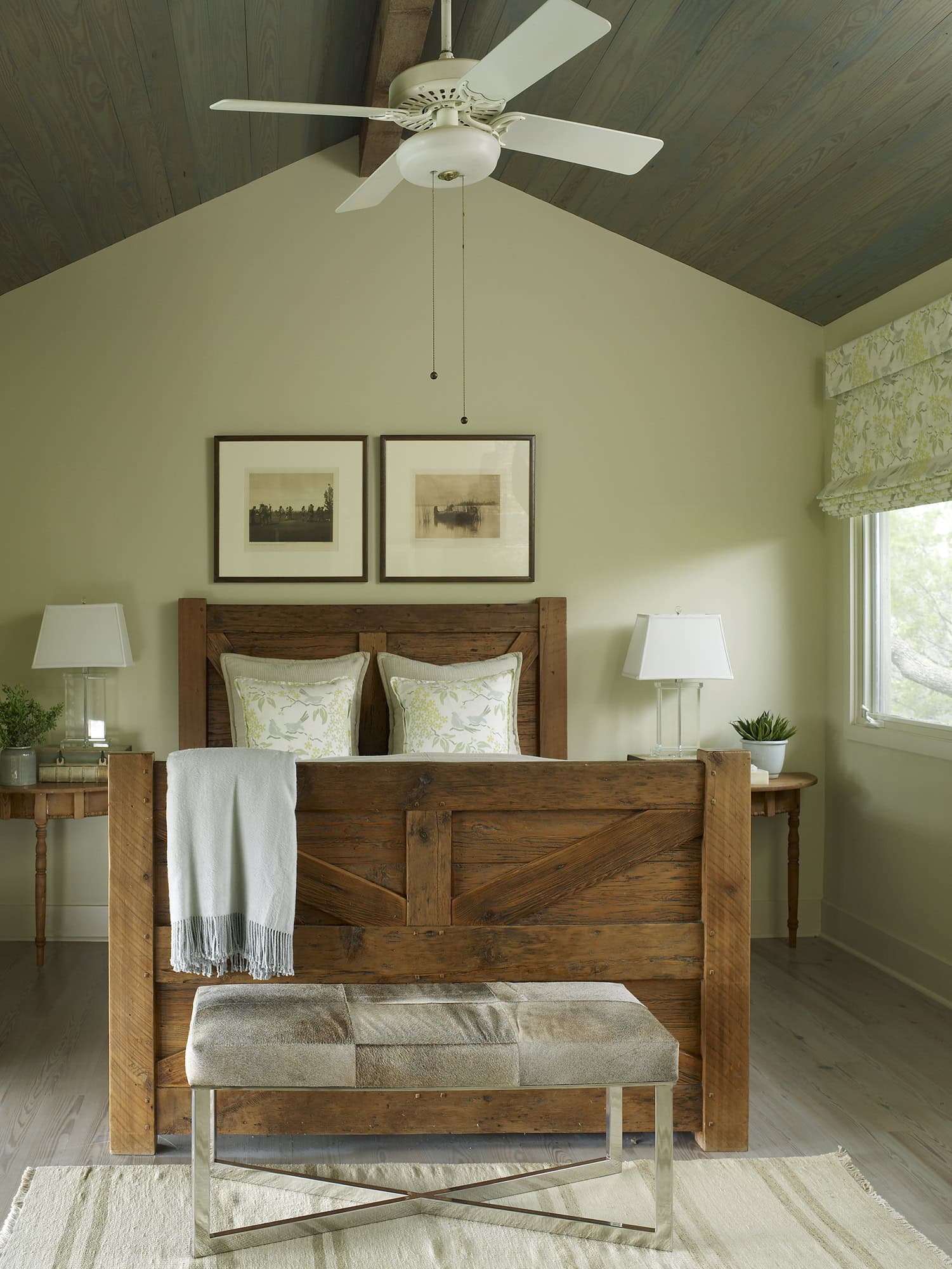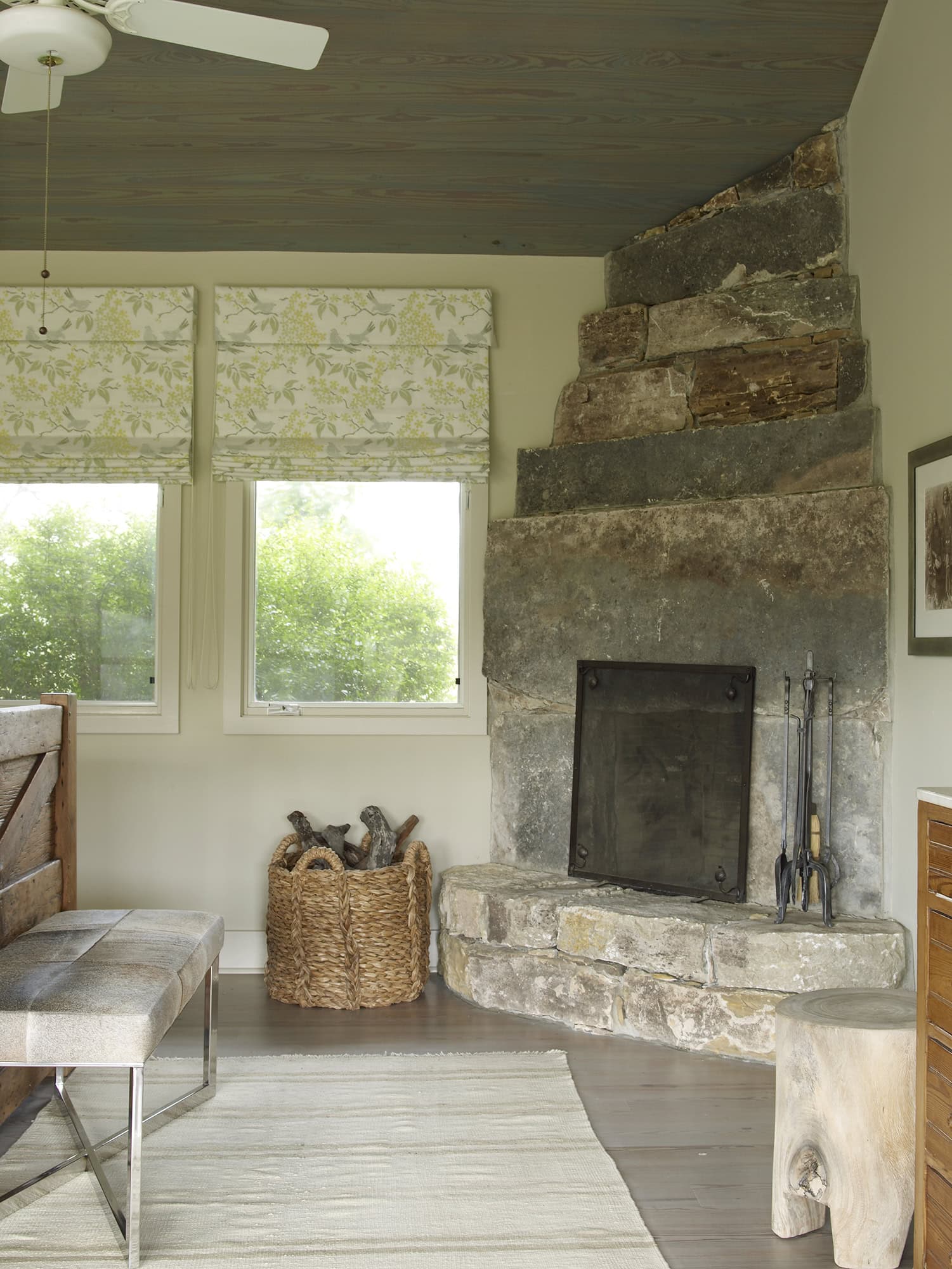 The twin bedroom showcases a mix of antique African textiles, a striped Kilim, bamboo beds and rattan accent pieces.
The sophisticated rustic vibe continues to the pool area, which is tucked into the side of the bluff below the main house. Lance Thompson of Thompson + Hanson designed the pool and galvanized pergola to be consistent with the materials and style of the main house. Sleek outdoor furniture by Janus et Cie serves as an ending point for the pool area as steps lead to a fire pit below.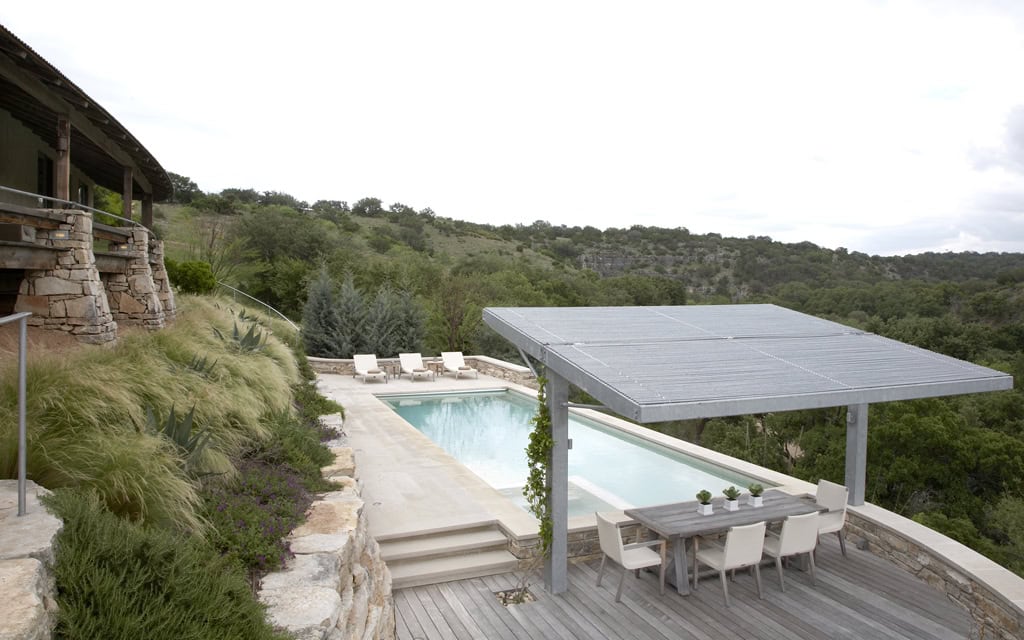 ---
ABOUT THE DESIGNERS
Darby Denison, Darby Denison Interiors
Born and raised in Texas, Darby Denison has a unique flair for joining traditional, Southern elegance with casual, modern chic to create interiors that are both inviting and exciting. In addition to holding a degree in interior design, Darby brings an amazing breadth and depth of knowledge in antiquities to every project from her studies in 17th–20th Century Decorative Arts at Sotheby's in London. "I love and appreciate something about every era. The real challenge is to know each one so thoroughly that they can be married seamlessly. I have such a passion for antiques and love seeing them come to life not only in their natural setting but also in combination with the dynamic, sleek lines of modern design." Darby is known for asking her clients a million questions before beginning the design process. "I feel compelled to know all of the details. It is a complex process, and I believe it to be my job to make sure the clients' intrinsic personalities and lifestyle are immediately visible upon entering their home, and that it is beautifully done." Darby has been in the interior design business for over 25 years in both residential and commercial design. She resides in her beloved Austin and is currently working on various residential projects in Texas as well as collaborating on a home in the Bahamas.
Dawn Thompson, Dawn Thompson Interiors
A native Texan who believes in an international level of design, Dawn Thompson affirms that the success of any project depends on the perfect blend of listening and understanding the desires of the client with the delicate art of interpreting and creating great architectural and interior design. According to Kristin Armstrong, friend and client, "Designing a space for one person, couple or family is challenging enough. Dawn's ability to crawl inside a client's head and view their dream space from their perspective is indeed a gift. Translating expectations, experiences and tastes to create a joint vision and a treasured outcome is what marks the difference between building a house and designing a home." Dawn loves every aspect of the design process. Integrating the exterior and the interior is perhaps her greatest strength. She believes in staying true to classical design but always adds a twist to keep out the "expected" and maintain the "unexpected." Layering antique and vintage elements with contemporary flourishes keeps the spaces vibrant, relevant and timeless. Working in both the residential and commercial fields of design, Dawn is currently collaborating on a restaurant and retail "village" in Austin with her husband, Lance.
---
ABOUT THE ARCHITECT
Ted Flato, Lake|Flato Architects
A graduate of Stanford University,Ted Flato, FAIA started his career in the office of O'Neil Ford where he met David Lake. Since founding Lake Flato in 1984,Ted has received wide acclaim both nationally and internationally for his straightfor- ward regional designs that leverage each unique site and connect people to the natural environment. By employing sustainable strategies to a wide variety of building types and scales, Ted seeks to conserve energy and natural resources while creating healthily built environments. His firm and work have been recognized with 43 national design awards, four AIA Top Ten Green Awards, AIA's National Firm Award in 2004 and in 2009, the Texas Medal of the Arts.