In 2015 we had the opportunity to talk with the extraordinary India Hicks about the amazing little Bahamian island she calls home. India is a photographer, model, author, and founder of India Hicks, a namesake collection of well-crafted gifts, fragrances and accessories. Her book, Island Style, is a beautifully illustrated guide to achieving her famously undone, gloriously bohemian decorating style.
India shares some insider tips to help make the most of your getaway on the delightful Harbour Island. Enjoy!
---
STAY
All of the lovely plantation-style homes at HIBISCUS HILL come with a daily housekeeper to look after you and have been decorated in the romantic notion of an Ernest Hemmingway novel.
---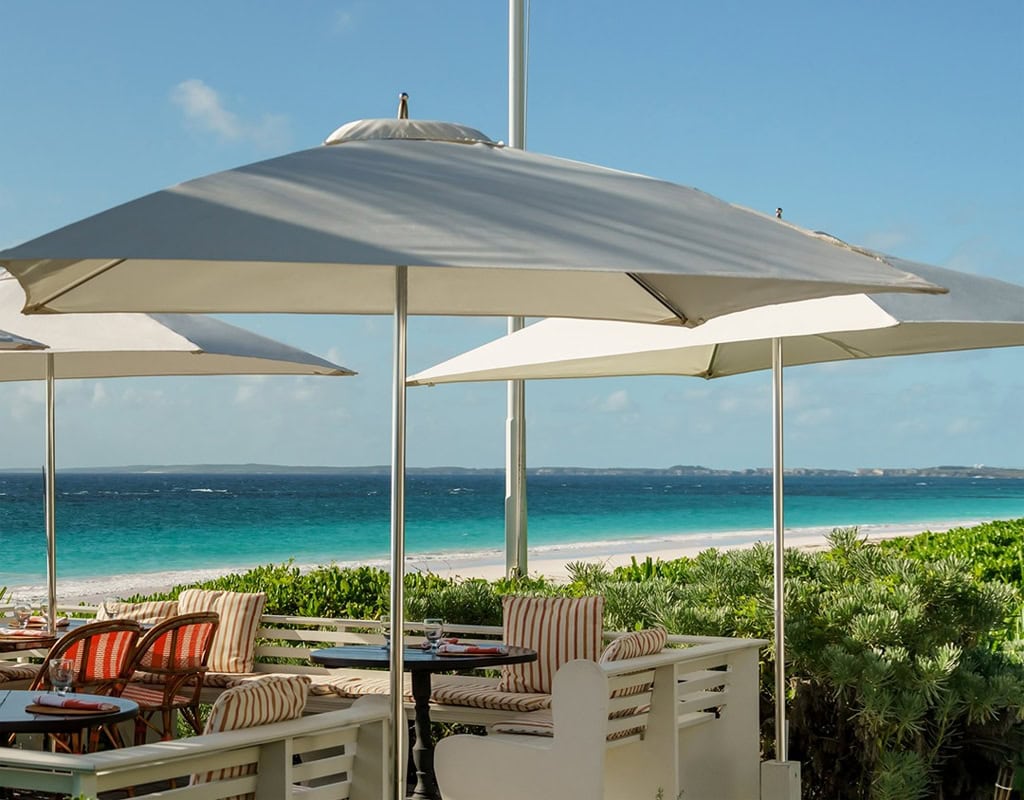 EAT
Wander into 'town' for a traditional breakfast at THE DUNMORE DELI, where you could also get a local Kalik Beer if you needed it after a late night dancing at DADDY D's. Or try ARTHUR's BAKERY for local Bahamian breakfast of grits and stewed fish.
Indulge in a Sunday brunch at THE LANDING featuring ricotta pancakes and fresh baked coconut bread.
For a late afternoon snack head down to the PLP dock where you can watch the fisherman bring in the day's catch and witness an aggressive game of dominoes (considered a national sport in the Bahamas) on your way to THE QUEEN CONCH shack next door. Try the local conch salad made of chopped conch, local tomatoes, onions and green peppers mixed with the lime and sour orange juice. Beware…ask for tourist strength, anything else might blow your bikini off! If you are feeling adventurous ask for the conch's pistols, local men say "it puts lead in your pencil."
Wrap up your day with dinner at the DUNMORE BEACH CLUB on the terrace, under the stars, overlooking the ocean.
---
PLAY
What is island life without water? You can rent a boat from DUKE DAVIS and snorkel for sand dollars and sea biscuits. Then head down to Bottom Harbour to watch the turtles darting about and keep a lookout for the family of dolphins who live here.
Captain Bob of ELEUTHERA SAILING ADVENTURES, who lives on the neighboring island of Current, will take you out on his boat to dive for conch or spearfish. He'll also introduce you to a few friendly sharks along the way.
For a little more adventure, go scuba diving with VALENTINE'S DIVE CENTER. They offer a resort course in the morning that will have you 30 feet beneath the surface by the afternoon.
---
SHOP
Above the surface, head up Gustie's Hill. At the top you will find THE SAND DOLLAR SHOP. Here you can find many locally-made treasures including little bottles of pink sand which you might want to take home to prove that it really does exist.
Down the bay past the Loyalist Cottage built in 1800, you'll find THE SUGAR MILL. Explore an eclectic mix of treasures found from travels round the world…everything from a $1000 embellished evening kaftan to a child's bucket and spade.
---
Hibiscus Hill photo via hibiscushillharbourisland.com
Dunmore Beach Club photo via The Dunmore
Harbour Island photos by Sarah Kelemen Garber via Flickr