We hope you are enjoying our four-part series on Getting Healthy in the New Year. This week we are featuring another simple and effective workout from Liz Hilliard and Clary Hilliard Gray, the dynamic mother-daughter team at Hilliard Studio Method.
Clary Hilliard Gray is wearing Power Cool Jacket in Night Blue ($79), Thermodry Run Skirt in Black ($52) and Infinite Bra ($45). Liz Hilliard is wearing Chrome Vest ($139), Lycra Cire Bra in Granite ($42) and Lycra Cire Tights in Granite ($59). All pieces are from Track & Field. Photos: Wanda Koch Photography
---
Workout:
HSM Long Lean Legs
Our 12 minute Long Lean Legs video efficiently tones the thighs for lean, beautiful legs while improving balance and core strength through a series of no impact leg lifts and isolated holds.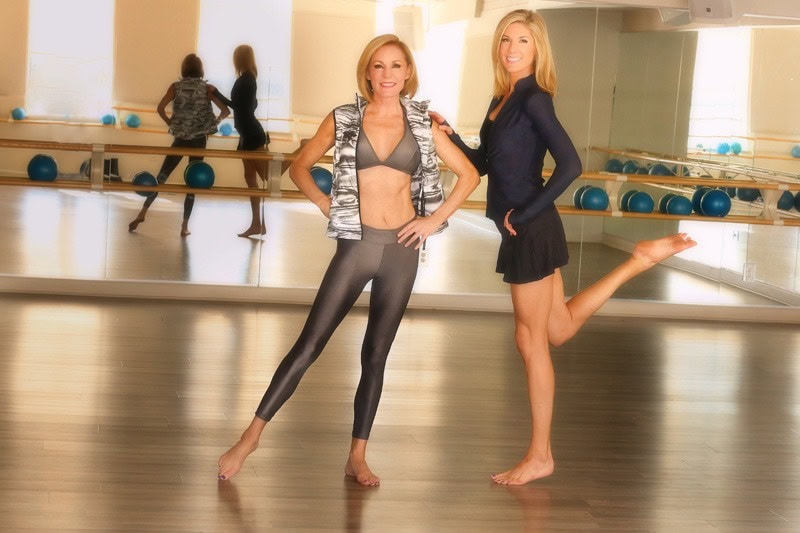 Why we love this short workout video: Working the legs HSM style is about sculpting the front and back of your legs to get the length you crave from your muscles. In addition to beautiful thighs and calves, HSM Long Lean Legs helps you strengthen the muscles around the joints of your ankles, hips and knees. All you need is a sturdy counter or chair. Don't forget to stand tall and engage your core, because perfect posture will keep you looking and feeling your best!
---
Liz Hilliard's Food Diary
Breakfast:
Organic Green Tea
Organic Apple
Hilliard Studio Method Signature Smoothie
Lunch or Dinner:
Wild Salmon with Lentils and Arugula from Clean Slate: Reset Your Health, Detox Your Body, and Feel Your Best, a cookbook and guide from the editors of Martha Stewart Living.
1 medium red onion, diced
1 carrot, peeled and diced
1 stalk celery, diced
1 bay leaf
1 cup green lentils
Kosher salt and freshly ground black pepper
2 tablespoons extra-virgin olive oil, plus more for drizzling
1 tablespoon fresh lemon juice
3 cups baby arugula (1 1/2 oz.)
4 6-oz. fillets wild salmon, skinless
In a medium pot, bring onion, carrot, celery, bay leaf, and lentils to a boil. Reduce to a simmer and cook until lentils are tender, about 25 minutes. Drain. Season with salt and pepper. Add olive oil and lemon juice. Stir in arugula and cover to keep warm. Meanwhile, heat oven to 375 degrees. Arrange fillets in a baking dish. Drizzle with olive oil and season with salt and pepper. Cover with foil and bake until cooked through, about 16 to 18 minutes. Serve with lentils and squeeze with lemon juice. Serves four.
Photo from Clean Slate: Reset Your Health, Detox Your Body, and Feel Your Best