Today we bring you part two of our four-part series on Getting Healthy in the New Year. This week we are featuring a total body workout and a full day's worth of healthy meal ideas from the amazing Jen DeCurtins. Jen is a yoga teacher at Y2 Yoga, fitness instructor and blogger (Peanut Butter Runner). She published her core training book,  Ultimate Plank Fitness: 101 Plank Exercises for a Strong Core, Killer Abs…and a Killer Body, in 2015.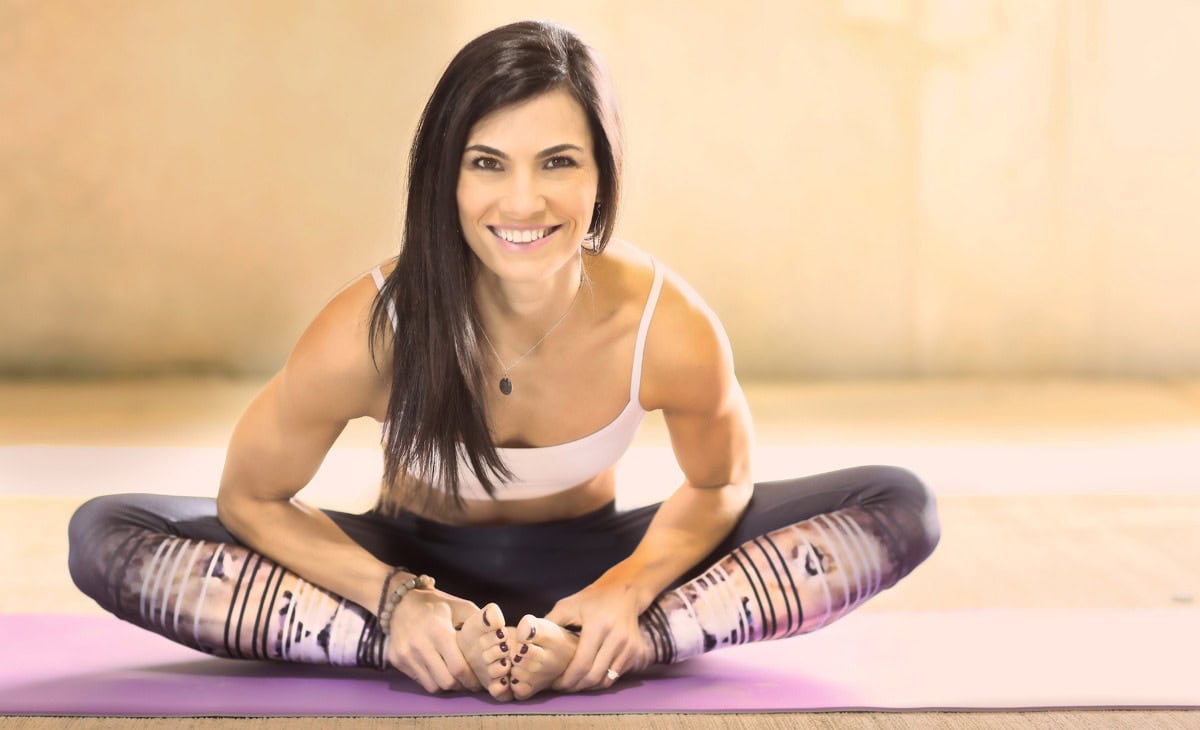 Jen DeCurtins is wearing Lion Tights ($89) and Power Cup Bra ($39) from Track & Field. Photo: Wanda Koch Photography
---
Total Body, No Equipment, At-Home Workout
Jen's easy-to-follow video outlines a total body cardio and strength workout featuring bodyweight exercises that can be done at home with no equipment.
---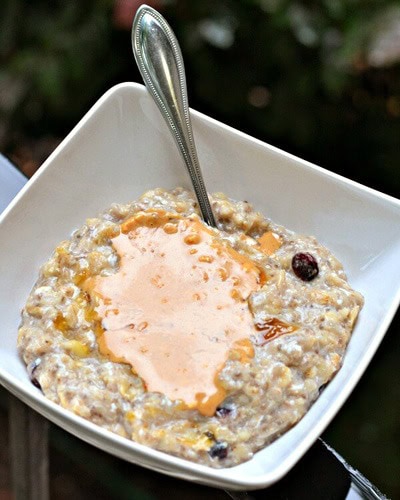 Breakfast:
This is one of my go-to breakfast options for a cold morning. By cooking the banana with the oats you can naturally sweeten the oatmeal without added sugars. Stirring egg whites in at the end of the cooking process gives you a super fluffy bowl of oatmeal with an extra punch of protein!
See the recipe here: Banana Egg White Oatmeal
Lunch:
No recipe needed here…just layer on those toppings and enjoy! Deli turkey, pistachios, avocados, pears and hard boiled egg on a bed of arugula for the perfect ratio of fats, proteins and carbs to power you through a busy afternoon. It's so important to give your salads staying power by adding both protein and healthy fats like avocado and nuts. All it needs is a drizzle of good quality olive oil and balsamic vinegar to finish it off.
Dinner:
This lemon parmesan salmon is on heavy rotation at our house! I love to roast sweet potato rounds and brussels sprouts on the side. It's super simple to prepare and can cook in the oven along with your side items leaving you free to get things done around the house.
See the recipe here: Lemon Parmesan Salmon