WRITTEN BY Blair Farris
Years ago when Allison Armour Wilson was looking for a modern water sculpture for her garden in Sussex, the lack of choices led her to design her own. Fast forward 15 years, Allison is now living in Santa Barbara and has a thriving business with pieces in private gardens, museums, universities and public spaces across the world.
The "Aqualens," the original centerpiece in the garden she designed for the 2000 Chelsea Flower Show, combines modern materials with classic geometric shape to add delight to gardens and other spaces. It is made of acrylic and overflows from a concealed pump. As one client said of Allison's creations, "Not only do they provide magical focal points for the two quatrefoils of our formal parterre, but they add a happy note of modernity in a classic area of the garden and give it a tremendous lift."
Another timeless sculpture is the "Steel Eye," an eight-foot diameter steel contact lens with an open eye hole for a variety of reflective and acoustic effects. The mirrored surface reflects both the ever-changing sky and garden and also passersby. The Steel Eye can be seen in large-scale gardens and public spaces.
We were especially enamored by the "Mirror Obelisk." This classic design is made of mirrors reflecting the different elements of the garden. According to Allison, "at times, you aren't quite sure what you are seeing with the multitude of reflections. They even seem to disappear altogether at some angles."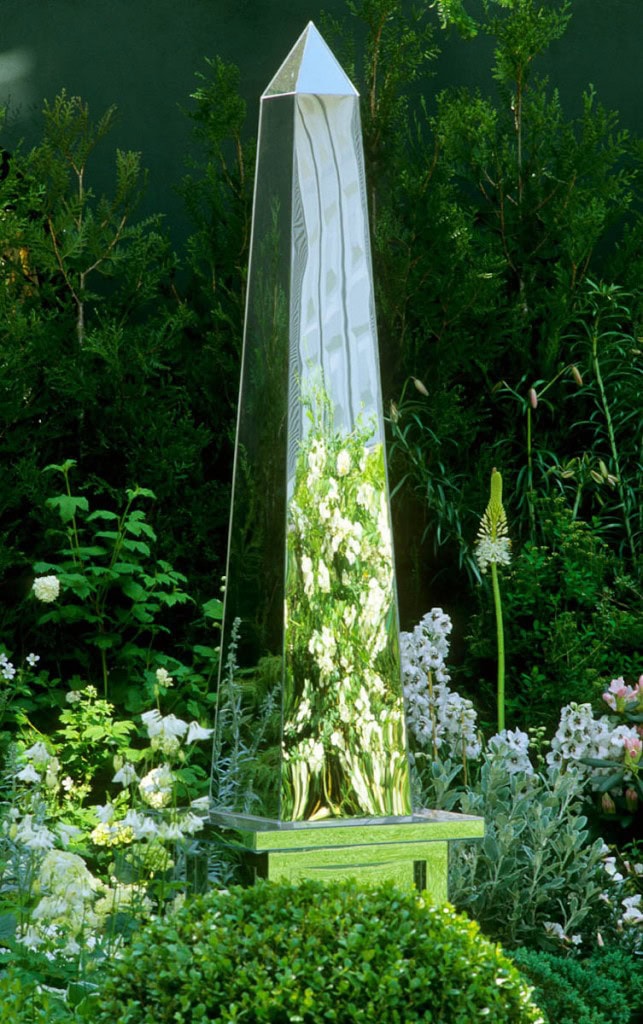 Allison has done a fabulous job using modern materials with a reference to classic garden ornamentation to create timeless pieces for the garden. To see more of her beautiful sculptures, visit allisonarmour.com.