WRITTEN BY Tamberlyn Dobrowski
PHOTOGRAPHY BY Taylor Mathis
Brighten the last weeks of winter with these colorful salads.
Blood Orange Salad
This is a delicious and bright salad that you can assemble and dress on a plate. The chili pepper gives it a little kick. Serve as the first course for a dinner party.
---
Kale & Romaine Citrus Salad with Orange Ginger Dressing
---
Peachy's Easy Avocado and Citrus Salad
---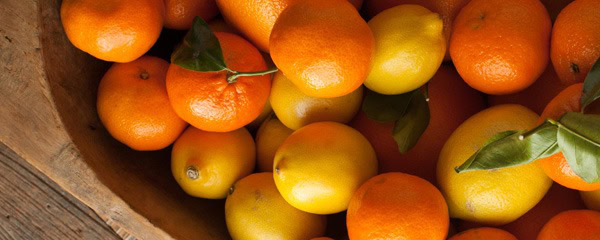 Citrus Basics
Oranges
Oranges are at their peak between December and April but can be found in supermarkets year-round. The naval orange is the most common for eating. Choose fruit that is heavy for its size and free of soft spots.
Grapefruit
Grapefruit-growing season is from October through May. Grapefruit comes in white, pink and red varieties. Choose fruit that is heavy for its size with smooth skin.
Blood Oranges
They are smaller than navel oranges and often have pitted skin with hints of red. The flavor is less tart than other oranges. They might have hints of raspberry or a slightly bitter edge. Choose firm, plump oranges that are heavy for their size.
Tangerines
Peak season is from October through April. They occasionally are available year-round but are best enjoyed in season. A good tangerine is firm or slightly soft and feels heavy for its size. Choose tangerines with smooth, bright-orange, unblemished skin.
Information from marthastewart.com