WRITTEN BY Bek Mitchell-Kidd
GARDEN DESIGN BY Troy Rhone
PHOTOGRAPHY BY Edward Badham (first two photos)
ALL OTHER PHOTOGRAPHY BY Ryan Carlson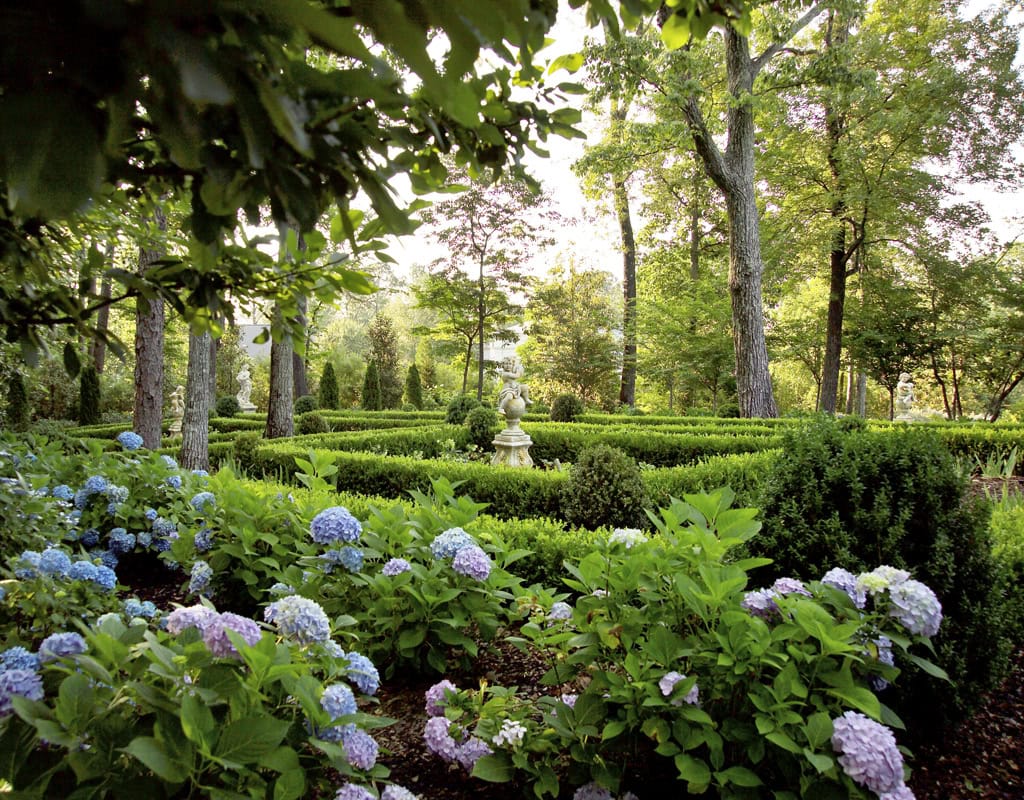 A remarkable private treasure of rolling acreage located in Birmingham turned into a more-than-decade long love affair for landscape architect Troy Rhone.
Troy originally designed the garden about 10 years ago for, as he puts it, "an amazing client."
When the house was built, it included a palatial pool, but only minimal landscape was installed. After living in the house for a few years, the client asked Troy to add to the original design and continue it throughout the entire property. The vivacious owner wanted a putting green and chipping mats. She also requested a vegetable garden.
Troy refers to the garden as "European" given the many elements that are American, French and English. However, he does consider the plantings to be of a traditional Southern palette, which includes boxwoods, azaleas and hydrangeas. Troy, who works all over the United States, explains that, "I always try to find plants that do well in the specific region, while still helping me achieve the look I'm after."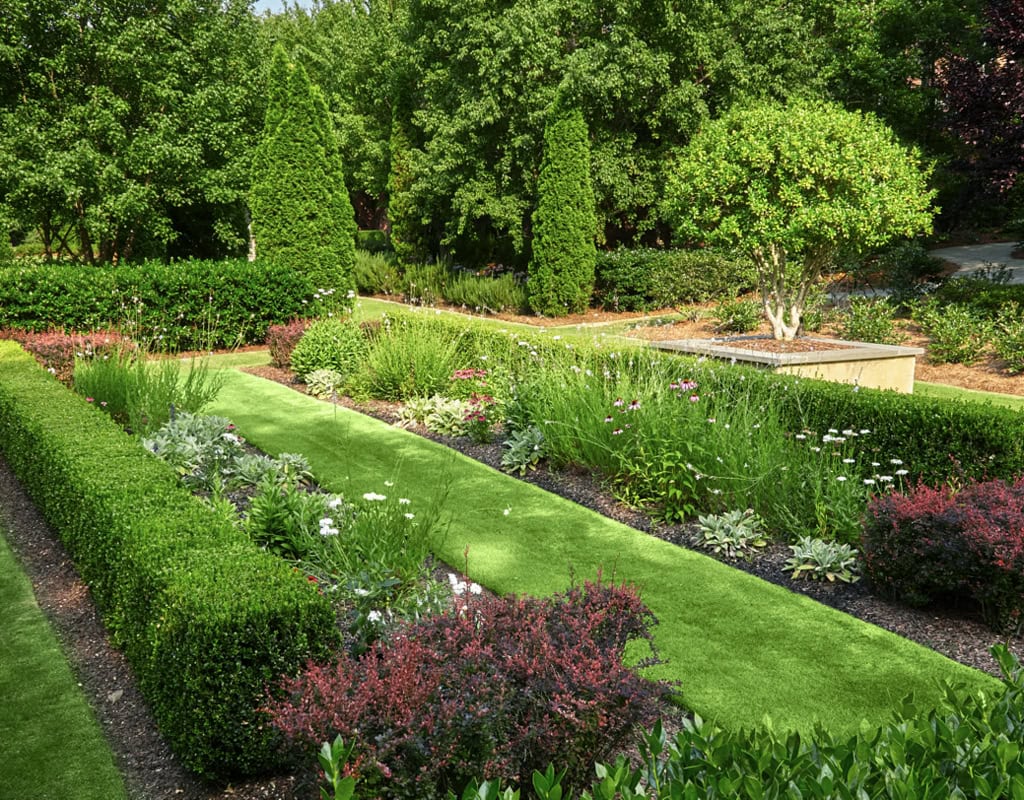 The garden boasts numerous sculptures and ornamentation. Particularly striking is "The Huntress," located in the parterre garden. Troy was inspired to include this piece as a homage to the original owner; he searched for something that would speak directly to her courage and strength as she battled cancer.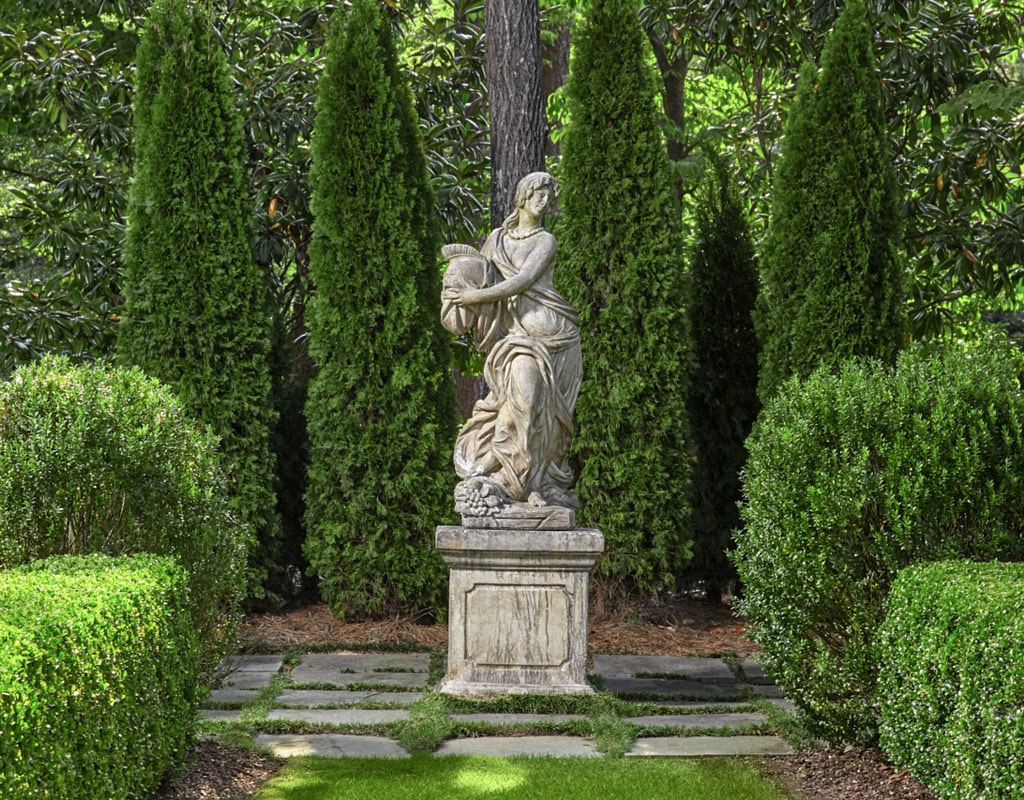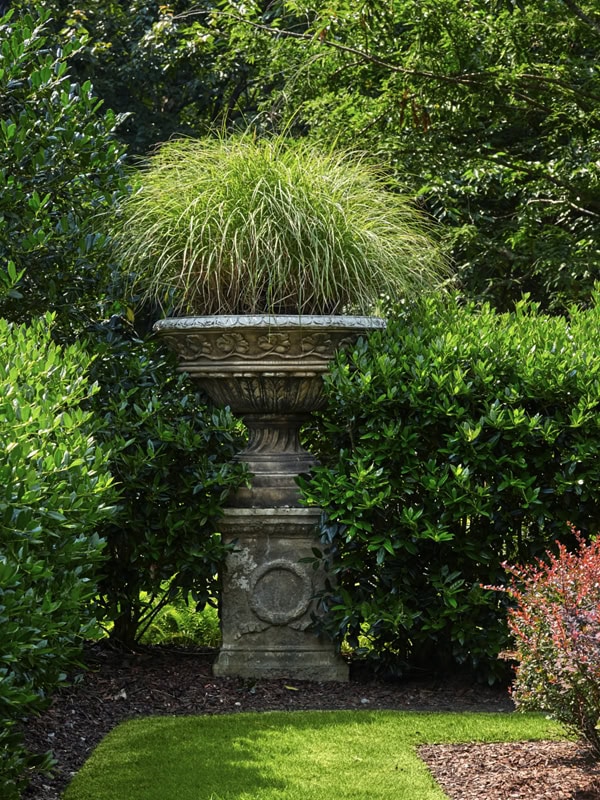 "She basically told me to 'have at it,'" says Troy. "And we did. We moved a lot of earth! We moved a lot of trees! We had to work really hard to create the elevations we wanted for the garden. The original lot certainly wasn't like what it is now."
The parterre garden also features a box within box. The outer box contains thousands of daffodils, which creates an extraordinary showing in the spring. The inner boxes are filled with Lenten rose, and each features a different figure of a musician. "They are called putti," says Troy. "They are angel-like beings. I felt like they would add a playfulness to the formality of the boxwood lines."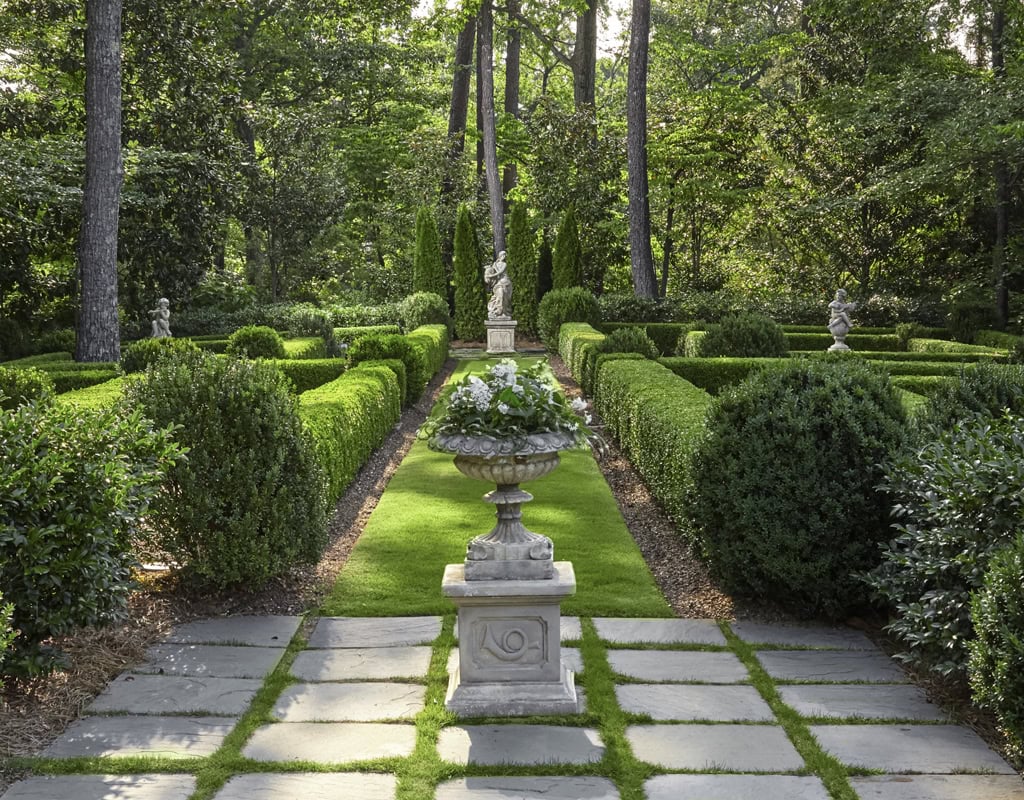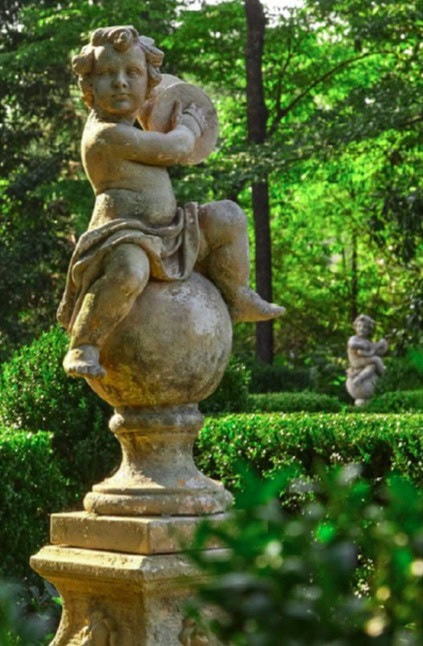 Sadly, when the original owner passed away, the garden fell into disrepair. But as the universe would have it, the new owners requested that Troy return to rebuild it while integrating the current owners' dreams.
"The current owners were very interested in being a part of the design process, which I loved. It really allowed me to know that in the end they were receiving what was specific to their family's needs," recounts Troy.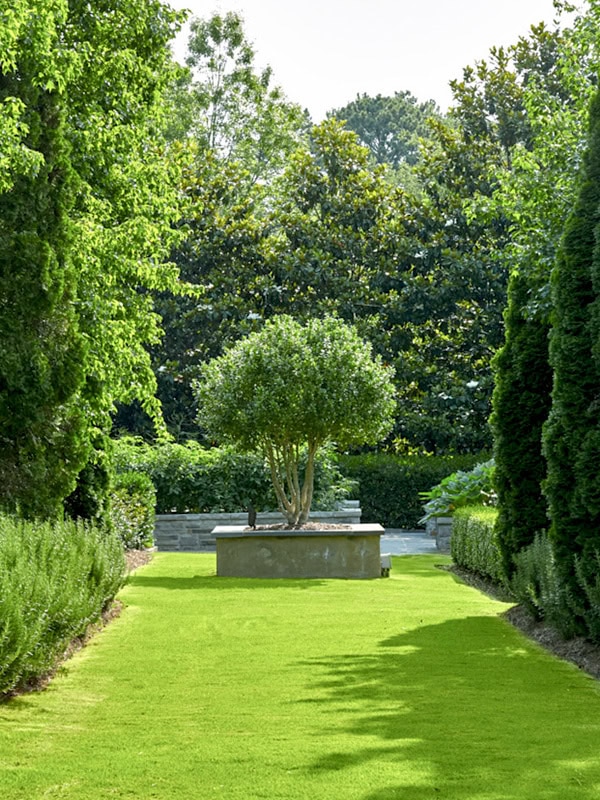 The new clients loved the vegetable garden, and requested that Troy make it more substantial. They also wanted the lower lawn to be transformed for croquet and bocce ball. "They travel extensively, and have children and grandchildren. The garden has become a great area for recreation, relaxation and quality time together," Troy relays.
With such a large space, what has arguably been handled most beautifully is the transition between the gardens. Troy achieved a sense of privacy without a feeling of isolation. He has pulled off that desirable balance between whimsy and sophistication; this is truly a garden for life.
---
About the Designer
Troy Rhone began designing gardens while still working to obtain his degree in horticulture from Auburn University, but his interest in and passion for beautiful gardens began taking root as a child raised in a family of artists, gardeners and writers. He was destined to thrive along this pathway of beauty, reverence for creation, and providing others with the experience of an awakened spirit that surfaces in the context of one's own garden sanctuary. Troy is based in Birmingham, Alabama, and Atlanta, Georgia. He has projects that extend from coast to coast.