This summer, many of you are likely wondering how you can feel like your best bikini self — ideally, all year round! For some women, this means addressing an area on prominent beach display: the bust. Motherhood, aging, or dissatisfaction with what nature has provided all play a role in wanting to make a change. Breast augmentation, breast reduction, fat enhancement, breast lift…all are options for attaining the look and feel that will provide a confidence both in a bikini and out on the town, at the beach or in the office.
Think you need to put off your procedure so as not to miss out on summer activities? Think again — at Capizzi MD, every procedure is guided by the Capizzi Method™. By choosing to use the least invasive method possible, Dr. Capizzi offers his patients shorter recovery time and optimal pain-management post-surgery. Patients are able to shower the day after their breast procedure and can even head back to work within 48 hours. For those worried about missing time by the pool or lake this summer, know that most patients can enjoy the sun, surf, and sand within two weeks of surgery.  
Breast Augmentation
Breast augmentation is Dr. Capizzi's core specialty. If you are looking to combat the loss of breast fullness and symmetry due to common life changes such as aging or pregnancy, breast augmentation can help increase your breast volume and overall bust appearance.
Breast Reduction
For women desiring to reduce the volume of their breasts, a mammaplasty, or breast reduction, can help alleviate years of physical pain, self-consciousness, and fatigue.
Breast Lift
Sagging, drooping or deflated breasts can significantly affect a woman's appearance and self-esteem. One solution: a breast lift. Whether you're looking for a mini or full breast lift, you can be assured that your bust will be raised and reshaped, reviving your breast's firmness and perkiness — talk about a confidence boost!
Fat Enhancements
Fat enhancement injections, also known as fat grafting, involve taking fat from another area on the body — thigh, buttocks, or abdomen — and transferring it to the breasts. Not only will you receive your dream breasts using your own body, but you also benefit from a bit of body contouring at the same time. An added bonus? No incisions.
And while we're on the topic of bikinis…introducing Kybella for bra line bulge!
Dr. Capizzi is always on the look-out for the latest innovations to offer his patients, and sometimes, that means knowing when an existing treatment is approved for use in a new area. Capizzi MD is happy to introduce Kybella — known primarily for tightening excess skin in the neck — as an excellent option for addressing the bra (or bikini) line bulge. By smoothing that extra skin and zapping that bulge, you head out to the beach in full confidence!
In other news — introducing the Lip Lab!
From distinguishing lip liner, to plumping lip gloss, many women rely on basic cosmetic tricks to give their lips a little extra oomph. But for a longer lasting, age-defying lip look, no make-up stacks up to injectables from the expert staff at Capizzi MD!
As an extension of Charlotte's one and only Botox Bar, Capizzi MD announces the official launch of the Lip Lab. Only available from July 17–July 28, 2017, anyone looking to give their lips extra pucker, pout, or plump can enjoy specials on injectable lip fillers with little downtime and spectacular results.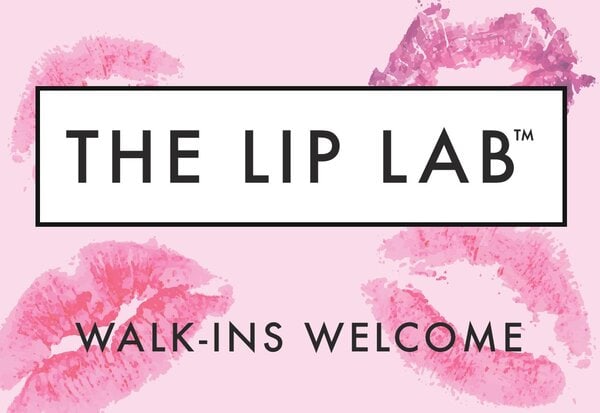 With no appointment necessary (though you can make one if you prefer), drop in at your convenience and choose from three packages depending on your preferred results:
Pucker: Two Volbella injections
Pout: One Volbella injection and one Vollure injection
Plump: Two Volbella injections and one Vollure injection
Volbella provides a smooth, subtle solution by restoring lip volume and definition for a younger, happier smile. And Vollure helps fill in folds and deep wrinkles, plumps the lips, and lasts 18 months!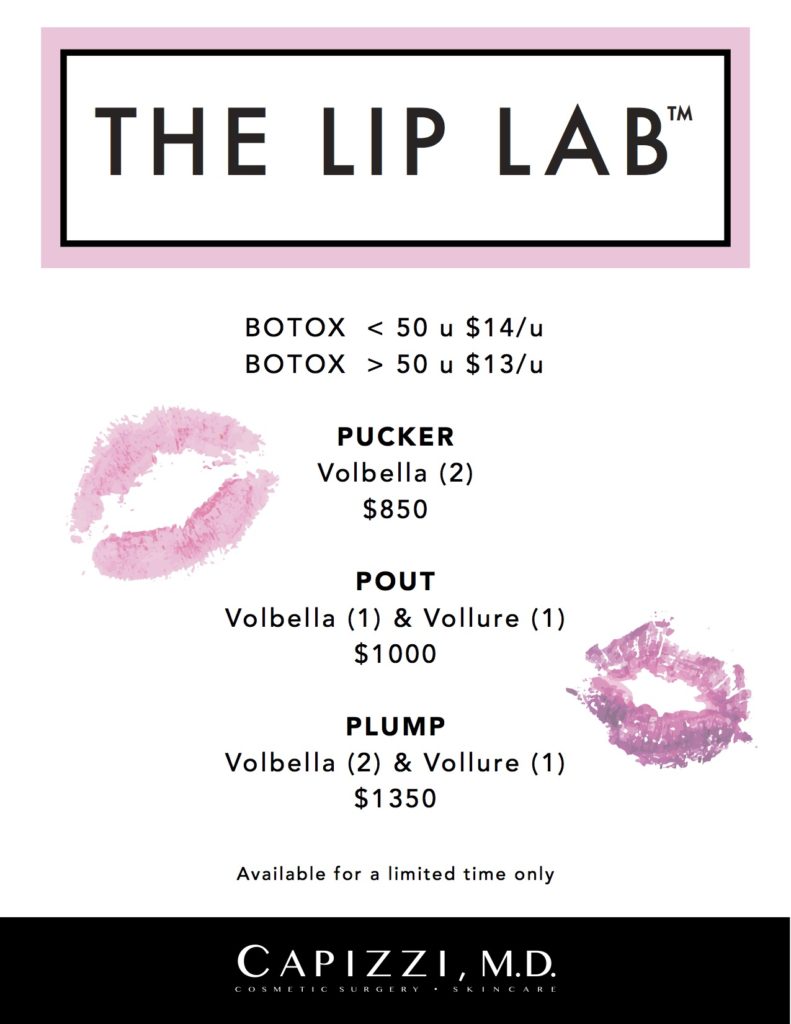 With a reputation for providing subtlety and natural beauty when it comes to injectables, the Capizzi MD team members are experts at preserving facial expressiveness and spontaneity through strategic dosage and placement, while working to ease the ravages of aging and exposure to the elements.
To learn more about breast augmentation, the Lip Lab, and other services provided by Capizzi MD, please contact frontdesk@capizzimd.com or call us at 704-626-8591. And, keep up with what's new by joining the Capizzi MD conversation on Facebook and Twitter.