WRITTEN BY Blair Farris
As the creative force behind Stella & Dot, Blythe Harris has built a world-class team of designers and merchants in the company's New York and Sausalito design studios. Blythe's leadership has helped grow Stella & Dot into a global brand. Originally inspired by her grandmother Dot's vintage jewelry box, Blythe's creative vision mixes the beauty of vintage design and craftsmanship with the modern aesthetic and versatility of today's stylish woman. Her design experience is truly global, ranging from working with local artisans in India and Ecuador to the fashion houses in Paris. As an artist in residence of the prestigious Parsons School of Design/Paris, Blythe studied sculpture and accessories design. Upon returning to her native New York, she received an MBA from Columbia and was identified as a rising star at LVMH. At Banana Republic, she led the dramatic growth of the jewelry department. Peachy recently sat down with this fearless innovator and inspired collaborator who puts the style in Stella & Dot.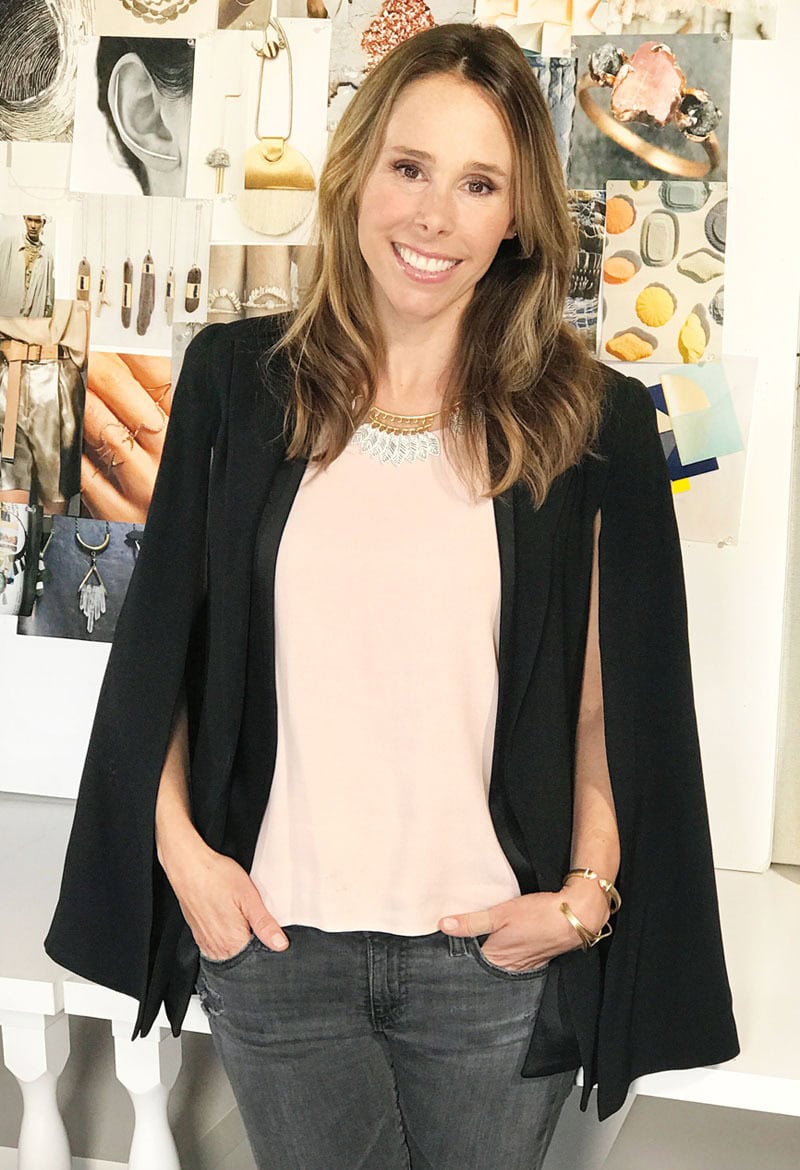 Tell us a little bit about Stella & Dot. Was there an "aha moment" when you decided to start the company with Jessica Herrin?
Jessica and I connected at our 10-year Stanford reunion in 2005. She had just started the company (then called Luxe Jewels), and I was overseeing the jewelry business at Banana Republic. I was frustrated with the traditional retail model for selling accessories because there was a lack of opportunity to really interact with the product and get styling advice. We decided to partner, bringing together her vision for an innovative social selling model and my experience in accessories.
Is there a particular woman in your journey who has influenced you? I understand that the company is named after Jessica's grandmother Stella and your grandmother Dot.
Dot was a real character with a great sense of humor and a huge love of family, both of which influenced me. My mom (Dot's daughter) has been more of an influence. She is so creative and was constantly making things while I was growing up. I was also very influenced by Diane von Furstenberg. Growing up, she was the first woman I heard about who combined fashion with entrepreneurship—my dream!
In your opinion, what is the most important component of Stella & Dot?
Our community! We have a highly creative, collaborative community both inside the company and with our Stylists. We are constantly crowdsourcing ideas and being inspired by our field of incredible independent business owners.
Tell us how you have blended your creative talents and business sense to make Stella & Dot thrive.
I have a passion for business as well as creativity, and I like switching gears from daydreaming about crazy ideas and then zooming back to reality to gut check an idea against our selling model and customer taste. To really thrive, you need a balance of both "blue sky" imaginative thinking as well as a deep anthropological interest and understanding of customer behavior.
How does Stella & Dot empower female entrepreneurs?
We are passionate about helping women be successful on their own terms, whether they want to work five hours a week or 40. Most entrepreneurial endeavors require a lot of time and risk taking, which prevents a lot of people from finding success. We support our Stylists by taking care of inventory fulfillment, sales reports, marketing assets, personal websites and trend reports so that our Stylists can focus on what they love: sharing style with their friends. If your dream is to be a fashion influencer or start your own boutique, we provide an easy way to get started.
Tell us about your "inspirational trips" around the world. What are some recent destinations, and how have they impacted your creativity?
I really believe in the Diana Vreeland quote, "The Eye Has to Travel." A favorite recent trip was to Japan, where everything was different: sushi for breakfast, innovative street style, and an inspired service culture. When you are experiencing something totally new, your mind slows down and your imagination really ignites. I also go to Europe twice a year and visit vintage dealers in Paris and London. I love pieces with a history, and I find vintage to be a great starting point.
As Chief Creative Officer, where do you get your inspiration for collections and pieces?
I love getting color inspiration from paintings at the Musée d'Orsay in Paris and checking out street style in New York City and London. I also get inspiration from nature (like our Grace Chandeliers). I love casting unusual fragile objects (like leaves or even lace) in metal. I enjoy the contrast of feminine, soft materials rendered in metal.
What are some of your favorite current trends in jewelry and accessories?
I love versatile soft chokers that can be worn around the neck or as a headband. I also like the mixed media trend of using softer elements like feathers or tassels in jewelry.
Tell us about the Stella & Dot Foundation.
The Stella & Dot Foundation was established in 2010 to engage and inspire our community to affect positive change in the lives of women and their families. In addition to our support of our year-round global charity partner, Every Mother Counts, Stella & Dot also donates to Autism Awareness Month in April and Breast Cancer Awareness Month in October. To date, the Stella & Dot Foundation has donated over $2.5 million worldwide. Together, through the donations made possible by the sale of our foundation accessories, our collective small acts add up to make a big impact.
I understand you had a terrible accident in your twenties. How has that experience affected the way you live and your work?
It really gave me perspective that I need to live in the moment and have no regrets; also it has given me the courage to take bold risks and get out of my comfort zone. When you have been run over by an 18-wheeler Mack truck, nothing seems scary! (Editor's note: Read more about how Blythe overcame the odds in this Forbes article.)
What advice would you give young women about working and staying true to their creativity?
I focus on helping younger women with time management in terms of creativity. It is really easy to get distracted with email, meetings and constant interruptions, so I teach my younger designers to try to cluster their time into chunks of purely creative time and then more administrative/management time. I also am passionate about mentoring creatives with mindfulness. It is really important to maintain a level of calm as a creative when you are in a job for the first time dealing with a lot of input and changes.
You live a bicoastal life—what are some of your favorite restaurants, places to shop and things to do in the San Francisco area?
In San Francisco, I love to eat at Cotogna (photo above). My favorite shops are PIA in Jackson Square and Elizabeth Charles on Fillmore Street. For kids, the Bay Area Discovery Museum in Sausalito is amazing. In Sausalito, we love Sushi Ran and Cibo (for coffee or lunch). I also enjoy hiking in Mill Valley and mountain biking in Tennessee Valley.
What kind of entertaining do you like to do?
We have a little bar under our garage called "the Snug." We love to entertain in this space because it feels like we are going out! My husband makes an amazing signature old fashioned.
How do you manage work, family, travel and finding time for yourself?
Great question! I am very comfortable with "imperfection" in this area. Every week is different, but I have a few key routines that keep me sane: 1) trail running with friends twice a week in the early morning; 2) mini-meditations throughout the day; 3) being home for dinner with kids five nights a week (ideally!); 4) managing my travel schedule with my husband's so one of us is always home; and 5) an amazing nanny. My mantra is "Gratitude, not Guilt."
Tell us something that most people don't know about you.
I used to teach rock climbing in college, I was once in a circus (age 10, double trapeze), and I love tequila-based cocktails.